Tue March 3 Journal Entry #7 -- Creative ideas
Hello Steemit!
This is the seventh journal entry in the second week of this years' journaling log. Due to the RPC node issues yesterday I missed that entry(I did log the data though)
Good:
Today I finally started my next course on Udemy, titled The complete junior to senior web developer roadmap. I only completed the very first topic (SSH) & so far its been pretty engaging & I look forward to seeing what's next!
Bad:
I'm not spending enough of my daily time on studying. These last few weeks I've been distracted by other minor distractions. I will need to get my focus back on track.
Something Else:
I got my own little demo gambling site up! It's not really live, but in today's hours spent on projects, I quickly build a demo site with React. I'm using it as a prototype to work on the designs for the final website. More updates coming soon!
---
Daily Tasks Progress: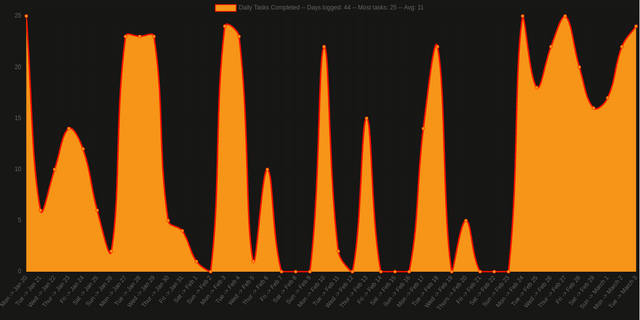 Current Avg tasks for the last 44 Days: 11
I have been doing most or all of my tasks pretty consistently the last week, so this journaling idea is working well. Today I did not complete all of my tasks, but came pretty close!
---
Daily Study Hours Progress: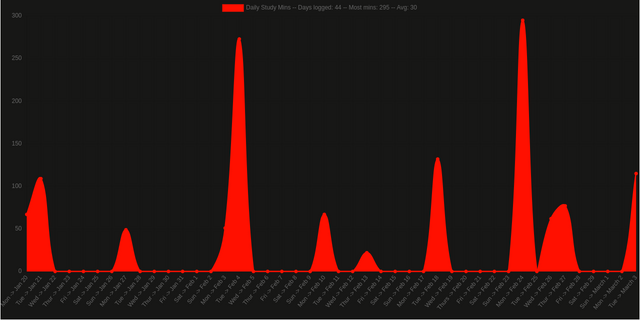 Current Avg mins for the last 44 Days: 30
Almost a full 2 hours of study time added to the numbers today, I am aiming to get around 4 hours of focus time, but its harder to do each day than I thought. Luckily the project hours have been teaching me quite a few new things.
---
Daily Project Hours Progress: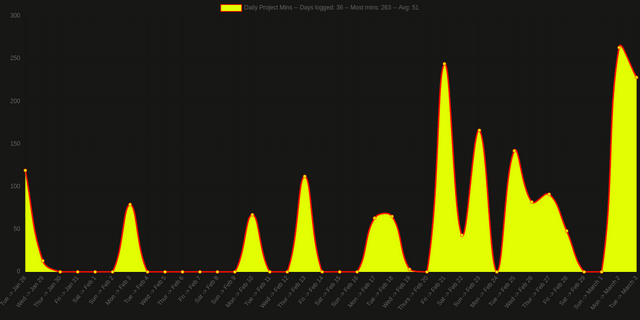 Current Avg mins for the last 36 Days: 51
---
Overview for the day:
24 Tasks Completed!
1 Hours : 55 Mins Study Time
3 Hours : 48 Mins Working on Projects