Dad Tip of the Day: Kids will make messes, but some messes should be encouraged as there are a number of benefits.
As anybody knows, kids can be messy. Whether they are eating food, playing outside or playing indoors, somehow children leave chaos in their wake. The natural thing to do is to desire orderliness and a clean space, but there is also a time and place to allow for big messes.
Messes can help kids grow in a number of ways. I found a good article online that lists out some of the benefits of kids making messes or getting messy: https://www.whattoexpect.com/toddler/photo-gallery/8-reasons-to-let-your-kids-get-messy.aspx
Allows all 5 senses to be used

Imagination can be utilized

Creativity is sparked

Can build independence

Cleanup after teaches responsibility
Of course, after you allow the pure chaos that is a big mess, you will want to teach the kids how to be responsible for their own mess and help in the cleanup process. Knowing they will have to clean up will also help them make conscious decisions about whether to get wild and make a big mess.
Here is my kids making a big mess in Kendra's room after only a few minutes of playing in there (normally things are very orderly and spotless):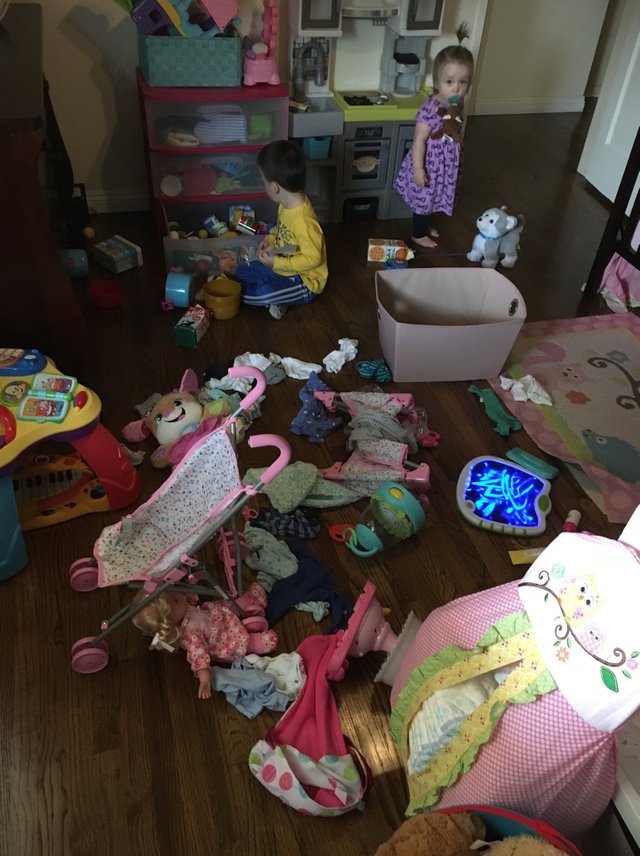 So before you put a halt to the next big chaotic mess the kids want to have, think about encouraging the mess, but then taking responsibility for it after.
Appreciate you stopping by today,
Brian