Crossing the Golden Gate Bridge
Finally the day had come: we woke up at the Marin Headlands campground, only a few miles from the Golden Gate Bridge. Having this symbolic goal just within our grasp put us in a happy mood. We took it easy that morning, breakfasting right on the Northern end of the bridge, before taking the anticipated ride across.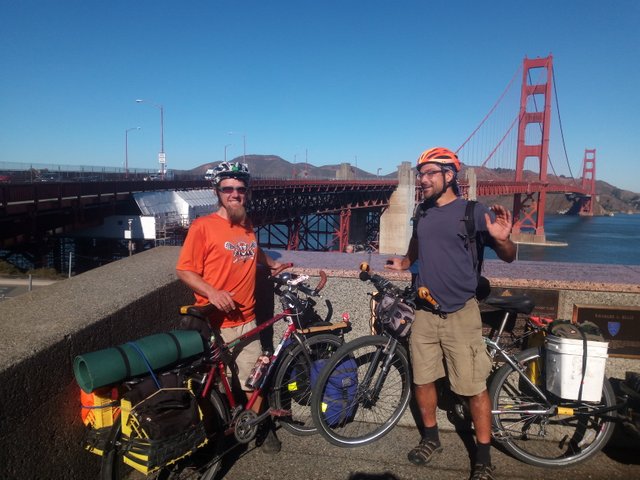 The weather was fantastic. Beautiful sunshine highlighting the blue of the sky and the red of the bridge, supposedly a rare occasion, as the bay is often covered in fog. Seems like the sun came out to celebrate our great victory with us. How far had we come? A couple of thousand miles for sure, though we are still counting. I'll add up all the miles when I reach the end of my trip. In any case, we had completed the symbolic journey from the Salish Sea to the Frisky Bay. Even though it's been more than a week since, I still get excited thinking about it.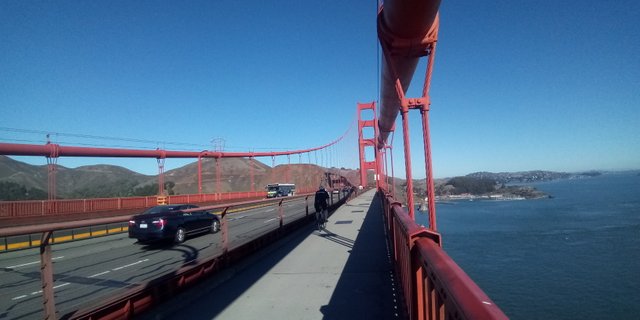 On the other side of the bridge sunny San Francisco was waiting for us. Of course we had a list of spots to hit, including Golden Gate Park for lunch, and some doughnut shops on the way. Once these immediate urges had been taken care of, we just wanted to get out of the urban area as soon as possible.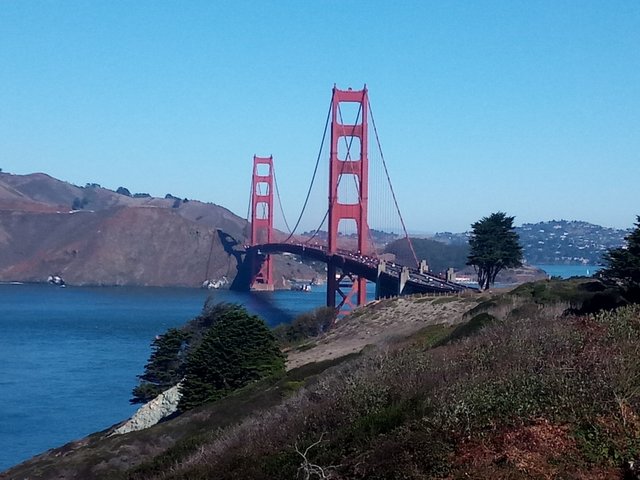 Fortunately there was a whole network of bike lanes, bike paths, and bike trails to choose from, as it was the case in cities like Portland and Eugene. So going along Lake Merced we found ourselves in Dally City, from where we could continue on the coast. The bike route took us through some curious neighborhoods: Little boxes on the hillside, all made of ticky-tacky, in different colors but looking all just the same. This is what Malvina Reynolds must have been talking about in her song, which became the Weeds theme. Oh California, your stereotypes couldn't be more blatant...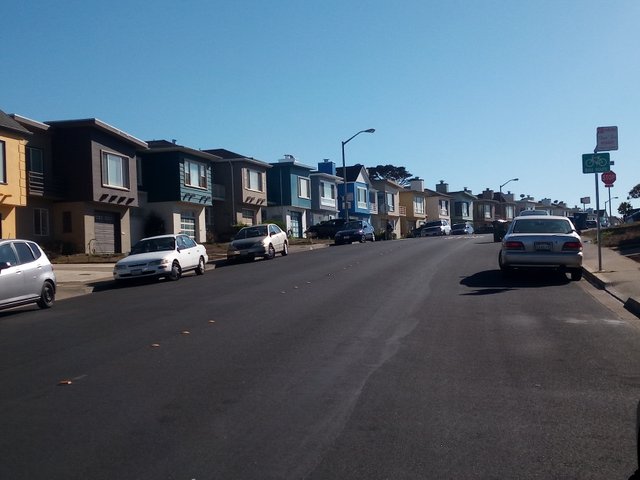 Soon we were back on our old friend, the Highway One, winding its way up and down the coastal hills in a familiar fashion. We hadn't had this since Jenner, so we threw ourselves right into it, speeding downhill and pedaling uphill, where we would take a bit of a breather and do the whole thing again. The only difference to the previous experience was maybe that these inclines were more gradual climbs, and the bike path was, to our great delight, a parallel road to the One, all the way to the town of Pacifico. Of course, we did have the occasional crazy switchbacked roads, you could only imagine in San Fran....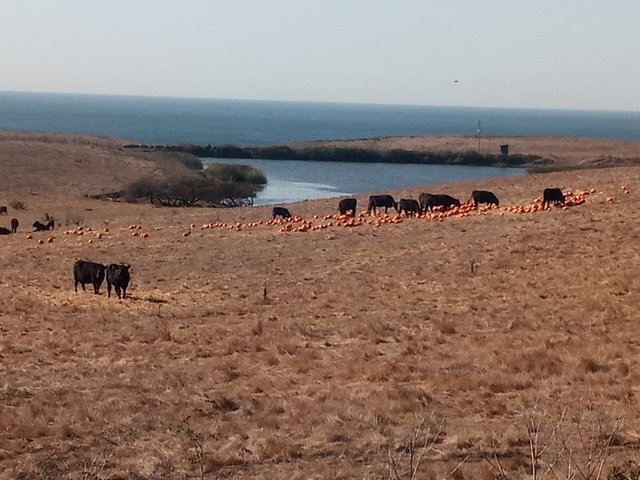 Bypassing the Devil's Slide
Before reaching Halfmoon Bay, our destination for the night, there was one major hurdle: the infamous Devil's Slide. Tom and Vicky had wittingly warned us about it in their book: "The highway narrows as it begins its steep climb over Devil's Slide. The shoulder narrows then disappears entirely. Note the THINK TUNNEL bumper-sticker on cars.  If you reach this area during rush hour, you will soon be ready to grab a shovel and help them start digging." 
Prepared to go thorough a bit of hell along this stretch of highway, we soon found out that some people may actually have grabbed some shovels in recent years, as the tunnel had been completed, and the old highway converted into an extra-wide, well paved hiking-biking trail. Very laudable, but first we had to get up there... 
As we were trying to find the way back to the One, we met two locals, separately, each of whom suggested we take a little known dirt road through some private property, up a steep hill, and through the woods. It would take us right to where the tunnel bypass started. Grateful for so much local info, we took their advice, and managed to cross the Devil's Slide area entirely free from motorist traffic.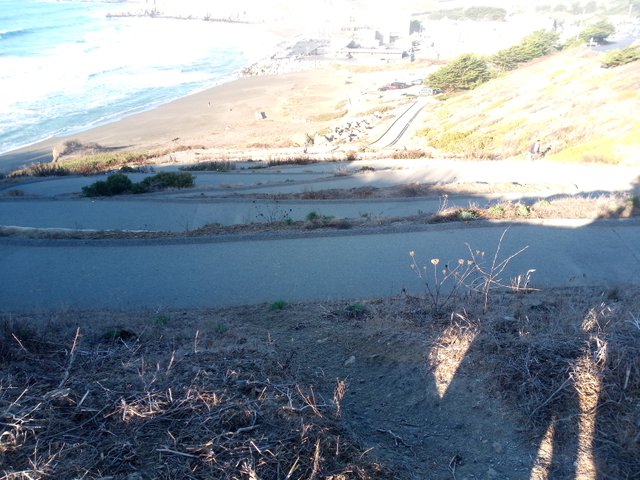 One Last Time of Everything
That day we made it into Half Moon Bay just in time to see the sunset, before setting up camp at the State Beach campground, the last hiker-biker camp we were going to enjoy together on this trip. In many ways this was also the best one: it had plenty of space, under wind-trained trees, just close enough to (at the same time far enough from) the beach. Most importantly, it had hot showers run on quarters, and when I inquired about registration the next morning, someone I assumed was the camp host laughingly replied: "If you came by bicycle your camp is already paid for." Wonderful!
The next day offered us more coastal riding, interspersed by friendly encounters with other touring cyclists (sure enough, we were back on the "trail"). We had a warmshower host lined up for the next day in nearby Santa Cruz, so we didn't ride too fast or too hard. In the evening (at four p.m.) we took an early rest under some nice trees, behind a protective hill, overlooking the ocean. Could this have been the best wild-camping spot? Maybe, though there were so many nice ones...
Cruising into Santa Cruz
Finally our day of arrival came. We left our comfy home in "mom's house" and made a coffee-WiFi stop in the town of Davenport. We contacted our host, and he even came out to say hi, and ensured us that we could unload our packs at his place so we could explore Santa Cruz without the load. And explore we did: after a few beach stops along Natural Bridges Park we rode along the famous promenade, navigated through town to the guy's place, and after unloading our stuff we rode back downtown to partake in our great reward: the all-you-can-eat Indian lunch buffet!
As I was finishing my fifth plate of indescribably delicious tastes, I noted how I could see if touring cyclists were to be excluded from these kinda deals... and there was still rice pudding for dessert... Eventually we had both reached the point of saturation we'd almost forgotten existed, and pushed our bikes and full bellies slowly down towards the beach.
That afternoon in Santa Cruz was indeed our last one, and it sure felt like it. Those overgrown palm trees, those pale colors in the faded sunlight, that breeze from the ocean, just a bit too cold... It all felt very much like the end of the season, kinda like Labor Day in Canada, when we set out on our journey. But now it was mid November, and the season was truly ending. Though the palm trees, the beach, and the amusement park were still there, adding an eerie taste to the Fall.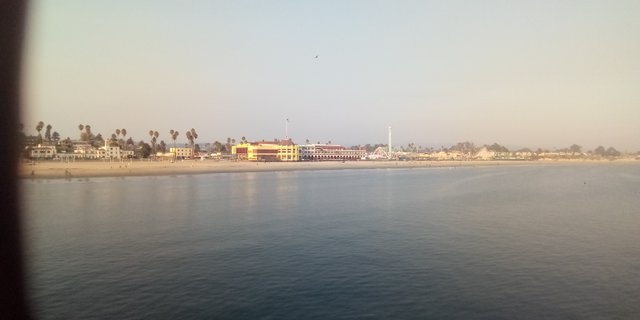 The next morning wasn't much better, as the sun was trying to peek through the haze, without much success. We found out that this was by no means your usual ocean fog, instead the result of more wild-fires. And I thought we'd managed to avoid them. Under smoky skies we rode out to the highway, which took us through flat, empty spaces of industrial monoculture all the way to Salinas. Honestly, we'd been on the road for nearly ten weeks, and this happened to be the least scenic ride. Is this what the Beatles meant by Strawberry Fields Forever?
If you'd like to read my bike trip in its entirety, check out the rest of my posts in the Cascadia to Aztlan series:
Please check out these great communities I'm contributing to: 

#ecotrain | What is EcoTrain | Discord Community

#cyclefeed | Introducing CycleFeed | Discord Community

Join us on Discord