Thursday - To the Beach and Back
Thursday morning was finally a bit nicer. The clouds started to break up and we could even see patches of blue sky. Of course, from below the tree canopy by the river it only gave us an idea that we could dry up once we got going. But Rene had to go back to work, so we took our time saying good-bye and packing up our stuff, which was still as wet as before. The plan was to roll on to the beach, and dry up. 
Up on the road again, we cheered for every sun-ray, but it was about as frequent as the occasional splatter of rain hitting us. Mostly it was cloudy, though, so we continued towards the ocean, where we hoped it may get better. At one point I decided that the scattered sun was sufficient to dry my tent, so I unfolded it in a nice spot along the road where there was plenty of space and a guard-rail to hang it from. Half an hour later I had a decently dry tent. My clothes in my saddle-bags were still soaked, of course.
On we rode, and not much later we made it to the coast. There was a beach too, but only to look at, as it was under a sheer cliff of unscalable proportions. The sky was still gray, and the ocean wind blew cold around our ears. As pretty as it was, it was more comfortable to enjoy it while pedaling, so once more we got on our bikes.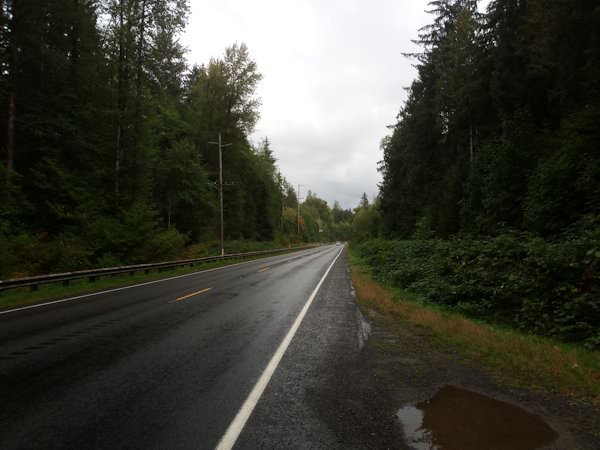 Riding past hills, we eventually got closer and closer to the ocean, and eventually reached access paths to the wide, sandy beach washed by the waves. But in each case we found reasons to keep going, just a little bit further, where there was better access, less people, or the one thing on both on our minds: actual sunshine! We found it all at Kalaloch campground.
At Kalaloch we sat down for a picnic, and debated our options: sure, it was nice and sunny at the moment, but the forecast was gloomy with a 50% chance of showers (a coin-toss in the sky). At the same time, the campground came with a hefty fee but didn't offer us much more than a place to pitch our tents. Plus it was still early. Should we stay? With a bit of riding we could make it to Lake Quinault that day, which was also famous for its beaches. In the end restlessness coupled with the optimistic sunlight made us decide to move on. 
I placed some socks and my warm vest on my bike so it would dry in the driving wind, and hoped the sun would keep up its great work. I was not disappointed that time: the clouds opened up fully, and we enjoyed some warming sun on our backs during most of our ride to Quinault. On the way we even passed by an area where it had obviously rained not long before, so we considered ourselves especially lucky to have escaped that.
As we got into Quinault, evening was upon us. It was getting cool, my phone was dieing, and we still needed to find a place to camp. Down by the lake there were several options, but mostly resort type campgrounds. Due to lack of alternatives, we rolled into one, found a nice spot where I could pitch my tent and my friend hang his hammock. It was all fairly dry and flat, there was running water, and in the end we paid a fair price for the service we got.
Friday - Getting Dry and Getting Wet Again
The next day I took it slow. Still discouraged by the general dampness, the heavy clouds over us, and the dismal forecast (more rain on the way) I took it slowly. Meanwhile, my buddy rode around and made an amazing discovery: in the town just next to our campground there was a laundromat and a coin-operated shower. How wonderful! The two things we've been yearning for all this time! We finally got really warmed up, cleaned up, and washed all our clothes!
Around noon we were on the road again with high spirits. The only thing lowering them a bit was the thick cloud cover, verifying the forecast: high chance of showers that afternoon, and lots of rain on Saturday. Let's see how we could escape that. Oh, and then there was Aberdeen... an actual town, but one known for its high homelessness and poverty rate, so not a place we want to get stuck in.
This is when we realized the unused Ace in our sleeves: warmshowers.org a couchsurfing-type platform for bicyclists. My friend had used it once, while I'd only heard of it. But if there was a time to try it, it was now. Of course we rode on towards Aberdeen, but tried to make some connections along the way. Eventually, as evening came closer and we were hit by the occasional shower (cold ones from the sky), we decided to find a place to camp on the way.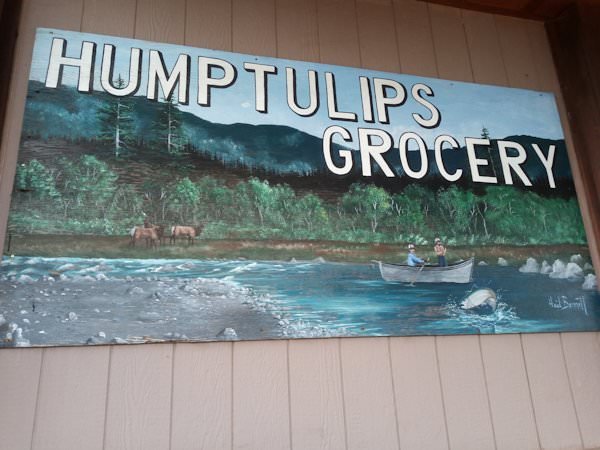 Not much after a place called Humptulips we pulled over on the side of a side-road, where the access to the woods was blocked by some uprooted stumps left over from clear cuts a few years ago. The trees were all young, but they offered us a bit of a canopy, and I found a little mound where I assumed my tent would stay somewhat dry. There we cooked our dinner and contacted possible hosts in Aberdeen: "Hey, what are you up to? I'm camping in the rain..." 
Saturday - Along the Muddy Banks of the Wishkah
The night was marked by heavy rain, and by morning there was a puddle in my tent. My sleeping-bag, which up until then I managed to keep somewhat dry was getting some seepage as well. Fortunately my clothes, which I had packed in a thick plastic bag, were still dry. The forecast, however, was as bad as it could be: early morning light rain, later on thundershowers were to change into heavy rain for the rest of the day. We had to get going fast!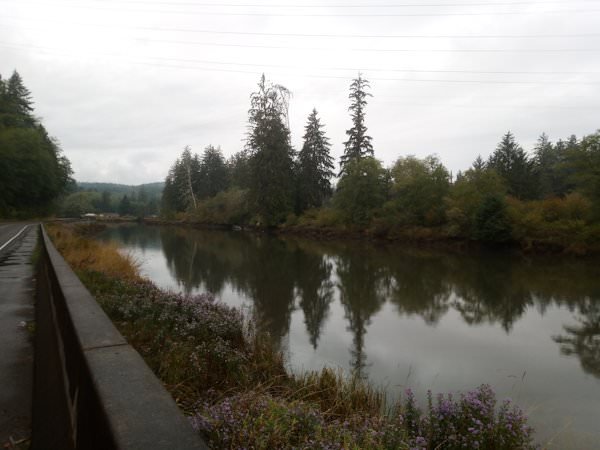 Riding the 20 miles (32 km) into Aberdeen was completed in record time, especially once the sky started descending on us around 8 a.m. Once in town we found a bakery to the delight of my friend and a coffee-shop which made my day. Immediately we plugged in, got myself and my phone charged, and found the best news of the day: someone was willing to host us!
After riding around in the rain trying to find the place, we finally arrived. True enough, Aberdeen is not a town where you want to be stuck in, especially being down and out. It has a true grunge-feel to it, which anyone should appreciate who grew up on Nirvana. The Wishkah River... isn't this where Kurt Cobain lived once under a bridge, writing the lyrics to Something in the Way? Whether that was true or not, it certainly fits the picture very well. As you would expect, such a town tends to generate some awesome art, as can be seen in this mural.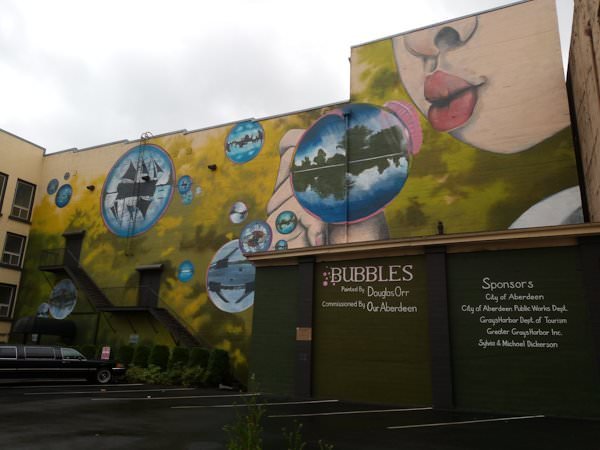 For us, Aberdeen meant being treated to some amazing hospitality. The couple that received us was just lovely, treating us not only to a shower and a dry place, but to a hearty dinner, and some awesome conversations. It seems like they host quite a bit of travelers touring on bicycle down the coast. We truly appreciate their kindness, which gave us a chance to continue dry and clean, caught up on blogging. As for the next days... the weather is supposed to improve as well. Yeah!
If you'd like to read my bike trip in its entirety, check out the rest of my posts in the Cascadia to Aztlan series:
Please check out these great communities I'm contributing to: 

#ecotrain | What is EcoTrain | Discord Community

#cyclefeed | Introducing CycleFeed | Discord Community

Join us on Discord