After Portland what our next destination was Eugene, Oregon. We estimated it would take us three days of riding, stopping at the Willamette Mission State Park for one night... and somewhere around Corvallis for the second one. It would be an easy ride, mostly flat, on hopefully not too busy roads, as we were following the route recommended by the Oregon Scenic Bikeways map. Nevertheless, we decided to get an early start, and hopefully have a chance to go swimming in one of the rivers we'd cross.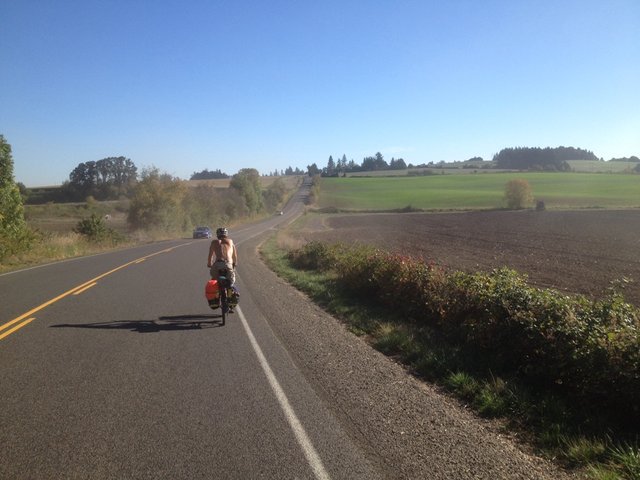 Delayed Start
On a bright and sunny Wednesday morning we packed our bikes and were ready to go, but suddenly were delayed by some bike trouble: another spoke broke on my friend's rear wheel. I realized that it was the one-week anniversary of the last time this happened! Luckily we were in Portland, where he could easily find a cassette tool, and get his bike in shape. In the end we were only delayed by about as much time as we would have spent on extensive breakfasting / hanging out in the morning.
Getting Out of Portland
Before we could enjoy the scenic bikeway, we had to get of the urban sprawl of the metropolis which Portland is so good at hiding it is. On bicycle not a problem! We simply followed the separate bike trail next to the I-205. Sure, it was noisy, but completely safe from traffic, and mostly downhill, so the miles flew by as if they were kilometers. We even passed by visually interesting sights.
A Mural of Four Worlds?
Seeing this gigantic painting on the wall of a Boys and Girls Club, we had to stop for a photo-shoot. I know, I haven't been keeping up my mural collection, although there is no shortage of them, especially in Portland. But this one certainly caught our eyes.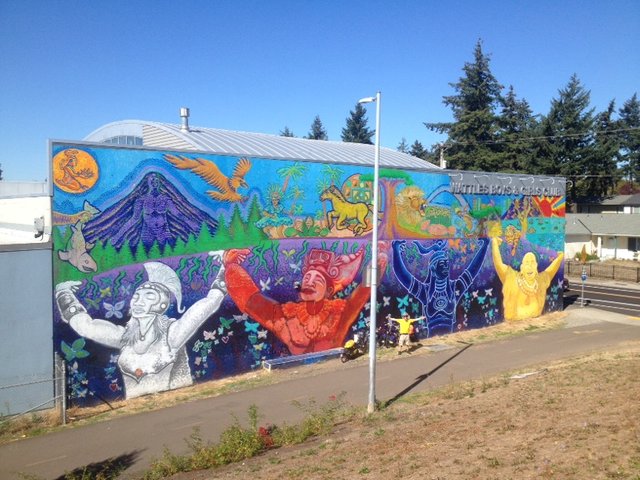 The imagery definitely looks pre-colombian at first, seeing the red character in the middle with the elaborate head-dress and breast plates. But the yellow character on the right looks distinctly buddha-like, while the white woman on the left is wearing a graeco-roman-looking helmet. Could it be that these personages on the sides represent Europe and Asia? Then the middle ones would be America and Africa. And they are all holding up a world of mountains, forests, eagles, and dancing ladies and ponies. Part of the fun was taking pictures of ourselves and our bikes in relation to this vast image. At a close look all you see in butterflies.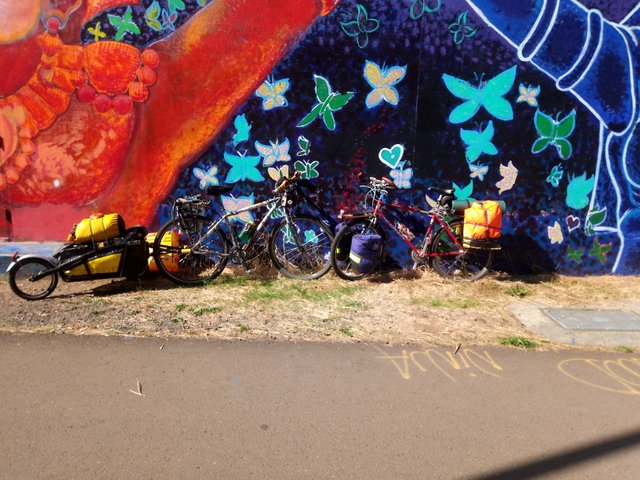 When we were done enjoying the mural, we rolled on towards Oregon City, where the banks of the Willamette offered us a pleasant place to break for lunch.
Cutting Our Way to the Bikeway
The stretch between Oregon City and Champoeg State Heritage Area was the only part of the trip we had to find our own. On the map it looked simple enough: a quick ride across the town of Canby via New Era, then heading straight West, crossing the I-5, on towards Butteville.
In practice, it was Oregon City that threw the biggest challenge in our way, in form of a giant hill. Yes, we found the "municipal elevator" that seems to be essential in this town, though we didn't attempt to take our bikes on it. But even on the other side we were confronted by more climbing. Granted, after Portland we were pretty spoiled in this regard. Finally, once we made it to New Era, we were back to level ground.
Unfortunately, this part of the way the landscape didn't have much to offer. Mostly large empty fields, recently harvested or just plowed over. Eventually we didn't even ride all the way to the "trailhead", but cut across the town of Donald to meet up with the bikeway around Saint Louis.
Nothing New on the Bikeway
It didn't make a whole lot of difference, though. The bikeway was neither scenic (same large empty fields), nor was it particularly peaceful, as we were being passed by big farming machinery, semi-trucks hauling smelly fertilizer, and country-kids giving their cars the spurs on supposedly empty roads.
At the Mission, on a Mission
A welcome change was offered only by the Willamette Mission State Park. As soon as we pulled in the main access road, we rode past hop-fields and pastures before reaching the hiker-biker camping area. The sun was approaching the horizon, so once we'd set up camp we took a quick splash in the river before it got cool. That night we went to bed with a multitude of crickets chirping us to sleep.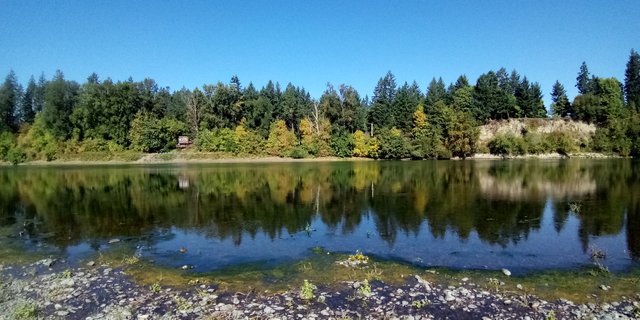 The next day we started easy. The park was such a nice place that we took our time getting ready, while charging our phones in the outlets of the picnic area. Then we went on a long loop ride around the park, stopping by the site where in the 1830's a Methodist mission pretty much started the white settlement of Oregon.
To Salem and Onward
Back on the road, the Scenic Bikeway took us past more empty fields into the state capital of Salem. Not a big place, by any means, we were in and out, including a lunch-break in the waterfront park. After Salem we followed the bikeway along some more uncomfortably busy roads. At one point the bike lane was on the left side (!!!) of the road, at other times the shoulder vanished completely, while traffic kept speeding by us.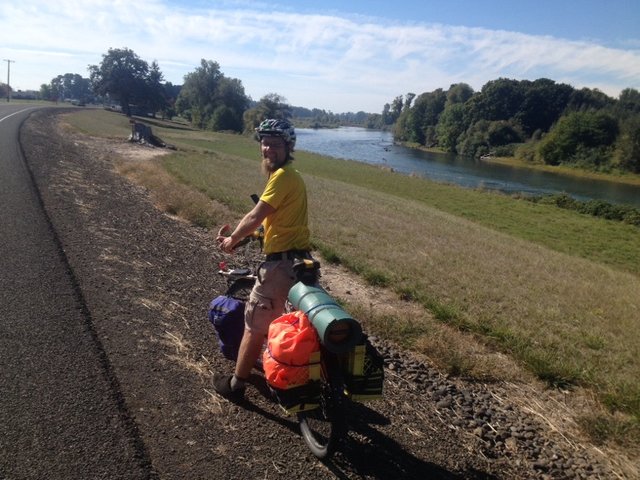 Under these conditions we didn't see a point in sticking to the bikeway, and instead found our own byways, which were not any different. Crossing the bridge to Independence, we took the Corvalis Road, cutting across to the 99 through a small patch of the Siuslaw National Forest.
A Place to Spend the Night
For a wooded area under the National Forest label, this piece of land had little resemblance of a forest. With paved roads leading across it in a grid-pattern, it seemed to be quite developed. So we kept a low profile, as we would anyway, knowing that our presence would cause less disturbance to nature than most other activities there. In the end we made a cozy little camp for the night, being serenaded by an orchestra of frogs.
Speeding Through the Valley
Early in the morning we packed up and left the place as if we hadn't even been there. The 99 took us into Corvallis, on a comfortably broad shoulder. It was nice riding side-by-side, so even the biggest semis would not bother us too much when passing. In Corvallis we had breakfast in a park by the river, where I saw this mural.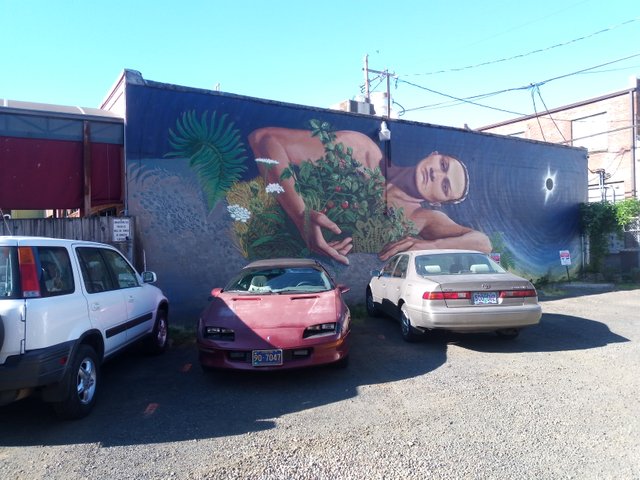 I don't know which aspect of this picture I find most interesting: the solar eclipse, the 1920's-esque looking young man, or the bouquet of food-plants he's holding. In any case, I thought that it was worth a picture, especially since the scenery of the road had so little to offer.
Once outside Corvallis, we were back to big empty fields. This was Peoria Road, which was supposed to be "such a lovely road to ride on". Well, it was flat and easy, but that's about it. Of course, I can see how nice this could be in June, when sunflowers cover both sides of the road. This time, however, the best scenery I can offer is the occasional autumn leaves in front of someone's house.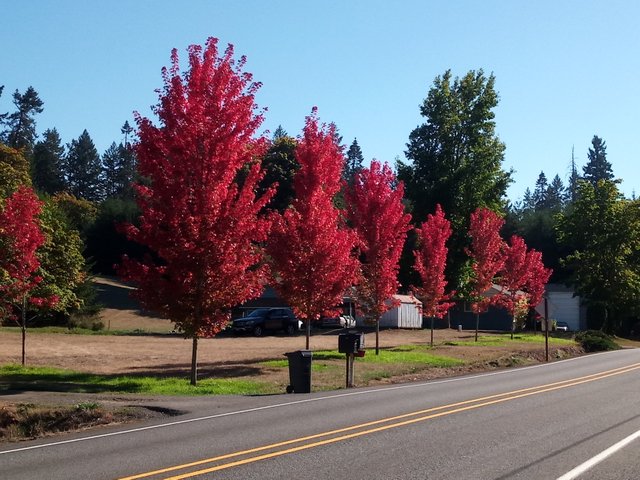 Getting to Eugene... Fast!
After a quick recharge in a Harrisburg diner (milkshakes for us, electricity for our phones) we pushed on towards Eugene. We gave up on the Scenic Bikeway, or any of the suggested bikeways, and stuck to the 99. It was busy, but had a decent shoulder, and it was mostly flat, so we made good headway. Until we were delayed by more bike trouble: I got myself a flat tire. This was my fist flat ever since building my bike, and riding close to 2000 km (1200 miles) on it, so I was not too bummed out. In fact, it felt pretty good once I changed the tube for my spare. I still gotta patch the one I took out to make it usable for next time.
Finally in Eugene, we headed up to the property where my friend's good friend was expecting us. The Peacock Farm is located on a hill outside of town, so we were in for another climb, just to round off the experience. Reaching the driveway, our celebratory mood was crushed by an even steeper climb, where we had to push our bikes. But all this made our arrival so much sweeter. Hanging out on the soft grass, under blue skies, just about twenty minutes past four wouldn't have been half as enjoyable without the hill. We had made it!
If you'd like to read my bike trip in its entirety, check out the rest of my posts in the Cascadia to Aztlan series:
Please check out these great communities I'm contributing to: 

#ecotrain | What is EcoTrain | Discord Community

#cyclefeed | Introducing CycleFeed | Discord Community

Join us on Discord