After saying good-bye to Horizon I rode back to the coast, and managed to reach Monterey around sunset. My intended place for the night was the hiker-biker camp at the Veterans' Memorial Park in the middle of town. I had a hard time imagining a downtown park with a campground in it, so I was a bit curious to see it. It just happened to be Memorial Day Weekend as well, so I thought it was quite fitting for the occasion. Needless to say I had to conquer a big hill just to get there, and climb even further inside of the park, but once set up I could enjoy city camping to my heart's delight... So many people everywhere! However, there were hot showers, friendly cyclists, and the next morning I didn't have to go too far to the next coffee-shop.
A Monterey Morning
It was a beautiful day, and the sun shone brightly without any smoke clouds blocking it. At the cafe I did a bit of blogging and checked the map for thrift stores and hardware stores. I had used up my rubbing alcohol, and wanted to get some decent denatured alcohol for my stove, not to mention stock up on supplies in a grocery store.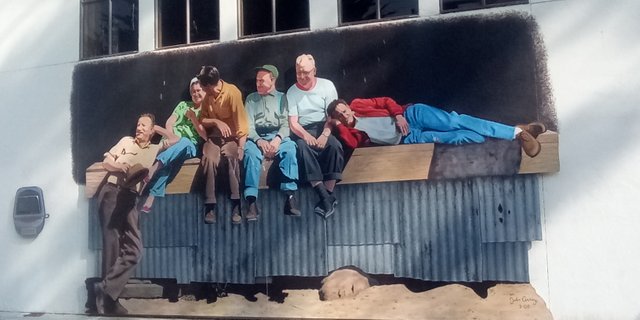 Before the stores opened I had some time to check out the sights: The most famous one in Monterey is Cannery Row, on which Steinbeck based his novel with the same name. Today Canny Row is beautifully restored, or bloody gentrified, whichever way you look at it. Fancy brewpubs, day spas, coffee roasteries, and art galleries abound... not to mention souvenir shops. It even seems like recent buildings cover their facade in sheets of corrugated iron, to make it appear more 1930's like.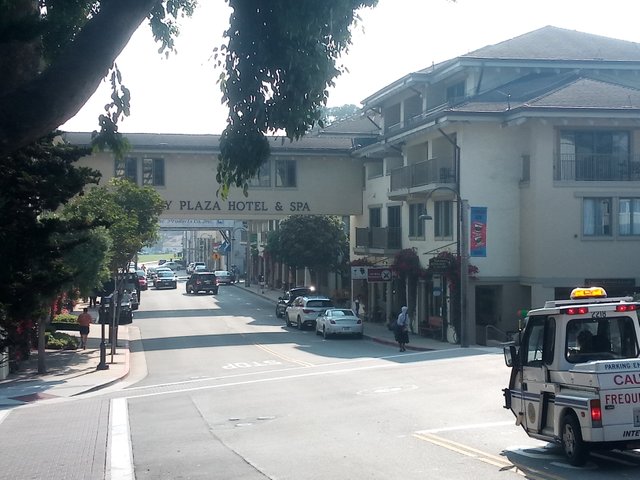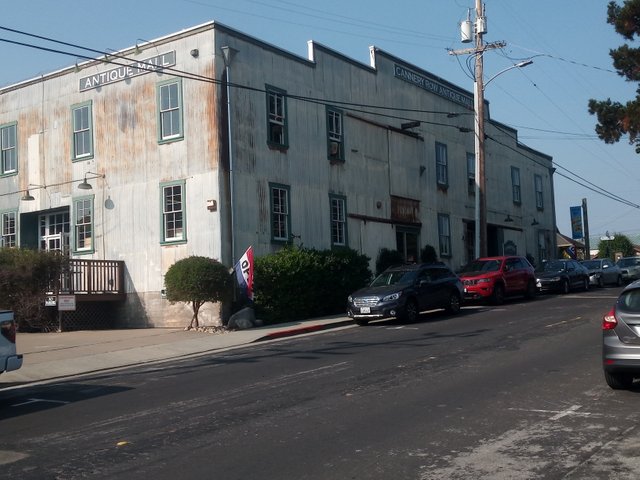 One thing I really enjoyed, however, were the murals of people, supposedly from Steinbeck's novel, but with very distinct looking faces, suggesting they may have been modeled on some real-life modern people. These folks hang out, play music, and create an atmosphere which makes me want to... visit the souvenir shops? Hardly! But I do want to read Cannery Row.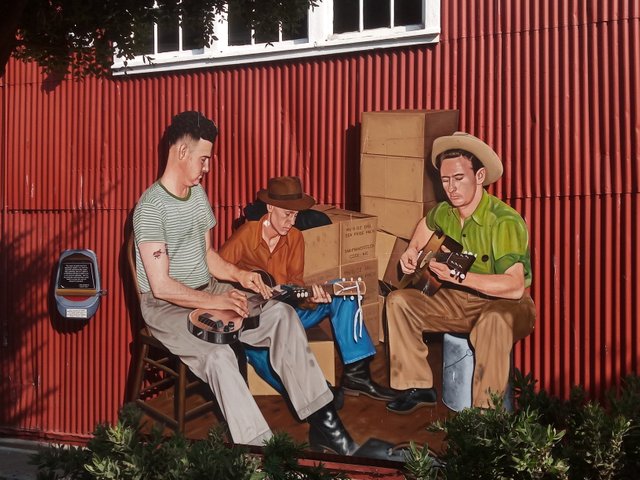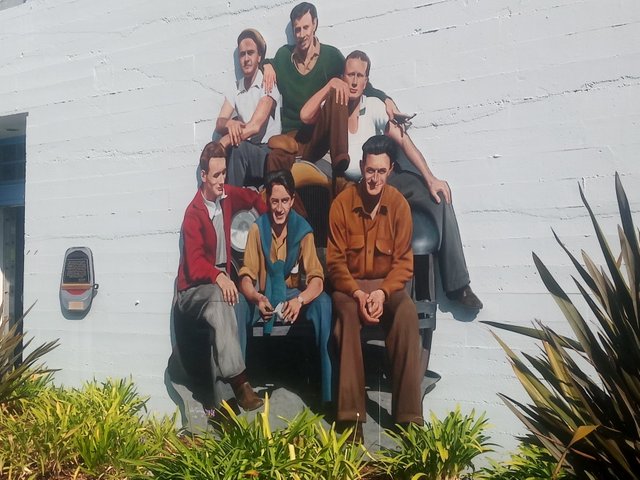 Even as I was ready to leave town and start riding for real, I wanted to hang out a bit longer. Instead of cutting across town as both the book and the map suggested, I went on the scenic round around the peninsula. The road is called 17-mile Drive, and I'm pretty sure I topped that before leaving Monterey. Eventually I found myself in Carmel by the Sea, with a supermarket at the end of town. Perfect! Now there was nothing else to keep me from riding on towards Big Sur.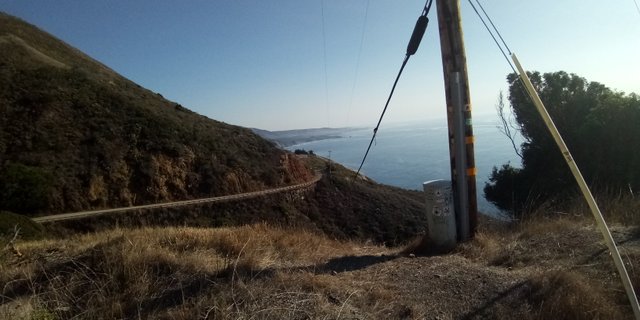 A Very Big Sur
It was almost two p.m. by now, and in the afternoon I felt a bit less inclined to tackle hills. It was therefor pleasing to know that the real big climbs would come the following day, past Pfeifer State Park, where I would spend the night. 
The hiker-biker camp proved to be more than ideal. It had hot showers, electric outlets for charging devices, and other touring cyclists, all in another gorgeous Redwood grove, next to a clear running stream. So paying five bucks for it felt like a fair price. I even ran into the guy I'd chatted with in Monterey, plus I got to know a lovely Polish-American couple from Canada. For some reason I have a feeling our paths will cross again soon...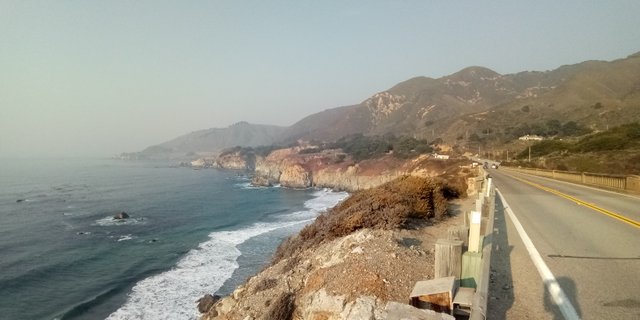 The next morning I set out early to get those hills out of the way. Though the mountain following Legget (South of Garberville) is the most feared and talked about among cyclists touring the coast, it is in fact the Big Sur area that has steeper and taller hills. But in the end... sure I had to climb, but having my mind set in Everest mode, my chain on the granny gear, and my music player on my doo-wopp collection (for singing along while gasping for air...) it seemed half as bad in the end.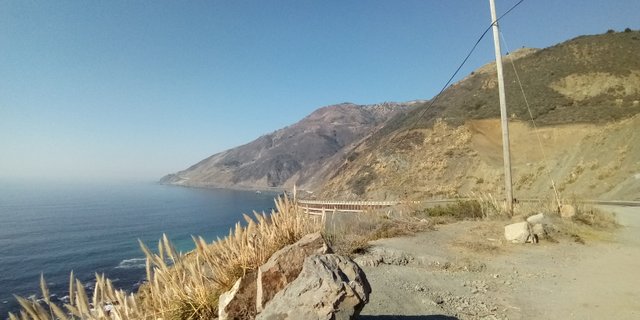 The weather couldn't have been better: bright sun, fresh wind, neither of them too strong, and an unforgettable scenery. A mix of big trees (still Redwoods this far South, and along the coast) and the dry mix of scrubby trees and grassland. Looking back at the road was more impressive than anything, as it wound its way up on the mountain side.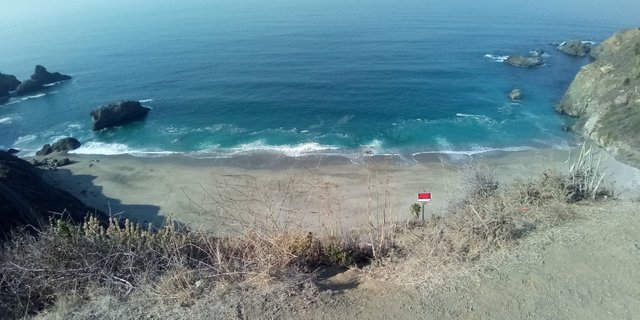 In the end I just felt like riding on... and on... and ever on. I rolled past the Henry Miller Library, where the other cyclists wanted to make a stop. I took a mere two-minute water break at the Esalen Hot Springs resort, where I'd received elaborate instructions on how to sneak in. In the end I even went past the recommended campgrounds, and just enjoyed the ride all the way to San Simeon Creek, leaving the William Randolph Hearst castle unvisited. That day I may have covered more miles than on any other, but I felt okay with it. The next day I only had to get to Los Osos, where my warmshower hosts were expecting me.
If you'd like to read my bike trip in its entirety, check out the rest of my posts in the Cascadia to Aztlan series:
Please check out these great communities I'm contributing to: 

#ecotrain | What is EcoTrain | Discord Community

#cyclefeed | Introducing CycleFeed | Discord Community

Join us on Discord