I came to Portland with some vague ideas about a really cool place, and left with a bunch of specific impressions of a majorly awesome town. This includes the bike-friendliness of the entire region, the friendly nature of its people, and the fact that in spite of its size Portland has the feel of an endless small town.
Mi Casa Es Tu Casa
My unnamed riding companion had been there before lots of times, and so knew a bunch of people he wanted to look up. One of them turned out to be our host for the three days we spent there. As it turns out, we shared many commonalities. He is part Mexican, and just like my wife works with migration issues. He also told me he wants to build Earthships on the shore of Lake Chapala, in the state of Jalisco. He made us feel like at home, and I can't wait to return the favor when he comes to visit me in Mexico.
Autumn Solistice and a Full Moon
The first activity we partook in, right after settling in and washing off the grime of the road, was to join a group of friends to welcome Autumn with some mantra, music, and meditation. Being led by another friend of my friend, we gathered in a cozy "temple" area in someone's home, and chanted, sang, and hummed meditative tunes, with words in Sanskrit (I assume), and others in English. At first I let the sound just wash over me, simply enjoying my presence in it. Then I let my body swing with the soft rhythm, my lips inadvertently forming the repetitive words. Before I knew it, I was chanting myself.
Two days later, on the night of the full moon, some of our host's housemates had a ritual among the trees in front of their place. In that one we did not participate, but it was good to see how closeness to nature is being practiced in the daily lives of these wonderful people. 
It was also significant for our trip, that we left the Doighouse property just after the official end of Summer (Labor Day), and arrived in Portland at the beginning of Autumn. Also, the night of the previous new moon was our first night in the US. With this transitional time completed, as well as half a moon-cycle, we knew that Portland marked the start of a new chapter in our trip.
Bike-Farm, Microcosm, and Food-Not-Bombs
One important thing I wanted to do while in Portland was to find a bike-shop that is similar to my favorite one in Victoria, Recyclistas. Among the dozens of commercial shops I came across the Bike Farm, where the objective is to teach people bike maintenance, letting them use the shop to fix their own bicycles. Though my bike was perfectly fine, I had it looked over, and in the end bought a pair of head/tail lights, of course USB chargeable. More importantly, I made a postcard out of an inner-tube wrapper, and sent it to my friends at Recyclistas. They'd been telling me "Oh, there are TONS of bike-shops in Portand," but without being any more specific. May it be to the benefit of everyone, knowing about other DIY bike-shops along the way... if the two bike-shops want to establish a sister-program of some kind. As for me, I'm proudly carrying a Bike-Farm sticker on my bike.
Talking about stickers, there is one sticker I've been wanting to get, but so far only found it on-line: the flag of Cascadia. Since my whole trip is titled after this bio-region, I thought it quite appropriate to put it onto my bell, or anywhere else on my bike. For this reason we followed a recommendation to Microcosm Publishing, an alternative publishing company, not far from the Bike Farm. But even there, among all the progressive stickers, decals, and patches, we couldn't find any Cascadia flags.
To wrap up that day of activities in Portland, we went to a serving of Food-Not-Bombs. Rescuing food from being thrown out is a common passion of ours, and if not dumpster-diving ourselves, we certainly enjoy the food that others score, prepare, and share at public servings. That evening we had a rich dinner of a tofu stir-fry on rice, a delicious soup, along with a cornucopia of fruit, veggies, bread, and humus to take home. If we were going to stay longer, I also would have volunteered my help, but as it turns out we were leaving the next day.
New Stuff for my Bike
Another thing I had to do while spending time in an urban setting, was to reward my Red Fox with a few accessories for being such a trustworthy ride. Okay, in the end they are all things for myself as well, but so it goes. At the Doighouse I attached a piece of cut-off lumber (probably fir) above my front fender, as there were no stickers to be had, at least not yet. The idea was to use that "very light rack" to spread my solar array, so I could charge my phone, speaker, and lights while riding in the sunshine.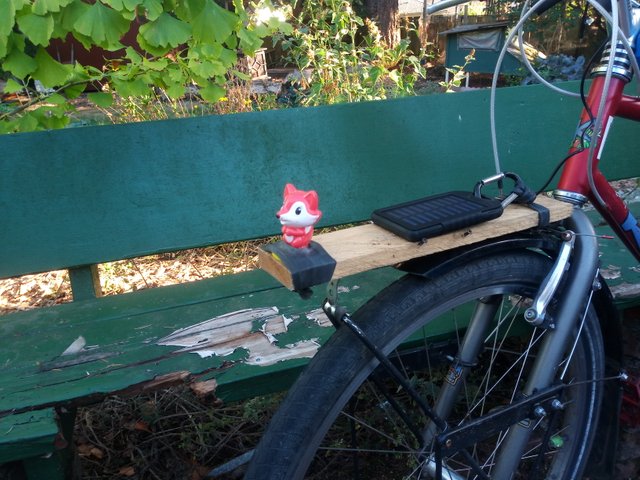 After shopping around at various retailers I managed to get a speaker, a solar-charger / power-pack, and an external keyboard for just under $100. The keyboard is great, letting me do all my blogging comfortably from my phone. Sure, there was a bit of a learning curve, but in the end this setup is way lighter, much more compact, and just as efficient as carrying my laptop with me. Now all I need to do is get comfortable with posting pictures...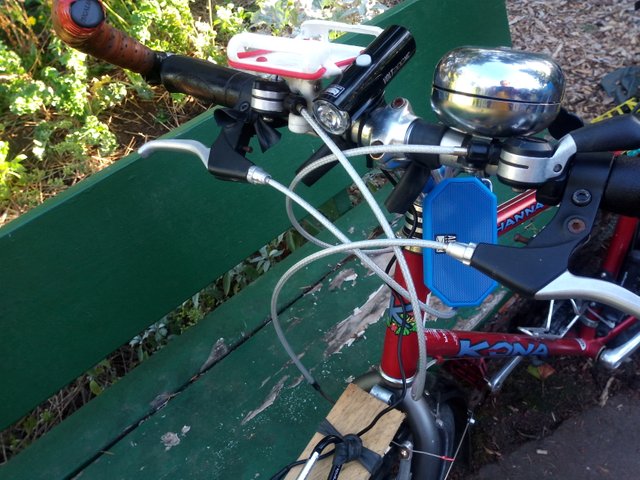 When we finally got back on the road again,we left Portland with a sensation of completion. I'm sure I would be back again. But for now, the road is calling...
If you'd like to read my bike trip in its entirety, check out the rest of my posts in the Cascadia to Aztlan series:
Please check out these great communities I'm contributing to: 

#ecotrain | What is EcoTrain | Discord Community

#cyclefeed | Introducing CycleFeed | Discord Community

Join us on Discord