I'm back at home again. Here in Mexico City things are pretty much like I left them. The pale sun is shining through a hazy sky, the streets are as jam-packed with cars as the Metrobus is with humans, and the streets are blaring with music… of course Christmas music at this time of the year! (Uuugh!) Time to reflect on a wonderful and amazing trip, which though it has come to an end in every sense of the word, it keeps playing reruns in my mind.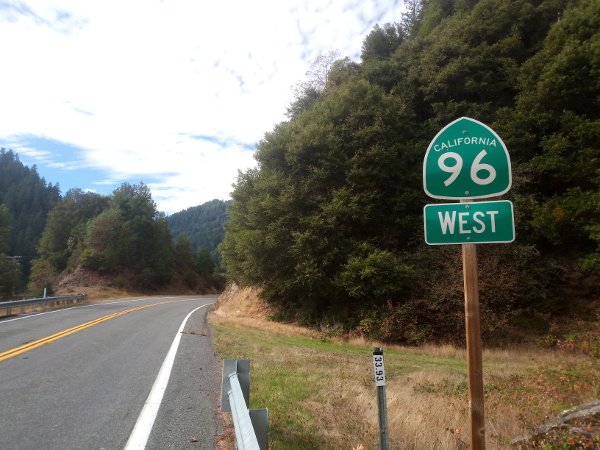 Distances and Altitudes
Thanks to Strava, I (mostly) managed to keep track of my exact route, the distances covered, and how high I climbed while riding them. I said mostly, since there have been a couple of errors, when it merely connected two endpoints with a straight line. So I used a conservative estimate, based on maps and Tom and Vicky's guidebook, to fill in the blanks. Now I can safely say that I have accomplished at least this much, though the actual amount was probably more. So how much is my grand total?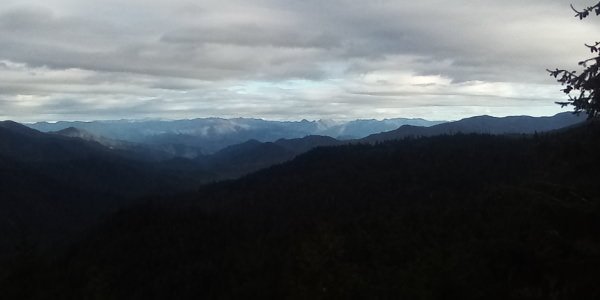 Between Qualicum Bay, British Columbia and Boulevard, California I have added up 3,867 km or 2403 miles. That is approximately the distance from Savannah, Georgia on the Atlantic to Los Angeles on the Pacific coast, assuming you take the straightest route. Interestingly, my cumulative elevation gain was proportional on average to the horizontal distance I rode: for every 100 km in distance I climbed 1 km in height. So in total I went up to an elevation of about 39 km or 24 miles, disregarding downhill rides of course. How high is that? It's about the altitude of the record holding free-fall, completed in 2012 by Felix Baumgartner, or about 2/5 of the distance to space according to NASA's definition (Karman line). WOW! (source)
Time and Money
So what does it take to make such an epic journey? Besides dedication, endurance, and a strong positive attitude, most of us think about the essentials: how much time should I include, and how much money am I likely to spend? Answering this, I always think of a piece of string: how long is it, really? I'm sure it could be a lot more, or way less, but in my case it took me exactly 90 days. This means leaving Qualicum Bay on September 4th, and arriving in Boulevard on December 1st.
Of course, there were a good number of days I didn't do any riding whatsoever: we spent two nights in Victoria, two nights on the Elwha river, two at the Hoh Oxbow camp, two in Seaside OR, four in Portland, four in Eugene, two whole weeks in Orleans CA, two nights in Santa Rosa, and a week in L.A. However, these breaks worked out so well that the major turning points of the trip corresponded to the phases of the moon: we entered the US at new moon, enjoyed the full moon in Portland (together with the start of Autumn), then rode into California at the next new moon, and left our friends' place at full moon. I dropped off Horizon in Salinas at the next new moon, celebrated Thanksgiving in L.A. at the full moon, and flew back to Mexico at the new moon. Three complete moons made up my trip. It could have been less, but where's the fun in that?
So how much did all this fun and joy cost me? All in all I spent $1,150 in the States, which does not include the rest of my Canadian funds I wanted to get rid of before leaving Canada. So dividing it by the 86 days in the US gives me an average of around $13 per day. This includes everything: from the food I ate, to the beers I drank, the cannabis I smoked, the bike-parts I changed, the occasional camping fees, the coffees I indulged in while using the WiFi… even the book I bought and haven't even opened. Sure, this was just the case for me. Other people may have gotten by with much less, others might have spent lots more. But I think it is reasonable, and I like to use this $13/day as a reference, especially when someone asks me if what I do is rob banks for a living. (Yeah right, especially on a bicycle!)
Spending the Night
In my posts about the trip I have mentioned campgrounds, open or closed, with or without hiker-biker sites, as well as hosts on warmshowers.org, and of course staying at Mom's House a.k.a. wild camping / bush camping / renegade camping, wherever a nice spot in nature offers itself. So all in all, which type of accommodation did we pick most of the time? Let's see: All in all I spent 19 nights at campgrounds, four of which did not have hiker-biker sites, and two others happened to be closed (though they were still accessible). I stayed at Mom's House 18 times in various wonderful locations. All together I was hosted by 12 fellow cyclists on warmshowers, one of them for two nights. The remaining  39 nights I stayed with friends or friends of friends, which ultimately made up the majority of my stays.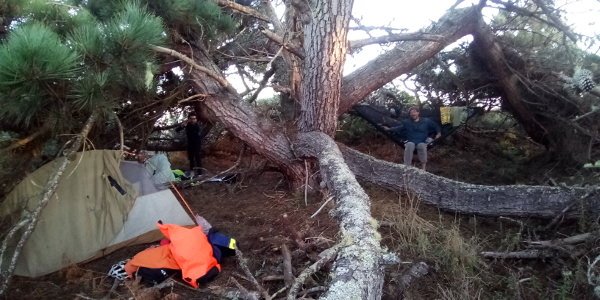 Problems on the Road 
None whatsoever! Thankfully nothing happened that would fall into the problem category. Of course there were annoyances, such as the rain during the first week of our trip, or being turned around in Malibu. I had to fix five flat tires in total, two of which on the last day of my trip, and I had to get a new pump when I broke its valve-locking lever during my first flat repair. Other than that my bike took great care of me, just like I took care of her. I got a new chain in Victoria, before crossing to the US, and a new rear tire in Los Angeles, when the old one had been ridden slippery bald.
Recommendable Establishments
Here is a shout-out to all the places I stopped by to buy something, and liked… for whatever reason: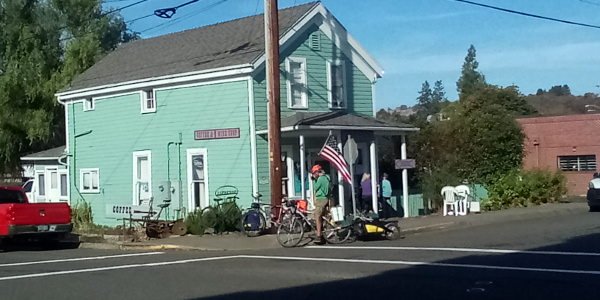 And Everyone You Meet...
Finally, let me mention all of those amazing touring cyclists we met, became good friends with, shared a portion of the ride together, or just had a brief chat with during a roadside break. The list is not comprehensive, by any means, but when touring we are always convinced that we'll run into each other again. Though I'm not touring any more, I'm still convinced to see everyone again, sometime, somewhere...
My good friend Horizon, who changed his plan a number of times to accompany me on my ride, all the way from Qualicum Bay to Salinas, CA. Thank you, Horizon, for making this trip such an amazing experience.
Beto from Guadalajara, who's riding from Alaska to Argentina, and joined us on a good section of the trip, from Benbow State Park down to Jenner, CA.
Anthony from Australia, who wants to cycle across five continents, and together with Beto accompanied us on our adventure until Fort Bragg.
Barbara from San Francisco, who we met in Jenner, and gave us some great advice on riding inland to Sebastopol.
Eric from Aptos, CA, I met in Monterey and then in Big Sur. He was full of stories about local rides, and places he's been wanting to go.
Cole and Hanna, a couple from Seattle and Gabriola Island, BC, I met in Big Sur. They are riding down to Central America, and I hope to host them in Mexico City.
Charley, who gave me some detailed instructions on how to sneak into a fancy hot-springs resort in Big Sur. In the end I didn't do it, but when we met again a few days later, he told me how easy it was.
Mary from Philadelphia, I met at Lake Cachuma. She was about to complete the Vancouver - San Diego ride, but took her time getting through Malibu due to the fires.
Yvan from Quebec, who started his ride in Tuktoyaktuk, the northernmost place with road access, going down to Fireland. We met in Slab City, and rode to Ocotillo together. I'm looking forward to hosting him in Mexico.
If you'd like to read my bike trip in its entirety, check out the rest of my posts in the Cascadia to Aztlan series: