At Jenner we bid farewell to the coast, and all the coastal riders we met along the way, and headed inland. Ultimately we wanted to get to Santa Rosa, but on the way we scheduled a stop with a warmshowers host in Sebastopol where we could get cleaned up. Also, there was a Shimshai concert that night that Horizon was interested in seeing. 
Mysteries of the Bohemian Highway
Riding along the Russian River was pleasant and picturesque. The gently ascending road was a nice change from the steep ups and downs of the coastal highway. At some point, however, we started a heavy climb on a road called the Bohemian Highway. 
Have you heard of Bohemian Grove? I only know what conspiracy theorists have pulled together regarding the rich and powerful elite, meeting at some gorgeous place in California, in order to plot their dominance over the rest of us, burning effigies, wearing drag, and participating in other weird rituals. Anyway, I was quite excited about riding right through that area, though we didn't really expect to see George W. Bush in a nightgown.
The closest we came to was taking a break at the so called "Druid Cemetery". We smoked, hydrated, and enjoyed some peanut-butter tortillas, but now I feel we should have looked at some of those "druid" graves and maybe get a glimpse at this strange esoteric elitism. As for the road, it was impeccably paved, lined with huge, beautiful trees behind fences of private property, and the drivers were ridiculously courteous to us cyclists.
Warmshowers on a Farm
We arrived in Sebastopol at the perfect time: it was still light out so we could orient ourselves to the center of town where we waited to meet up with our host. He arrived just as it was getting dark on a stand-up bike, inviting us to join him, his partner, and her two cousins to have drinks and dinner at the local brewery. We did, and time virtually flew by over burgers, beer, and friendly chit-chat. Afterwards we rode together out to the farm where they live in a tiny-home. By that time we had abandoned all aspirations to see the concert, and were happy to arrive somewhere safely, where we could camp in the oak grove. We were not even bothered by the fact that the shower was cold-cold. As we were setting up camp Horizon noted the music in the distance: it was Shimshai, the show he wanted to see! We almost could enjoy it, if it weren't for the traffic on the nearby road.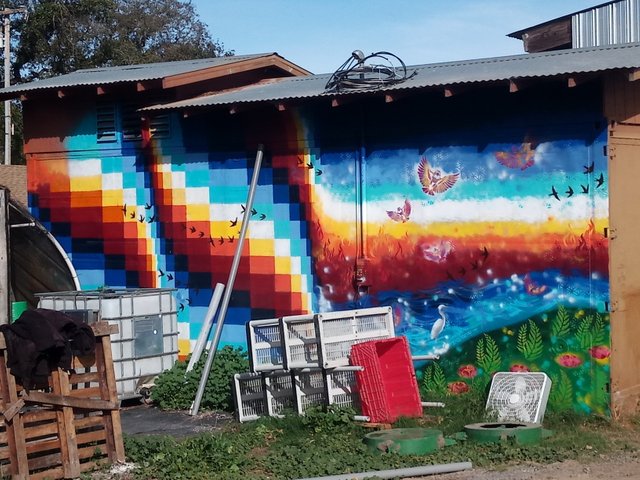 What made up for the lack of a warm shower was the extremely warm welcome we experienced at the New Family Farm. The next morning we had a chance to look at their cultivation of many different vegetables, and were even given some peppers to take with us. Since the ride for that day was only to nearby Santa Rosa, we took our time enjoying the morning with our hosts, before hitting the grocery store and the local DIY bike shop.
Fixing Bikes and Two Flats
Right between Sebastopol and Santa Rosa, on the bike path connecting the two towns, is the Community Bike Shop. It's one of those places I like to seek out, where you can fix your bike rather than have it fixed for you. There we spent the better part of the afternoon adjusting our derailers and brakes, mostly cleaning our bikes, and getting them in top shape for the remainder of the journey.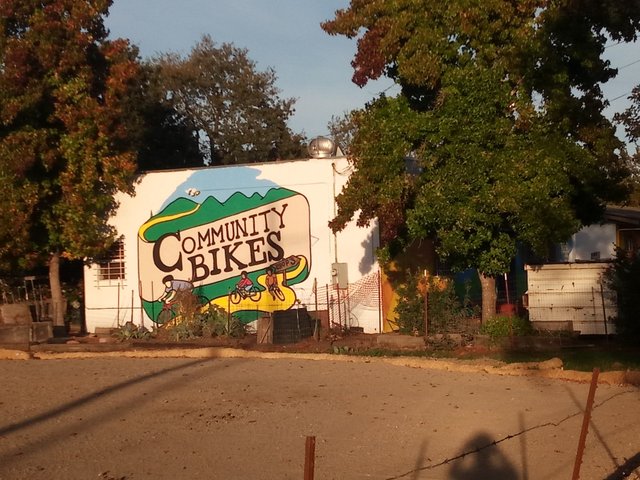 After four o' clock the sun was getting unusually low... Of course, we had just switched back from daylight saving time! So we got on our newly optimized bikes and headed towards Horizon's friend's house, on the other side of Santa Rosa.
Halfway there we were delayed by more bike work. Horizon's rear tire was flat. A big chunk of glass had pierced right through it. What an irony, that we just came from the bike shop, but even more ironic was the fact that the next day my front tire was flat too, similarly, from a shard of glass I had picked up. Seriously! Riding thousands of miles in back country without hardly any problems, and once we're "back in town" there's glass everywhere.
Resting Day in Santa Rosa
Our host in Santa Rosa was a long-time friend of Horizon's. The reason for visiting him, other than reconnecting, was the possibility of a job for Horizon. So while they took care of that I spent the day doing laundry, writing my blog (right, the day I published four posts), and indulging in numerous cups of coffee. That afternoon I even fixed my tire, so there was nothing more to keep us from continuing our trip the next day. San Francisco was getting awfully close...! 
Fortunately there was a hiker-biker camp just North of the Golden Gate Bridge, at Marin Headlands State Park. It was recommended to make reservations to ensure a camping spot, but for some reason that turned out to be more difficult than expected. Tuesday was their day off. So we just showed up, and since there was only one other tent (next to a bike!) we didn't have to worry about space issues. It was November after all. From there the Golden Gate Bridge was only a short ride, easy to tackle the next morning.
If you'd like to read my bike trip in its entirety, check out the rest of my posts in the Cascadia to Aztlan series:
Please check out these great communities I'm contributing to: 

#ecotrain | What is EcoTrain | Discord Community

#cyclefeed | Introducing CycleFeed | Discord Community

Join us on Discord