An O/X Quiz with CyClean's 2018 World Model Contest
It's a lovely Monday, everyone, and it seems like more and more people are getting pumped for the 2018 CyClean World Model Contest hosted by the CyClean Movement. To pass on to you some new information and to introduce the event to you, we have prepared an O/X quiz. Through this post today, you'll learn more about the contest's objective and the multiple ways you can be rewarded just by participating. There has always been excitement over CyClean's airdrop events, and it seems like that buzz will carry on to CyClean's World Model Contest. We hope you show as much enthusiasm for this event as you have displayed to us in the past!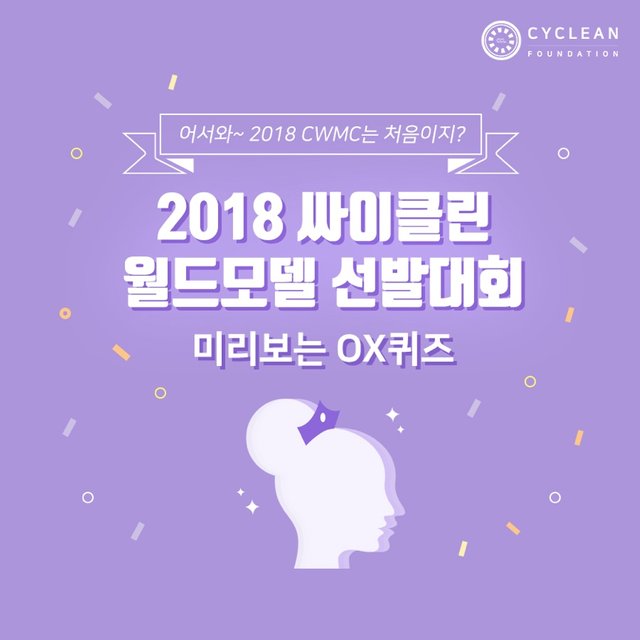 "Making a clean world, the CyClean Movement"
With the 2018 World Model Contest just around the corner, many people are asking the question "What does CyClean have to do with a model contest?" On the surface, there may not seem to be an obvious connection between the two. However, CyClean values the idea of making a clean world, and this model contest will further the movement. The ambassadors who are selected to represent CyClean will share CyClean's vision of a healthier mankind, healthier earth, and a better world. Unlike the beauty pageants we have experienced thus far, CyClean puts the focus not on external beauty, but on intelligence, personality, and refinement. Contestants who embody these qualities will serve as the CyClean Movement's ambassadors for the next year, during which they will propagate CyClean's message to the world. Also, we hope that the 2018 CyClean World Model Contest redefines the word "beauty" for all of us.
An O/X Quiz to Learn about the 2018 CyClean World Model Contest
In the near future, we plan to update you on everything regarding the model contest and we plan to publish various events online. If you participate, you can be the lucky recipient of big prizes, so make sure you read our posts and join us! Without further ado, let's discover how much you know about this competition.
Quiz 1.
CyClean's 2018 World Model Contest is held on November 20th, 2018, at KBS Sports World Arena Hall.
Quiz 2.
In order to participate in the 2018 CyClean World Model Contest voting, you must register in advance.
Quiz 3.
Everyone who votes during the contest will receive 300 CCL as a reward.
Quiz 4.
For each vote a model receives, she will receive 1,000 Kocoballs as a reward.
Quiz 5.
The ambassadors chosen from CyClean's World Model Contest will be active on television, magazines, and in promotional events, receiving support from JNU Group.
Answers: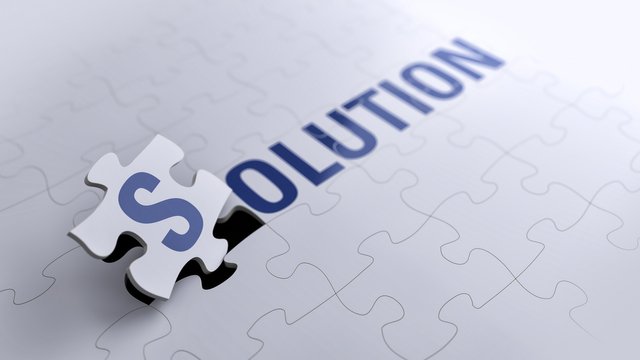 Many of you may have already gotten the correct answer but let's go over them anyway.
Quiz 1. (O)
CyClean's model contest will be held at 7 PM on Tuesday November 20th. Mark this date on your calendars so that you don't forget.
Quiz 2. (O)
Pre-registration is mandatory for anyone who wishes to vote. If you want to toss a vote for your favorite model during the main event, you must register with us during the allotted time period. We'll keep you updated on this.
Quiz 3. (O)
CyClean likes to drop things from the sky. That's why we are giving 300 CCL tokens to anyone who votes during our model contest. Vote and receive cryptocurrencies!
Quiz 4. (O)
Your vote puts a smile on the models' faces. For every one vote a model receives, they are rewarded with 1,000 Kocoballs.
Quiz 5. (O)
The answer to number five is also "O." The models who are appointed ambassadors of the CyClean Movement will participate in various activities to promote the motto of "making a clean world."
How many of you got every question right without cheating? If you did, then a pat on the back for you! It shows how involved you are with the CyClean Movement and the 2018 CyClean World Model Contest. We can host these events because of your ongoing support.
The 2018 CyClean World Model Contest offers fun, excitement, and rewards to double the entertainment for everyone watching and participating. The airdrop event for all voters will certainly be a reason for you to join us, but we also have exciting performances we've prepared for the night of the 20th. Additionally, we have different events that reward you with JPAY gift certificates coming up, so stay tuned for more. Thank you!
[ For more information about CyClean, please visit our website at ☞ https://cyclean.io ]