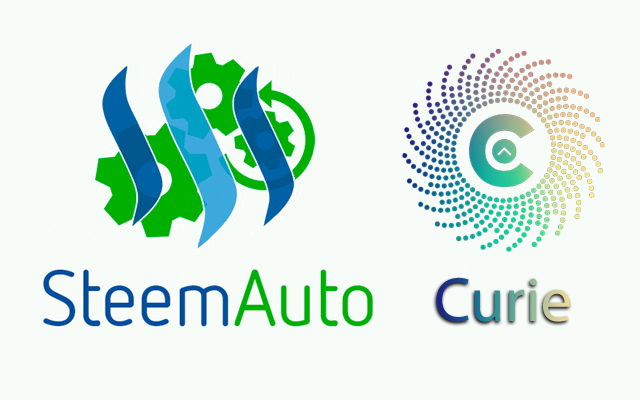 @Curie
is one of the top trails in the Steemauto with about total 1,900 and active ~1,600 followers!

Recently,
@curie
published a post:
Curie Community Building Support Application
Curie Community Building
Part of Curie's mission is to help grow communities on the Steem Blockchain. Curie takes its position as a community witness seriously and uses a portion of witness rewards to fund community support. Up until now, the process for awarding funding for community support consisted of a Curie Curator nominating a worthy contest or community to receive the support, followed by a vote by the top curators.
Since Steemauto is one of the most used and free tools in the Steem blockchain and we are getting troubles with server costs, I want to try this chance and get some support from @curie
Let's answer the questions:
What is your community / contest and what is its purpose here on Steem?
@steemauto - https://steemauto.com
Providing free tools to the Steem users and help their accounts, posts, and communities (like @curie)

How much support are you seeking per month for the two-month period?
We have more development plans for Steemauto and we don't want to stop Steemauto after 2 months or so!
Right now, we are paying about $170 to our servers (per month)
Supporting Steemauto is not limited! We will use all of the donations to provide better features and a better user experience.

How will this support be used?
We will pay for the running servers and coming developments in the future.

Approximately how many users participate in your community or contest?
Right now, we have ~33,000 users.

How will supporting your community or contest help grow the Steem community?
Steemauto will continue supporting great authors and great communities like @curie and I think the power of community is one of the things which can help Steem blockchain to grow.

What is your Discord name and number? (Optional - This may also be sent privately to @randomwanderings on Discord.)
MahdiYari#6090
---
Some updates:
After a discussion with @themarkymark, I decide to use Steem global blacklist in the Steemauto.
Also, I think to ban accounts who are selling upvotes using Steemauto by spamming users in the comments and transactions.
I'm working on the Steemauto and you will see some announcements in the coming weeks!
---
You can get more information about @Steemauto here: Steemauto - Free automation service on the Steem blockchain!
Regards,
2018-09-08