My Application for Community Curators September 2022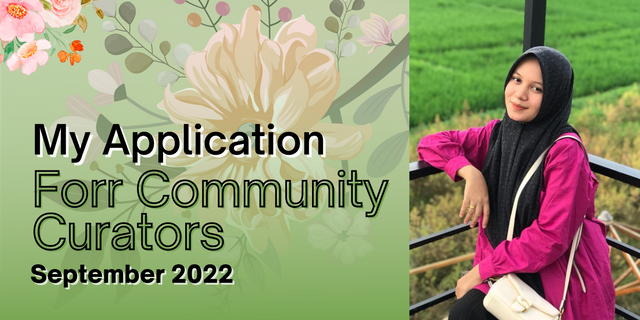 A brief summary of your history on Steem
Hi, everyone! My name is Nadiaturrina. I am a fresh graduate in the field of education management. In high school, I started developing my writing talent. When I was compiling my final project, I had prepared myself to work in a government agency in the country. The dream faded away. Indonesia is hit by Covid-19 and ruins everything.
A dream will only be a dream if there is no courage to make it happen. I met and told my fellow college friends about how our fate would be in the future. Some of my friends are now active on YouTube, some have become celebrities, and some are active in the writing world. I am one of them.
Details of any positions of responsibility you have held on Steem.
I pass day by day on Steemit by studying. Learn to adapt to the whole Steemit performance. My knowledge is getting more fruitful day by day. My posts are getting better. I learned a lot from the input of the Steemcurator01 and Steemcurator02 teams through the comments column. Day after day, I live full of happiness. Writing is no longer a burden.
My career is getting brighter in Steemit after becoming one of the moderators of the great community of Steem Women Club. Through this community, I learned a lot from the moderators who are also representatives from various countries. In the community, I was given the trust to curate using the community account, @steemwomensclub.
My career is growing. And initiative after an initiative in Steemit is popping up. I adapt to it with every change there is. I joined club5050, then club100 until now. Then I adapted to #burnsteem25 to push the price of Steem back up. Two months ago, our team, Cosmopolitan, was entrusted with curating using the @steemcurator07 account. Today we have passed this opportunity full of happiness.
Details of specialist or professional skills or expertise you have in 'real life'.
I have expertise in the world of cooking. That's because of my love for the world of culinary arts. Another skill that I have is the world of writing. I like to write. This love of mine causes me to continue to study to become a great writer in the future. I always spend four to seven hours a week reading articles about the world of writing from various sources.
The next skill I have is classical Arabic. Studying in a religious school made me master Arabic grammar. I used to teach Nahwu and Sharaf at the religious school where I used to study while completing my education management education on campus. Today I feel that everything will be useful. Being active in Steemit led me to explore a new skill, namely graphic design. Until publishing three exclusive magazines for Steemit.
What country you live in and what languages you can read fluently.
I live at the end of the island of Sumatra, Aceh, Indonesia. I am fluent in Acehnese (regional language), Indonesian (national language), and English. For English, I know more about grammar. And a little difficult to communicate verbally.
Your key stats - own SP, CSI, Reputation, Delegations.
Now, I have 27,216,885 STEEM power. Every day, I curate for quality posts, join a club, and burnsteem25. My Voting CSI is 15.8 ( 0.00 % self, 173 upvotes, 101 accounts, last 7d ). So far, I have 73 reputations and delegated 3,035 Steem Power to 7 communities.
Any subjects you particularly enjoy curating.
Doing curation is not easy. We have to do a reset first so that upvotes are given right on target. I like the post theme about #creativewriting, #food, #steemgrowth and #health. These four themes have a special place in my heart.
The minimum team size you would be willing to serve in (1 - 7).
I can work individually and together with a team. Working with a team makes all the work easier. The team is like a broomstick. Together we are strong! Together we can do extraordinary things.
That's how this application was made. I will give the best for Steemit, Steemian, and the world. Thank you to all Steemian friends who have supported me so far. I appreciate it.
Indonesia, August 25, 2022
❤️
Written with love and heart