Application for Community Curators for December - Team Newcomer
Dear @steemitblog
I read the post about Community Curators for December - Team Newcomer. I would love to apply for this position I feel my self confident enough to serve this responsibility as I have done it earlier too.
📢 Community Curators for December - Team Newcomer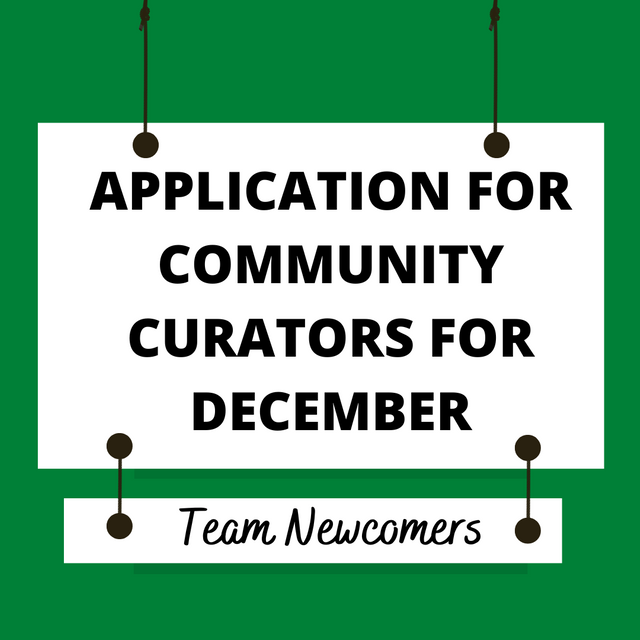 ---
A brief summary of your history on Steem
---
I am Aniqa Mashkoor. I joined Steemit in 2021 January. That was one of my best decision of mine since the verification of my achievement I had a great time here on this platform. It would not be wrong to say that I have spent a life here and have grown up with this. I have shared all my life experiences, achievements, and even hard time here over this platform and have always found a family here.
I have always been a member of different clubs since the time clubs were introduced and actively participated in the engagement challenges. I have written many useful articles for a better understanding of people. It has always been a part of my nature to help people here by all means.
I was inactive for the last two months because of the sudden death of my father and it take time for me to get back to life I know that people here will support me to be back on track. May God grant my father the highest ranks.
---
Position and Responsibilty
---
I am good at taking responsibilities and fulfilling them to my best. I have served as a greeter helper in the newcomer's community with my best. I have been doing that with all my heart. I have guided hundreds of people about steemit and its use. I have given the newcomers maximum support and have served this community to have real people.
These are the few posts that reflect my efforts for this platform.
After this, I have served in another role over this platform. I was a moderator of the Steemit Pakistan community for a good long time. I know the roles, tasks and responsibilities and I ensure that I will give my best to serve this role if I got chosen. CLUB 5050- STEEMIT PAKISTAN'S NEW MODERATOR - Aniqa Mashkoor
---
Experience you have had helping newcomers on the platform.
---
I have a lot of experience in helping newcomers because I know that whenever any newcomer joins steemit there is a whole new world. There are a lot of difficulties that any new person phase and I try my best to help everyone as much as I can.
As I mentioned that I have served as a greeter helper and have a huge experience in guiding.
---
Country you live in and what languages
---
I am a resident of Pakistan. I am currently living in Karachi and have been brought up here since my birth. I know English and Urdu best.
I can check the achievement tasks that are written in English/Urdu. Though we can use google translators to check other posts as well. Thus if required, I can go through such posts too, try to understand them, and rate their work accordingly
---
key stats - own SP, CSI, Reputation, Delegations
---
My Own SP 4354 SP
My Club Status I am club5050 right now
My Reputation It's 67 now
My delegations

I know it's not fulfilling the criteria for selection but I firmly believe that I can perform this responsibility very well and will have Pakistanis the most and obviously other nationalities. If I would be given the chance the blog will not regret.
Thank You! looking forward.