New adds since last update
@alejandra23 @surfyogi @artzanolino @nmalove @web-gnar @twirble @jacobite @gbija @gvand @krystle added to my automatic upvotes.
---
Hello my fellow Steemians. Since I've been privileged to get the support of others like @dsound @ftlob @musicvoter @smacommunity @msp-music @msp-waves and many others I've been able to build up a quite good Steem Power in a short amount of time. So I decided I wanted to continue this way of supporting others building their account, and do it in a bit more organized way. Hence this new initiative "Jon Magnusson's favourite Steemians support".
This support initiative consist of three different parts with different levels of commitment from my side. Delegation, curation trail and automatic upvotes.
Delegation
Some of my Steem Power is delegated to different initiatives to make their voting power higher, and in that way they can keep helping the community grow thanks to bigger upvotes. Today I'm delegating SP to the following accounts @DSound @musicvoter @minnowbooster @msp-music @ftlob
Not only do delegation let you support others, a lot of times it also allows you to get some kind of support in return, most often a bigger upvote from the actual account.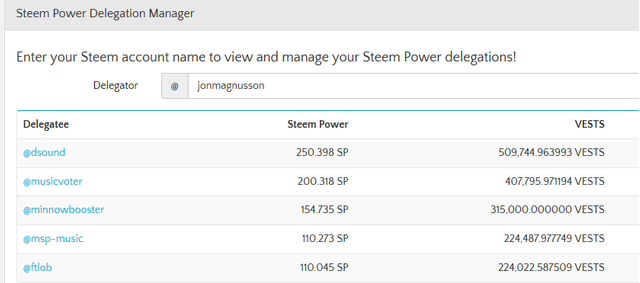 To delegate yourself check @steembottracker here
Curation trail
Another way to support great content without having to do to much work your self is following a curation trail. This mean you will automatically upvote the same posts as the account who's curation trail you're following. You can even decide to scale your upvote so if the curator you're following upvotes 50 % and you've set your upvote to be 50 % of the curators your upvote will be 25 %.
Personally I follow the following curation trails @openmic @musicvoter @dailypick @smacommunity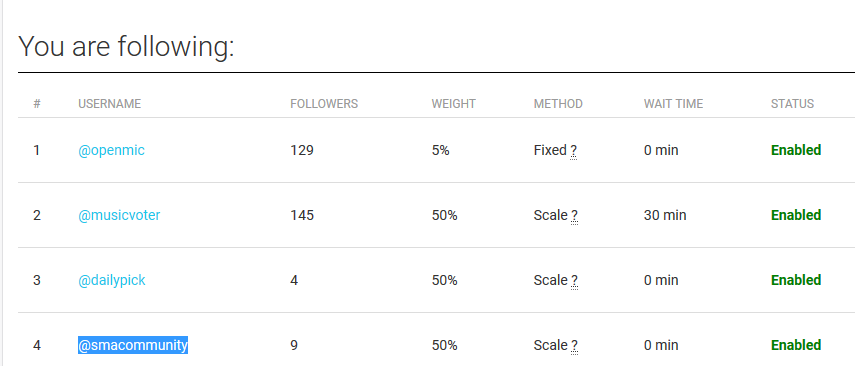 To find curation trails and follow them check out @steemauto or go directly to their site
@musicvoter also wrote a nice guide on how to follow a curation trail.
Automatic upvotes
This part is the most active and also the one I personally think is most rewarding. Everyone who I added to my list of automatic upvotes are accounts that either makes really good content that I want to support and draw attention to, or accounts that do a great work for the Steemit community via contests, curation or similar.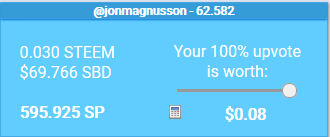 So far the following accounts get regular upvotes as a part of my initiative "Jon Magnusson's Favourite Steemians Support". And since I choose each and everyone by myself I can tell that at least I think they have amazing content that's worth checking out. Most of them are more or less music related, but there's also some poetry and other kinds of written content makers.
@isaria
@atomcollector
@ftlob
@d-vine
@seveaux
@chiefmappster
@avesa
@taphophilia
@theatreofdelays
@spawnband
@newenx
@theturtleproject
@darrenclaxton
@yidneth
@edje
@musicvoter
@warpedpoetic
@gjart
@nakedverse
@macchiata
@grizzle
@djdarkstorm
@djlethalskillz
@samprock
@peter-ella
@fun2learn
@luzcypher
@playitforward
@peppernrino
@scuzzy
@ralfdee
@theomgbrand
@kryptoe
@petrajordan
@edprivat
@kahsay
@globocop
@r0nd0n
@jeffleinwand
@prc
@vandigital
@aggroed
@planktown
@disarrangedjane
@artzone
@alejandra23
@surfyogi
@artzanolino
@nmalove
@web-gnar
@twirble
@jacobite
@gbija
@gvand
@krystle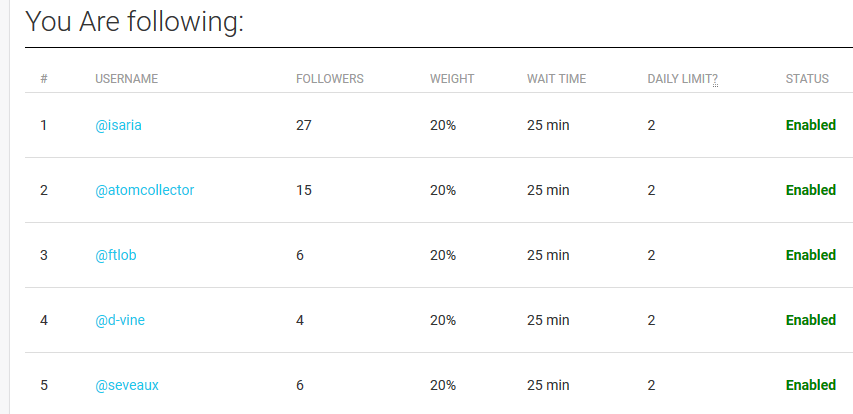 If you believe that you or someone else deserves my attention, please leave a comment with a link to some of their work. I wont do any traditional curating or leave any feedback on why I choose to add or not add someone to my automatic upvotes. And any nagging about it will definitely mean you're forever off my radar.
---
Follow Jon Magnusson on






Eclectic Indie Rock/Folk musician from Sweden