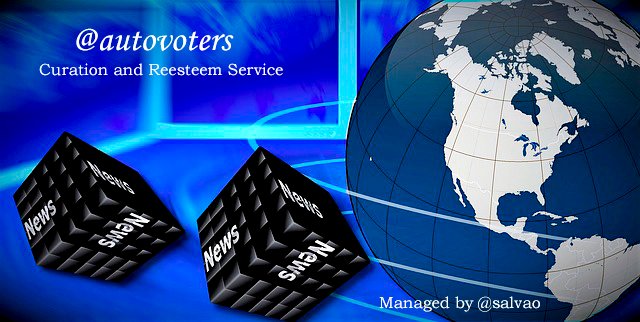 Edited image from Pixabay

These are the eight posts voted today by @autovoters:
---
Two from my feed -
---
Three from @salvao´s feed -
---
And three from the ocean...
Also upvoted our collaborators & allied project posts.

See the service update (always rules the price on the cover) HERE
-----------------------
This project has been conceived and is managed manually by @salvao. Daily I will vote publications from all over the world, without distinction of language or tag. In addition to specific publications according to my curation system (no plagiarism, no spam).



Behind this curation hides a conscientious work of search, reading and evaluation.

Visit our collaborators´blogs:
@josegilberto     --     @mllg     --     @miguelarl    --     @pepiflowers
@johannfrare     --     @leveuf     --     @amigoponc
Visit our allied project blog:
@talentclub


Learn how to access the club on DISCORD
@fuerza-hispana


Vote them as Witness HERE
---
Visit