So I checked my email browser one last time. He did say 12:25pm yet I knew him too well; should do, he's my twin! Yeh, almost 60 years living with my shadow, or so that seems!
Yep, just as I suspected, he's catching the earlier bus so he'll be at the Kilbirnie Hub at 12:10pm. Time now: five-to; still got time for a few more click-click-clicks.
Whoops, gotta go, where's my jacket.
Even in mid-October the weather in Wellington, New Zealand can be viciously cold. Not too bad today though, just a bit of low cloud, perhaps Scotch Mist.
Out the door I fly, pulling the house key out of my pocket and just there, I see the voting papers.
Darn, almost forgot them. Yesterday was the last day to post these ones off: local body elections. Oh well, as least Mary and I can say that we voted, even if a little bit late. Seems to be the way with democracy these days, late or not at all.
Trotted off to the corner dairy where the postal box is now located. Used to have post boxes all over the place until NZ Post could no longer justify that service given the falling revenue from snail mail; that's progress, I suppose. Slow service leads to no service!
Mail sent so now off again, dash across the road, and get to the Hub just as he steps off the bus. I grab the Noise box from him.
I'm finally getting used to our new surroundings. Mary and I moved to the new apartment a few months ago, and we're now locals. We know all the short-cuts so we can hurry and scurry, no problem.
He wants to grab a couple of things from the shop on the way back to my place. Man, that corner dairy is great!
Pak'N Save Kilbirnie is not only one of the cheapest supermarkets in New Zealand, it's also one of the largest; takes up half the block. Neat, we don't need an emergency survival kit, we've got PNS opposite our place!
Right, home at last and in we go. I put the Noise down and help him get comfortable. Coffee? Choice, me too.
Open up the box and assemble. Just need Mary to get back from her trip with her aunt.
He heads off to his place in Newtown, by Wellington Zoo. A few minutes later, Mary and auntie arrive. Wow, they say, have you got the thing working? Nope, I reply, missing a cable. Too late now to get one so will have a looksie around the shops tomorrow.
Whew, that was close! Got another evening of peace and quiet before the Noise. Besides, that typhoon near Japan has caused the New Zealand vs Italy rugby match at the Rugby World Cup to be cancelled, so there really is no urgency now to get an antenna cable for the new smart television!
Silence is Golden, Golden...
Ian Ballantine
Wellington, New Zealand
October 11, 2019.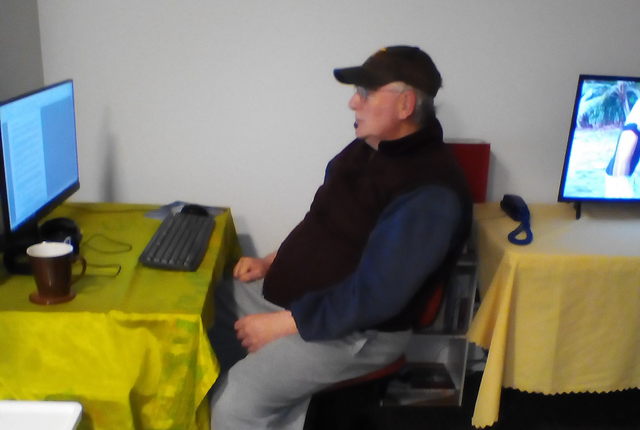 Mary watches the Noise, I blog in Silence...
Playlist: https://www.youtube.com/playlist?list=PLXmslb93hWNngz2_5zE6-oud1_1IcefmV
Lyrics: https://www.lyrics.com/lyric/9655185/Silence+Is+Golden