Pundi X - Buy Now or Cry Later - (Buy Back + Monthly Airdrop + New Listing)
Pundi X is still little known, especially as CoinMarketCap is not representing the real Market Cap which is now above $600 mm and should be ranked 34, just above NANO.
In fact NPXS has shown incredible performances (x12 since March 2018) following strong partnerships, a functional product and a real utility for the crypto world.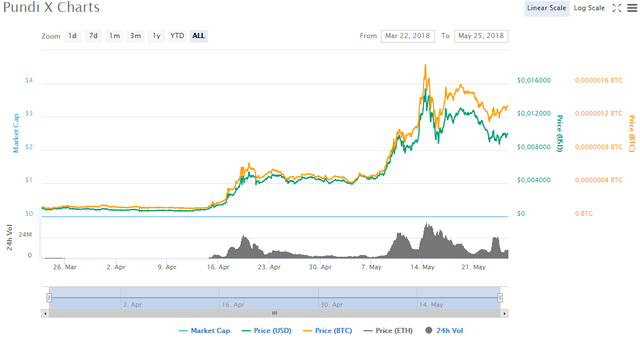 The team is boosting the tokens by taking part in major events and regularly do buy backs, the most recent one being announced on May 25 for a price twice as high as the current one (100 ETH buy back until $0.02/NPXS).
The company facilitates crypto payments with their app and gathers more and more partners from the crypto ecosystem as well as the fiat world. Check their website and their Telegram Channel, do your due diligence and realize that Pundi X is on its way to the Top 15 !
The new rally is very near, as every 1st day of each month, tokens holders receive a 7.316% airdrop of all their tokens and this runs until January 2021. This is literally free money and an incredible investment, again, backed by concrete achievements and physical products.
Finally, Pundi X is most likely going to be listed in Bit-Z very soon, following the current vote (https://www.bit-z.pro/vote2/NPXS).
Friends, all the indicators are green, buy now ... or cry later !