New Crypto Blockchain Games Coming Soon!
i've just found a few cool looking new crypto games like #cryptokitties that are coming soon so i thought i'd share with you guys asafp!
Cryptohunt - this first one looks AMAZING!! i'm a huge pokemon go fan so this AR (augmented reality) blockchain game is right up my alley! https://www.cryptohuntgame.com/#how-does-work, it launches a demo in 16 days and 8 hours ish so i will definitely be trying to sign up for a go on that! - they've done some videos about it which are on youtube, check them out!
Cryptopets - this looks interesting, the first 5 pets to be released are Dog 🐶, Galapagos Turtle 🐢, Giant Panda 🐼, T-Rex 🦖, and Unicorn 🦄, already a bit of a better variety than a bunch of cats init! https://www.cryptopets.co/overview it says pet adoption coming soon so keep an eye out for that. they also donate 20% of all sale proceeds to the WWF. which is nice.
Cryptopuppies - https://www.cryptopuppies.org/ this only has a roadmap but you can subscribe to their newsletter for future updates, the officaial release says early feb so that should be along soon too.
CryptoZombies - https://cryptozombies.io/ this one seems to be a free interactive code school that says it can teach you how to make your own blockchain games, but i think it may be a tad complicated for me at least, but im sure most of you guys won't..
Fishbank - this one is a little bit closer to launching than the others, it's currently available to play an alpha test version of it - https://alpha.fishbank.io/my_fishes using the rinkeby test network on metamask and some free (non transferable) ETH to play with, it's fairly easy to set up, all explained on the page in the link above.. i had a small go, caught a few fish from the aquarium for 0.03eth each and sent them to attack some other fish so they could gain some stats. there's seems to be a really big selection of different fish to get from small idol fish and medusa jelly fish to legendary whales and sharks..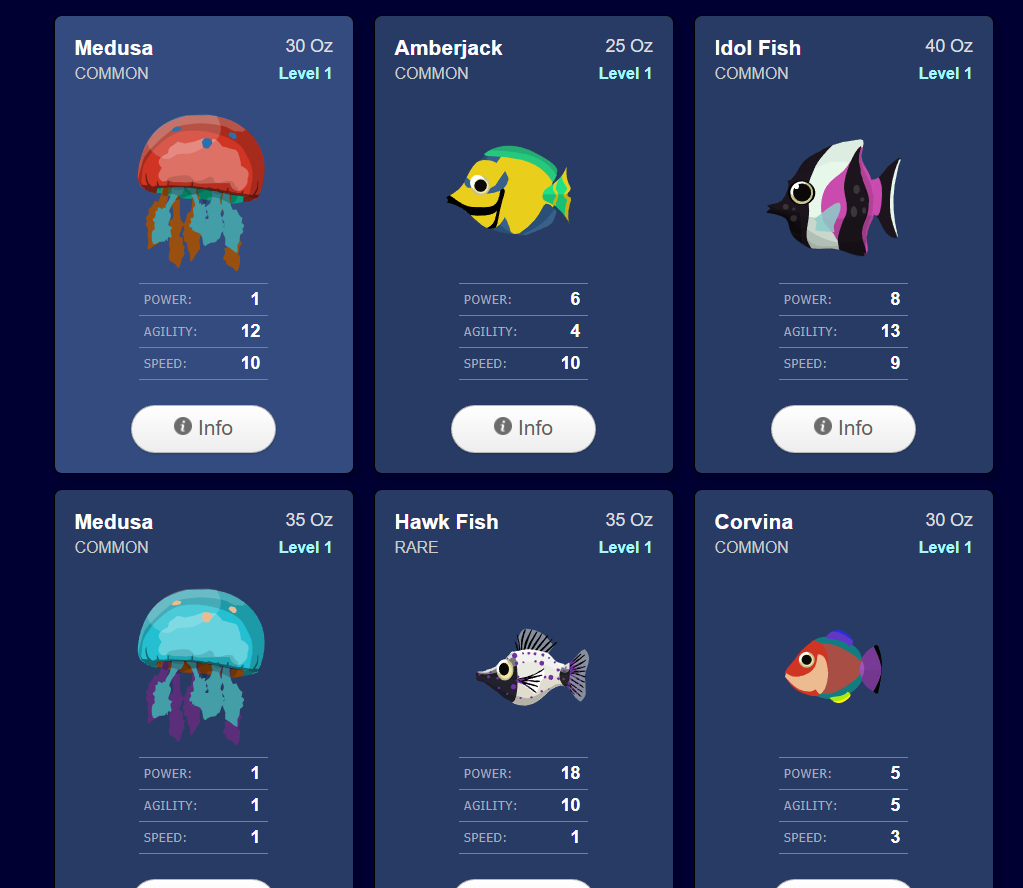 these are the ones i got from the aquarium.
Cryptotitties - yes you read that right! https://cryptotitties.fun/ this game claims to be giving away an actual motorboat, or maybe just an invite to a party on a yacht, or maybe both, not bad either way.. they too will be donating some of their monies to a good cause with 70% of support vote profits going to a breast cancer foundation.
Trondogs - also worth a mention, though most may have heard of this one by now, it's launched its english site recently and TRX is cheeeeap right now, so could be worth looking into.. https://tron.game.com/#/market
i'm sure there's plenty more that i haven't found or listed yet, so feel free to add any in the comments below! thanks for reading, hope it's been helpful in the slightest.. though worth noting i'm the furthest thing from an educated person in any of these crypto departments, so don't blame me if u get burned! :p