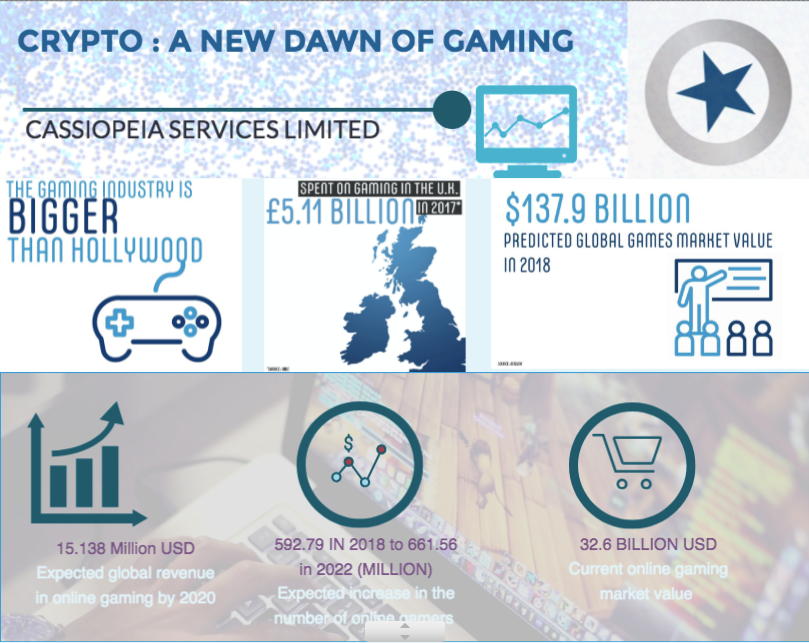 As new technologies enter the gaming world, the market opens to up to new ideas, and user experience becomes increasingly sophisticated, gamers find themselves spoilt for choice and tech companies keep finding new niches.
The market shows evident signs of growth and users are very tech-savvy, prone to be early adopters of technologies that will enhance their experience. The infographic above says all about the numbers and damn they are impressive.
Blockchain platforms have started to evolve and assist humans in decentralised applications, particularly in financial uses. However, the momentum gathered by the crypto revolution last year is now spreading to other sectors within the tech industry — perhaps even creating completely new ones. The crypto gaming arena is a case in point, as blockchain- powered games are set to revolutionise how people perceive online gaming.
It is no news that the gaming market has been in expansion for the past decade, with online and mobile gaming accounting for the biggest gains. Numbers indicate there are more than 25,000 e-gameing platforms worldwide, generating altogether between USD$20 to 40 billion in revenue. By 2021, consumer spending on games is expected to reach the $180.1 billion mark.
Online gaming is expected to grow by over 11% a year until 2020. This impressive growth is mostly down to new technologies enhancing current gaming experiences and creating niches in the market.
With such a blossoming field that the gaming environment is turning out to be, one can only speculate what the future holds when gaming will be combined with blockchain technology. Decentralisation has a lot of benefits and especially in the online gaming field. For more information on this hot topic please wait for part 2 of our blog.
For more exciting information on block chain and ICO's follow us !
Website — https://www.cassiopeia-ltd.com/home
Youtube — CassiopeiaServicesPLC
Telegram - https://t.me/joinchat/IRmyjBGoplyOw6alnlHGXw