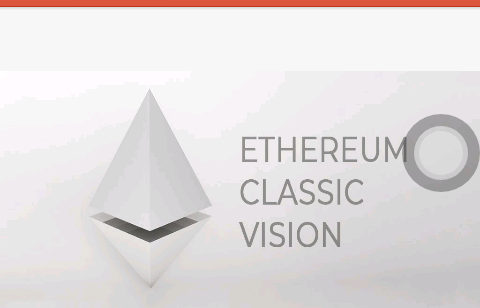 Digital currencies have become the order of the day, a lot of people are investing in it due to the huge profit people make from it. But currently, the prices of cryptocurrencies have fallen drastically and efforts made to raise the prices have proven futile. This has been a hindrance to the growth of the community as people are scared to invest in it. There have been a lot of ideas and ways which can have been suggested to help solve this problem but none has been adopted and it will take some time before it will be implemented.
This is the main reason why Ethereum Classic Vision (ETCV), a new cryptocurency was created to solve this problem. We will transform Ethereum to allow a lot of transactions to take place at a specific time, making transactions faster and much cheaper. Miners too have been receiving much lower rewards after mining and the proposed further reduction in their rewards have made them extremely angry. We seek to make mining more profitable and give miners value for their money. Decentralization of Ethereum is declining and centralization is rather taking over. ETCV seeks to restore back the decentralization feature of Ethereum.
The proof of stake concept will be used instead on the proof of work concept. The latter in inefficient and faced with a lot of problems however, it is mainly used in the crypto space. The former uses less energy, distributes rewards to users equally and is also highly decentralized. In addition, it is much safer and secure. With the issue of fluctuation in prices, the Proof of Stake feature will ensure that prices of tokens are more stable and fixed.
There are specific features that make ETCV different and make it stand out. The exchange will be known as VisionDEX which will ensure maximum security and protect user's holdings from hackers. It will also prevent companies from closing these exchange and allow users to store BTC, ETH as well as other tokens including the Ethereum Classic Vision token (ETCV). The transaction fees on this exchange will be much cheaper due to the absence of third party authenticator. Currently, there are a lot of applications that are on the network that are not in use and neither contributes to the development of the network. ECV will only provide applications that are needed and will contribute to the development of the network.
Roadmap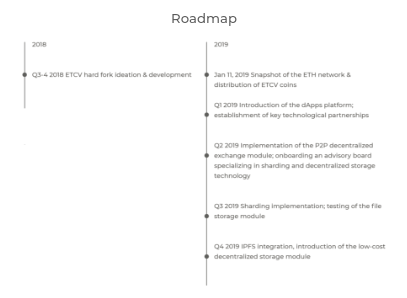 An ideal network is supposed to be secure, decentralized and scalable. Availability is the limit to the number of transactions that a specific network can process at a specific time. Sharding is a development which will be adopted by ETCV to deal with the problem of scalability. Sharding is the process of partitioning data within a network, the data is divided into several pieces (shards), which are later joined together to form the original database. This feature is vulnerable to attacks, hence the validates will be selected randomly so the shards will not be known before hand.
Token distribution
The ETCV tokens will be distributed on January 11, 2019 and users of Ethereum coins in their private wallets will receive ECV tokens according to a 3:1 ratio.
In conclusion, we say the main vision of this project is to modify Ethereum by providing solutions to the problems that hinder people from investing. Some of the problems include fluctuation in prices, centralization and security problems. We believe ETCV will provide the solution to all these problems in order to attract more investors in the cryptocurrencies.
Quote
Hard fork Ethereum - Ethereum Classic Vision - 11.01.19
Visit the following sites to learn more about the project
Whitepaper: https://ethereumcv.io/whitepaper.pdf
Website: https://ethereumcv.io/#subscribe
My BitcoinTalk profile link: https://bitcointalk.org/index.php?action=profile;u=2067551