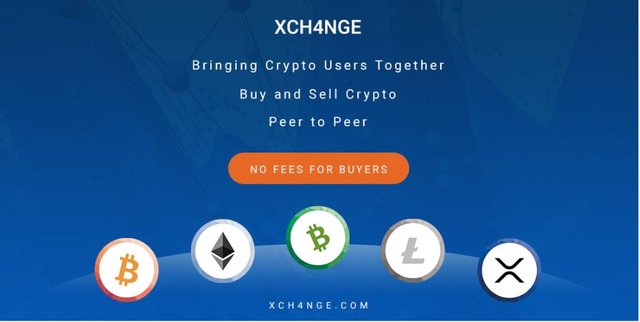 Introduction
Cryptocurrencies are becoming relevant in today's world and are gradually being accepted by various societies. There are over thousands of cryptocurrencies out there and interestingly, the majority of them are geared towards addressing real-life issues. Application of cryptocurrencies could be seen in the business sector, agriculture sector, health sector, and many others. The result is really encouraging and indicates a massive adaption in some years to come.
It is quite unfortunate that the majority of the world's population have less or no knowledge of the blockchain technology, cryptocurrencies, and its related benefits and use cases. In this report, we are going to look at what cryptocurrencies are and some top cryptocurrencies in the market. We will also be looking at some uses of these cryptocurrencies in our daily lives and most importantly how one could acquire some cryptos.
What are cryptocurrencies?
By definition, a cryptocurrency is a virtual or electronic currency deployed to serve as a medium of exchange and it is secured by cryptography which prevents it from being counterfeited. Cryptocurrencies in simple terms are merely limited entries in a database which nobody can alter without fulfilling specific conditions. The first cryptocurrency which is Bitcoin (Buy cryptocurrency in Africa) came into existence as a side product of an invention (The Blockchain). Initially, the founder of bitcoin was creating a Peer-to-Peer Electronic Cash System and there came the need for digital currency to play a crucial role in the proposed system. Until now, there have been many other alternative cryptocurrencies (altcoins) which are either mimicking bitcoin or deployed as a result of a fork (a change in protocol that splits a cryptocurrency into two distinct ones). Examples of these altcoins include Ethereum, Litecoin, Ripples, and Bitcoin Cash etc.
Now, let's familiarize ourselves with some of the properties of cryptocurrencies.
Cryptocurrencies are irreversible once transactions are confirmed on the blockchain. This means you have to be extra careful when sending cryptos because no one on earth will be able to reserve the transaction. Be safe guys 

With cryptocurrencies, users can send funds pseudo-anonymously. Transactions between parties, most especially wallet addresses aren't tagged to real lie identities.

Send and receiving cryptocurrencies are comparatively faster and is accessible to anyone across the globe. It takes a few moments for transactions to confirm on the blockchain. However, there are worst cases whereby transactions take a bit longer to confirm when the network is congested.

As we stated earlier in this report, cryptos offer a secure way of sending and receiving funds. This is made possible by cryptography.

There is no restriction as to who is supposed to use cryptocurrencies or who is not. Cryptocurrencies are permissionless. All that you need is an app and you all set to receive and send cryptos.
Ways to use cryptocurrencies in real life
Due to some old school notion behind bitcoin and cryptocurrencies as a whole, it was quite difficult to spend crypto in real life. However, things have changed now. It is now common to buy goods and pay for services both online and offline. There are a number of merchants that accept cryptocurrencies (most commonly bitcoin) as methods of payment. I was even surprised when I came across a news that, a guy bought 2 packs of pizza for 10,000 bitcoins. Online retailers like Overstock and Newegg accept bitcoin as a mode of payments. In addition, there are other online marketplaces like Bitify that accepts cryptos as payment.

Cryptocurrencies currencies have also provided an avenue for lucrative investment opportunities. You can [buy crypto] and hold them for a longer period with the hope of your crypto gaining value with time. There are other ways one can invest in cryptocurrencies which are Initial Coin Offerings (ICOs), trading on cryptocurrency exchanges etc. be reminded, there is high risk involved.

Mining cryptos involve contributing computing power to solving complicated cryptographic puzzles which are requirements for confirmation of transaction on the blockchain. You can choose to invest in mining resources and earn passive income. Litecoins, Feathercoins, and Dogecoins are by far some of the best cryptocurrencies to mine considering its cost-effectiveness for beginners.

Business could also choose to accept cryptocurrencies. This is prevalent with online start-ups. But there is no restriction as in its applications. Nowadays, there are POS mobile and web apps that make integrating cryptos as payment options hustle free.
How and where to buy your cryptocurrencies.
There a numerous ways one could acquire some cryptos today. For example, you can buy bitcoin through ATM, buy from exchanges, buy from individuals etc. All these options have their good and bad sides. However, there is a new p2p exchange platform that allows individuals from all over the world to seamlessly buy and sell cryptocurrencies online. In our next paragraph, we are going to go analyze the xch4nge's platform and figure out why it is the best place to buy/sell your cryptocurrencies.
Xch4nge.com – Let's take a closer look!
Xch4nge is a digital asset ecosystem with the underlying motive of allowing people to own and use cryptocurrency. The p2p exchange platform facilitates the purchasing and selling of cryptocurrencies with security and user experience being their utmost priority. Xch4nge connects crypto users around the world and ensure a smooth transaction between the concerned parties.
Using xch4nge comes with great benefit and advantages over other p2p exchanges. The platform is designed to enhance user satisfaction and safety. The team provides services and have remarkable features that any user can take advantage of. Individuals can enjoy these services on xch4nge:
Users can buy and sell the major cryptocurrencies on the xch4nge market place. As we speak, the platform supports five cryptos namely: XRP, Bitcoin, Ethereum, BitcoinCash, Litecoin. Interestingly, the team has plans to add new coins in due course. You can get these coin at best rates.

The latest prices with all fees included!

There are no hidden fees on the exchange. You only pay for what you see and this is to uphold transparency on the platform. Besides, the fees are comparatively low on xch4nge.

Xch4nge offer 24/7 live support with real human operators for its customers. As soon as you visit the website, there is a pop that alerts the user if he/she might need assistance. They have other representatives on telegram who are available to respond to user queries.

Xch4nge provides its services to over 250 countries in the world. This means you can buy Bitcoin in Nigeria, Buy XRP in China,sell Litecoin in USA, virtually anywhere you are in the world.

Users have the option to choose between bank-level KYC process or basic information verification process. You instantly start trading cryptos or verify yourself in a couple of minutes.

You can also securely store your digital assets on the platform.
How to buy on xch4nge.com
This is a step by step guide I prepared on how you could get started with xch4nge exchange platform. The procedure is simple and straight forward.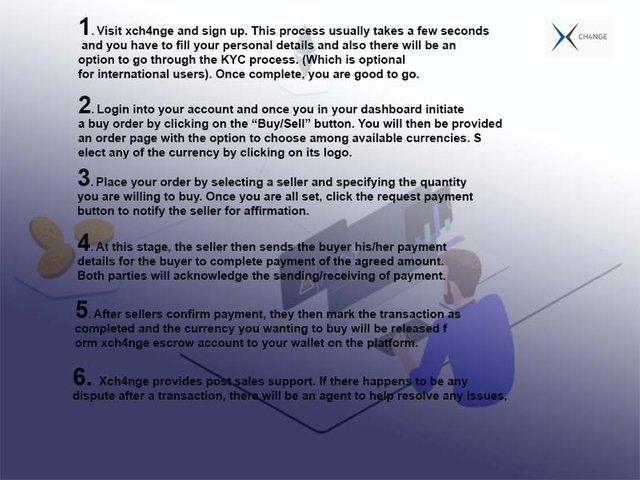 Conclusion
In a nutshell, xch4nge has great things to offer the crypto community and as part of their initiative to help people buy/sell cryptocurrencies, they have started a referral program to reward it users just for inviting their friends and family to the xch4nge marketplace. You can earn monthly income from this opportunity, get started by visiting here
Links
Website: LocalBitcoins
Twitter: https://twitter.com/xch4nge
Facebook: https://www.facebook.com/XCH4NGE/
Instagram: https://www.instagram.com/xch4nge/
Bitcointalk Username: thinkright
Bitcointalk Profile Link: https://bitcointalk.org/index.php?action=profile;u=2328259