🗞 Daily Crypto News, October, 3rd💰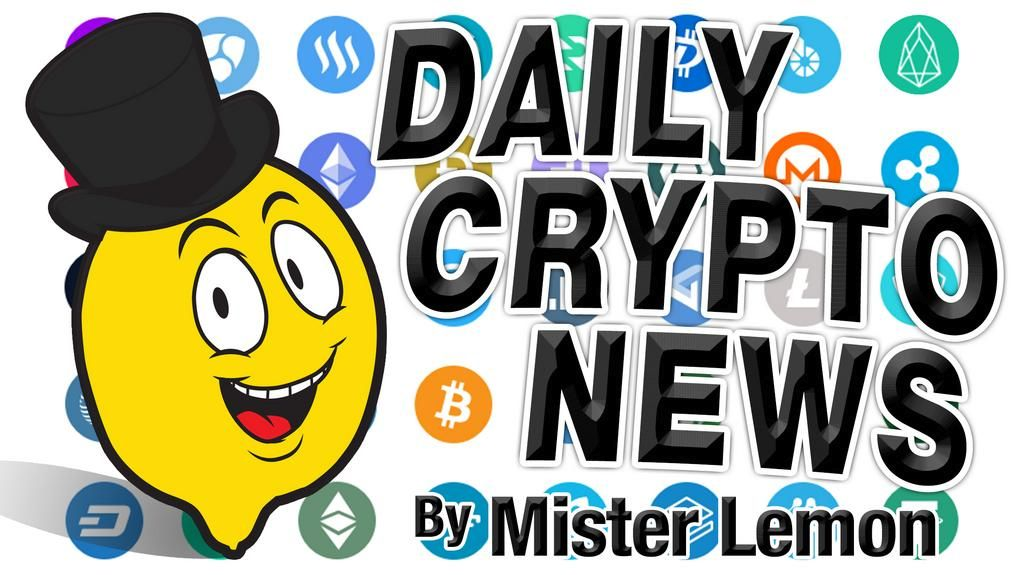 Ripple Grapples With Its $21 Billion 'Gorilla': Crypto Asset Adoption ;
Chancellor's blockchain idea is a desperate scrape of the Brexit barrel ;
Tether, Bitfinex Drop Noble Bank, Bitmex Hires COO ;
WSJCoin: Yes, We Created Our Own Cryptocurrency ;
IBM Awarded Patent for Secure System Based on Blockchain ;
STEEM Trading Update by @cryptopassion
Welcome to the Daily Crypto News: A complete Press Review, Coin Calendar and Trading Analysis. Enjoy!
🗞 Ripple Grapples With Its $21 Billion 'Gorilla': Crypto Asset Adoption
The organizers of Ripple's two-day Swell conference in San Francisco didn't beat around the bush when they named the final panel of the event "The 800-Pound Gorilla."
The question of crypto asset adoption was certainly on many of the attendees' minds, especially since Ripple CEO Brad Garlinghouse announced the previous day that xRapid, the company's product the leverages the XRP cryptocurrency for "on-demand liquidity" in cross-border payments, is now being used in commercial payments by three companies.
Read more & Source: https://www.coindesk.com/ripple-grapples-with-its-21-billion-gorilla-crypto-asset-adoption/
🗞 Chancellor's blockchain idea is a desperate scrape of the Brexit barrel
Alphaville's Dan McCrum and Jemima Kelly take aim at chancellor Philip Hammond's claim that blockchain technology could resolve the Brexit impasse over the Irish border question.
Technology used at the border is a red herring, says Alphaville – even the best database cannot poke its nose inside a lorry.
Alphaville quotes Irish IT expert Sadhbh McCarthy, saying the idea of technological solutions to the Irish border question are "complete nonsense".
Read more & Source: https://steemit.com/brexit/@vlemon/chancellor-s-blockchain-idea-is-a-desperate-scrape-of-the-brexit-barrel
🗞Tether, Bitfinex Drop Noble Bank, Bitmex Hires COO
In recent news pertaining to cryptocurrency exchanges, Noble Bank is looking to sell after reportedly losing Bitfinex and Tether as clients, Bitmex has announced the former compliance head of Hong Kong Exchanges and Clearing Limited as its new chief operating officer, and Huobi's director of research into blockchain applications has discussed the company's goals for its upcoming transfer of operations onto its public ledger.
Read more & Source: https://news.bitcoin.com/exchanges-roundup-tether-bitfinex-drop-noble-bank-bitmex-hires-coo/
🗞 WSJCoin: Yes, We Created Our Own Cryptocurrency
To understand what drives the wild cryptocurrency market—the technology, hype and innovation, combined with the hacking, market manipulation and increased regulation—we decided to experiment with a digital currency of our own: WSJCoin, a virtual token for the newspaper industry.
Traveling to Japan, a hotbed for cryptocurrencies, we found that creating a coin is relatively easy: Find a blockchain startup, watch the founder type some code on a screen and a cryptocurrency is born. No wonder there are more than 2,000 of them, according to CoinMarketCap.
What's complicated is creating a cryptocurrency that is valuable, useful and has widespread appeal. So we began a journalistic venture to find someone who would accept WSJCoin for payment.
Read more & Source: https://www.wsj.com/articles/wsjcoin-yes-we-created-our-own-cryptocurrency-1538559113
🗞 IBM Awarded Patent for Secure System Based on Blockchain
The U.S. Patent and Trademark Office (USPTO) has recently awarded a patent for a blockchain-based secure system to U.S. tech conglomerate IBM, according to a patent filing published on USPTO's website Tuesday, October 2.
As IMB explains in a document first filed in September 2017, the technology enables the detection of security breaches within a network by connecting all the monitors to a chain configuration, which registers all events in the network. This, in turn, might help to prevent different sorts of hacks.
Read more & Source: https://cointelegraph.com/news/ibm-awarded-patent-for-secure-system-based-on-blockchain
📑 Daily Crypto Calendar, October, 3rd💰
Whoever holds 1 BNC will receive 10 Biox tokens.
Iconomi (ICN), Stipend (SPD)
Delta Summit in St. Julians, Malta from October 3 - 5.
Token Migration Event
IDAX LIsting
TopBTC lists NTK by Oct 3.
"ASROC is a convention and summit that exclusively explores trading of tokens, ethereum, altcoins, and bitcoin."
Read more & Source: https://steemit.com/cryptocurrency/@vlemon/daily-crypto-calendar-october-3rd
Sources: Coincalendar.info, Cryptocalendar.pro, Coinscalendar.com, CoinMarketCal
STEEM Trading Update by my friend @cryptopassion
Here is the chart of yesterday :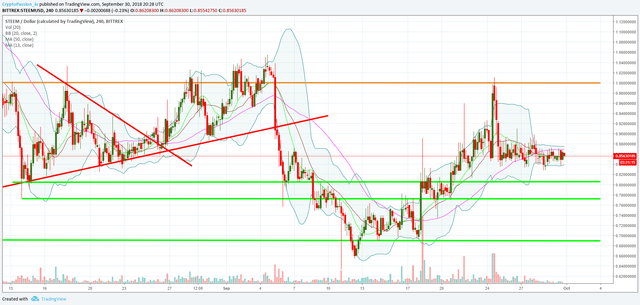 Here is the current chart :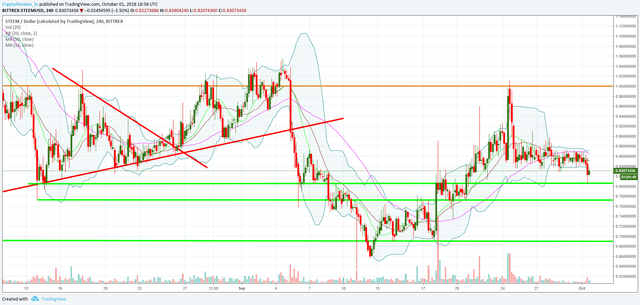 The Steem is not really moving these days. We had a test earlier of the support line at 0.80$ but this line did its job and created an immediate bounce. Till now, this line is saved and we have to wait for a more important Break Out to decide about a direction. A big move from the BTC could help us to have this direction but the BTC is also in waiting mode so I suppose all the coins will move in the same time.
Last Updates
You don't want to miss a Crypto news?