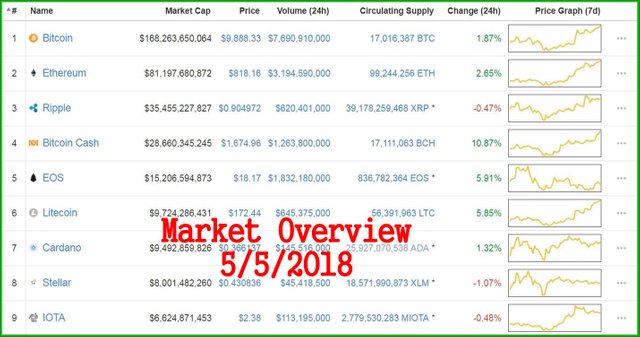 Hi Steemians.
Here is the quick overview of today's market with some technical analysis.
Bitcoins is trading around 9900$ after gaining almost 10% in past 2 days.
9700 is the daily support zone for bitcoin. If market stays above that level then range is 10900-11000 zone.
If current daily candle closes above 9700 then market is most likely to move bullish.
In Past 2 weeks EthereumClassic, LiteCoin, Zcash and Ripple has performed well as compared to other currencies.
My top picks of this week for short-medium term profit are
Verge @ 0.08
Wax @ 0.38
SmartCash @ 0.13
Steem @ 3.89
SiaCoin @ 0.028
I will buy the above listed coins for 5-25% profit for a period of 2 weeks.
I will try to make a follow up post when i will close these positions.
The buying will be done against USD or TETHER not against BTC, as BTC is already bullish.
Note: this post is based on my own technical analysis and it's not a trading advice.
Thanks for Reading.