What is StakeIt?
StakeIt are a community-driven investment token allowing users to 'stake' their tokens on a daily basis without any token age or withdrawal limits. What started as a potential idea between Bitcointalk community members became a reality in November 2017. Our token sale ended successfully with over 2 million tokens being sold over a short period of 14 days. Along with our long-term staking options, we help maintain a healthy balance between demand X supply on the market through the token destroy plans. Earn STAKE through our arcade and affiliates system or simply, StakeIt! We welcome you to the world of StakeIt (STAKE).
Feautures of StakeIt
Sophisticated Staking Plans
Stake your tokens without time or age limits. Our four different staking plans (Free, Basic, Premium, VIP) have been designed to bring you long-term profits.

Buy Back & Destroy Plans
All revenues generated from staking fees & our 1-page ad platform are used to buy back & destroy the tokens. This continuously decreases the total supply of the tokens.

0 Developer Tokens
0 tokens for developers. Development fees are only funded through the initial amounts raised during the token sale.

Transparency
All Stake Reserve, Bounty, and Token Sale addresses are revealed to the public. Users can easily track any movement of funds with our public ledger available on our website.

Affiliates & MLM System
Earn 10% commissions for referring sales (lifetime commissions) and enjoy commissions from your referral's affiliate sales (multi-level marketing).

Play Games & Earn
Play arcade games and earn 1 STAKE per hour or simply double and triple your tokens through scratch cards and participating in daily raffle.

AD Platform
Bounty & giveaways are held on the AD platform to attract traffic and advertisers. Advertisers can purchase ad spaces with STAKE. All tokens received from here are destroyed.

Community-driven
StakeIt Token (STAKE) is a community-driven project. Your suggestions and feedback will be heard and implemented as the project matures.
Stake your tokens daily without token age or withdrawal limitations.
StakeIt Tokens are community-driven ERC20 (Ethereum-based) Tokens.
It's a simple community-driven token with great token staking plans.
Long-term Token Buy Back & Destroy Plans
Receive a daily interest of 0.035%
How to stake?
Register on www.stake-it.com
Purchase StakeIt from exchanges
Login on the website and click "My STAKE"
Click "Deposit". Fill out form, send your token and click "submit"
Congratulations Your's account's STAKE balance will be update and it will 'stake' on a daily basis
Staking Plans
StakeIt already traded on 3 Exchanges
This is not an annual/monthly/daily staking plan.
As soon as specified amounts from the Stake Reserves (75 million) have been distributed, staking rates of next tier applies.
Tier 1: First 15 million from Stake Reserves
0.035% daily (Approximately 12.775% per year)
Minimum deposit amount: 100 STAKE
Minimum withdrawal amount: 50 STAKE
Fees: 2% withdrawal fees
Paid Staking Plans: Basic ($10), Premium($50), VIP ($200)
Tier 2: Second 15 million from Stake Reserves
0.035% daily (Approximately 12.775% per year)
Minimum deposit amount: 200 STAKE
Minimum withdrawal amount: 50 STAKE
Fees: 2% withdrawal fees
Paid Staking Plans: Basic ($20), Premium($100), VIP ($400)
Tier 3: Third 15 million from Stake Reserves (BEST STAKE RATE)
0.035% daily (Approximately 12.775% per year)
Minimum deposit amount: 300 STAKE
Minimum withdrawal amount: 50 STAKE
Fees: 2.5% withdrawal fees
Paid Staking Plans: Basic ($40), Premium($200), VIP ($800)
Tier 4: Fourth 15 million from Stake Reserves
0.035% daily (Approximately 12.775% per year)
Minimum deposit amount: 400 STAKE
Minimum withdrawal amount: 50 STAKE
Fees: 2.5% withdrawal fees
Paid Staking Plans: Basic ($80), Premium($400), VIP ($1,600)
Tier 5: Final 15 million from Stake Reserves
0.035% daily (Approximately 12.775% per year)
Minimum deposit amount: 500 STAKE
Minimum withdrawal amount: 50 STAKE
Fees: 3% withdrawal fees
Paid Staking Plans: Basic ($160), Premium($800), VIP ($3,200)
StakeIt Roadmap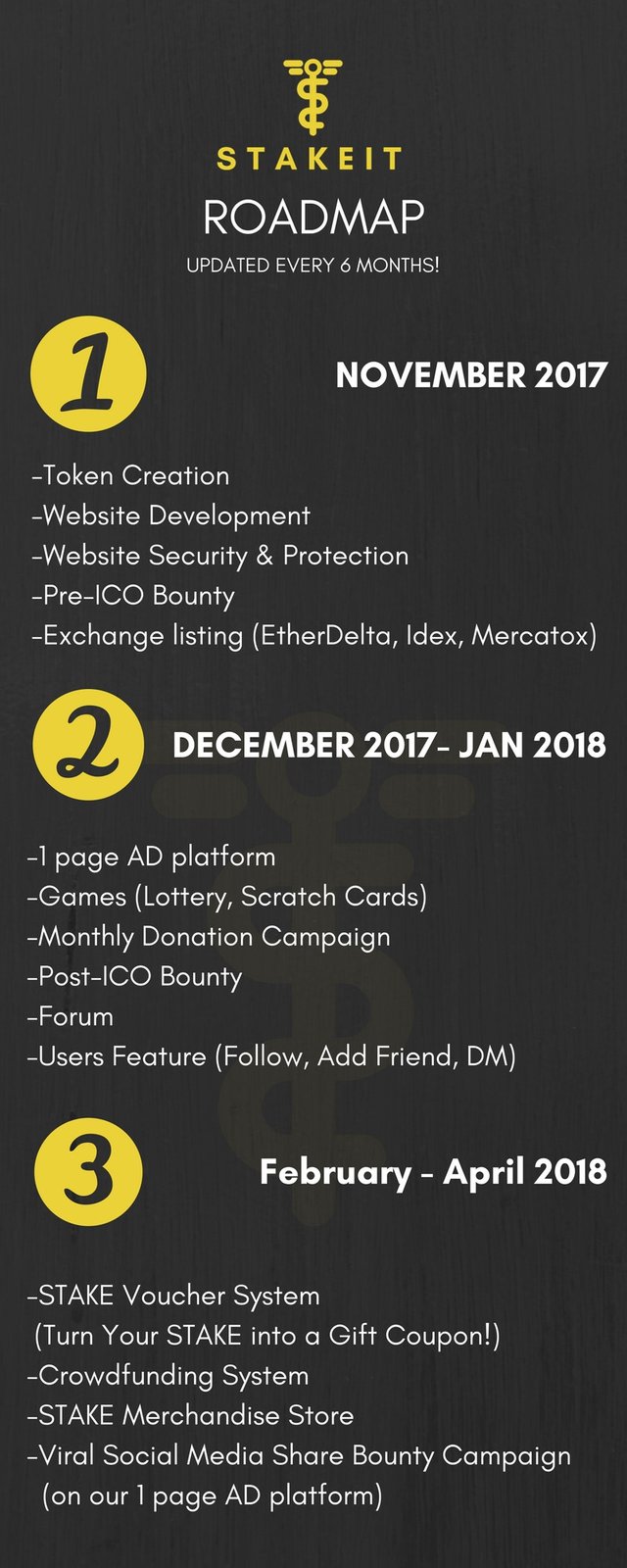 Token Distribution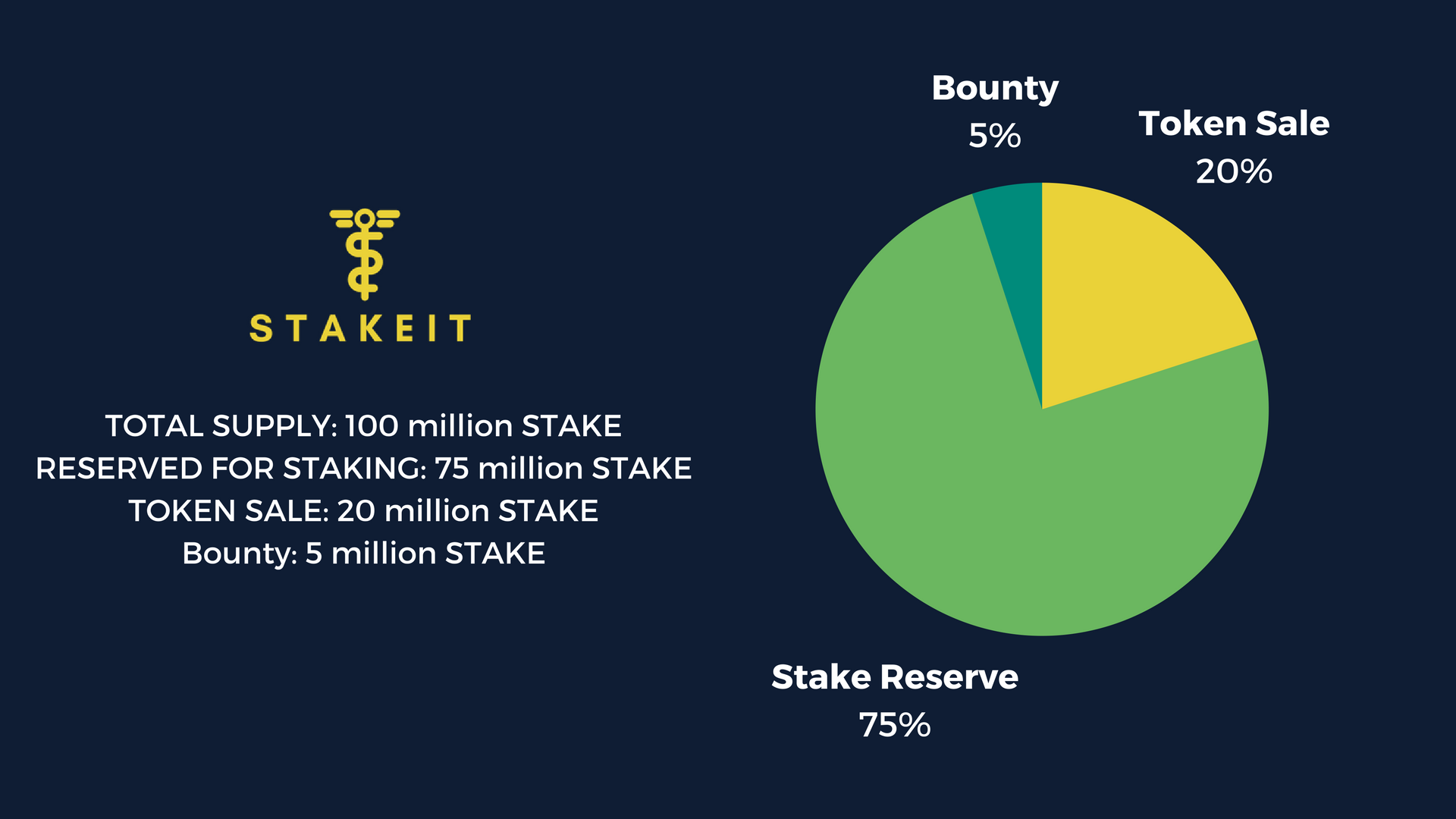 More info
Website: https://www.stake-it.com/
WhitePaper: https://github.com/StakeItToken/StakeIt/blob/master/StakeIt_Whitepaper%20v1.pdf
Blog: https://medium.com/@stakeit
Twitter: https://twitter.com/StakeIt_Token
Writer: https://bitcointalk.org/index.php?action=profile;u=1203154