Future Development of 888tron.com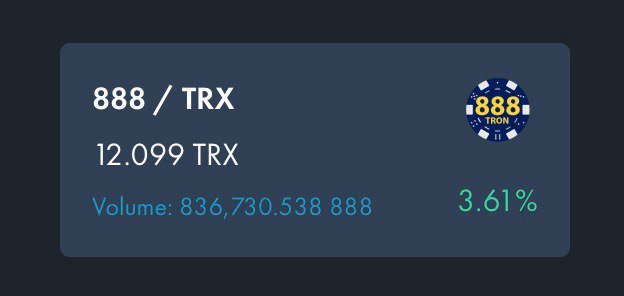 Dear community, we inform you about the future plans on the development of the platform and the economics of the project.
Token 888 is already trading on three largest TRON blockchain exchanges: TronTrade, TrxMarket, Kiwi, having a leading position in terms of trading volume. The official exchange for the sale of tokens 888 is TronTrade.io
To maintain a high trading volume of the 888 token, a joint event with TronTrade is held for traders with a prize fund of 100,000 TRX.
To strengthen the rate of the 888 token and increase the liquidity of the token, the project team will take the following steps:
Starting from March 24, 15% of the team's income will be spent on the buyback of 888 tokens for at least the next 3 months. Further, the program can be adjusted based on the obtained results.
Every two weeks, 20% of the purchased tokens will be burned.
To motivate players, a cumulative JackPot will be launched, to which 3% of the team's income will be transferred.
Jackpot drawing every 24 hours with the distribution of funds as follows:
1st place in terms of rates - 40%
2nd place in terms of rates - 25%
3rd place in terms of rates -15%
4th place in terms of bet -12%
5th place in terms of rates -8%
The implementation of the Jackpot - April 11, 2019
Latest news and development prospects for the 888tron platform
According to the results of voting on changing the period of unfreezing 888 tokens, votes were divided in the ratio of 70 to 30%, where 70% voted for unfreezing tokens within 24 hours, and 30% for instant unfreezing. To date, no changes will be made to unfreeze tokens. Unfreezing and freezing are instantaneous and depend only on the presence of TRX or energy on the balance and network bandwidth.

On March 25 will be made the announcement of the game European Roulette. The launch of the game is scheduled for April 20, 2019

At the moment, the development and introduction of a new functional site with advanced features for players. And the 888tron platform is being upgraded to reduce transaction costs.

The development of API for connecting third-party games has begun. The launch of the API and competition for developers with a prize fund of $100,000 is planned for mid-May 2019
Join our Telegram chat: https://t.me/tron888,
Twitter: https://twitter.com/888Tron