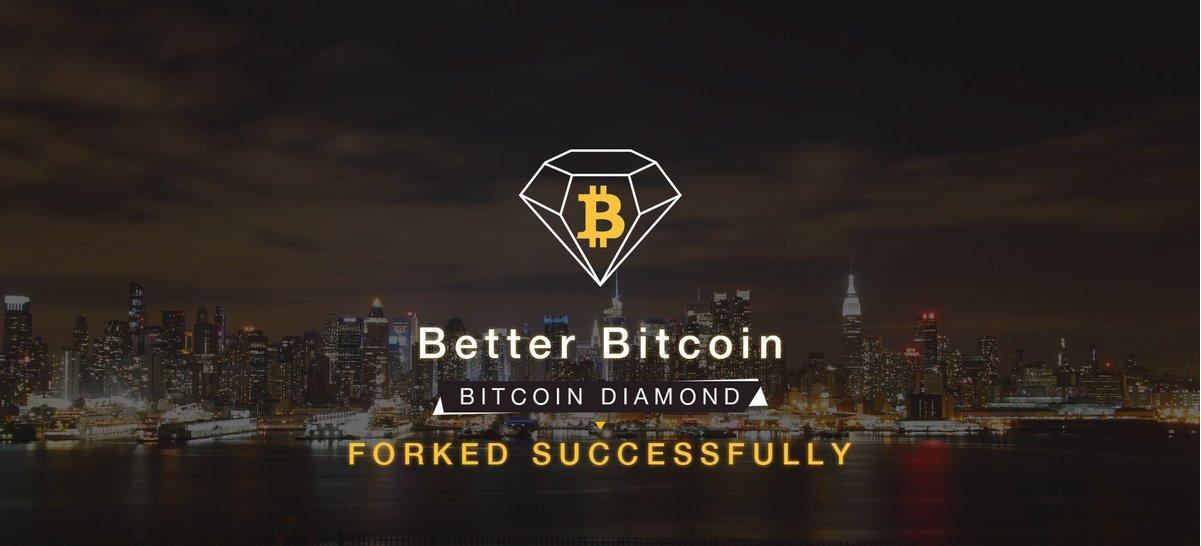 After Bitcoin Gold split off successfully on November 12, 2017, there was another fork that hit the ground last Friday (24.11.2017). Bitcoin Diamond (or Bitcoin Diamond) has been brought to life.
The Bitcoin Gold price currently seems to know only one direction: steeply upwards. Nevertheless, there is no great stability here, since the Coin still relatively new on the market and only its "value" must find.
The two peaks in height are neither a benchmark nor a trend after potential investors should focus. Like all other cryptocurrencies, Bitcoin Gold has yet to establish itself on the market.
Last week was announced on Twitter that Bitcoin Diamond has split off successfully and is already tradable on 28 Exchanges. Furthermore, the goal is to change from proof-of-work consensus to proof-of-stake algorithm after 10,000 blocks.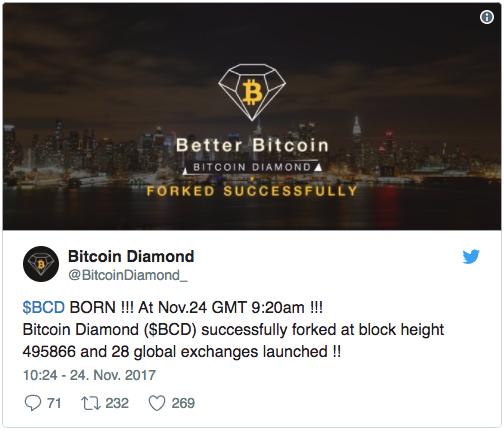 The development team of Bitcoin Diamond is largely unknown and calls itself only "Bitcoin Diamond Foundation Team". On request by mail who is behind it and how it goes on, we have received a standard response which probably all potential investors also sent.
The block size should also be 8MB, like the Bitcoin Cash. In addition, there is probably a Replay Protection and Segwit is already activated. A key difference is the maximum available amount of Bitcoin Diamond, which should not be 21 million, but 210 million.
Whether or not this coin will actually be found in the top tier of the crypto market like Bitcoin or Bitcoin Cash will come as a joke, but the market is often irrational and unforeseen things happen. We'll keep you updated when there's news from this Bitcoin camp.
IOTA take off from Bitfinex

As there have been some negative rumors about the Bitfinex.com Stock Exchange, many investors have resorted to getting their entire capital out of the stock market. Bitfinex is currently working closely with the IOTA Foundation to accelerate the withdrawal of IOTA.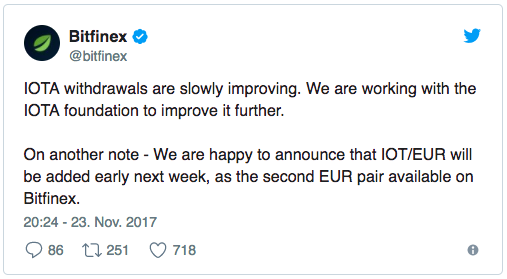 ---
Thank you for reading!
Don't forget to upvote, resteem and follow me for more content & contest
Tradingview, https://www.tradingview.com/u/Tradewonk/
Instagram, https://www.instagram.com/tradewonk/
Or any of my other social media channels. Please consider getting your
free account here on Steemit.
"Join the adventure and be inspired." - Tradewonk