What is it PinkDate?
PinkDate is the first anonymously maintained worldwide escort service that combines display, booking and payment on a single platform.
We offer an extensive experience of communication to trusted clients and trusted escorts who value confidential and secure transactions. Unlike our competitors, we provide a single place for screening and planning a date. This allows us to offer security, convenience, peace of mind and reduced costs.
Escort is a high-risk profession, containing many ineffective business practices. The client must take several steps to schedule the date and ensure security and confidentiality at both ends.
PinkDate offers an elegant solution to this problem by providing search, checking, booking and payment services on a safe and easy-to-use platform. The company is organized in such a way as to avoid regulation, being extrajudicial, ensuring that it can operate in any jurisdiction, even in those cities and countries that are not friendly with the escort business in any region. Taking 20% ​​of each transaction on our platform, we expect that our rate will be $ 56 million per year based on gross income per month.
About PINKDATE
PinkDate is an online support platform designed for rapid scalability and expansion around the world. By the end of the third year, we expect to work in 30 cities in four countries, and our platform will employ more than 6,000 suppliers.
PinkDate works anonymously and out-of-court. We use high operational security and do not fall under the legislative or regulatory constraints of a particular region. From a technical point of view, our system was designed, designed and built as an encrypted platform, using hidden databases, as well as globally distributed servers with built-in security chips.
PinkDate is the first platform for combining screens, booking and payment on a single platform. Some of the unique benefits that we offer include:
Elegant interface with tools Tinder-like and the ability to interact.
System for checking and verifying clients and escort.
Our internal network uses authenticated (unregistered) hidden Tor services and data encryption to improve privacy and security.
"Instant Book" and "Request for Booking" for customers.
Payments are accepted in crypto-currencies (for example, Bitcoin, Ether, Monero) and cash.
Working with accompaniment is complicated, PinkDate simplifies the work.
Many people do not understand how much work turns into an escort. They often see an hourly rate and believe that this is an excellent concert. But for each paid hour of work, a typical escort will spend about three hours of effort. Marketing, security, verification, conversations with the leading, processing of links, hosting - it is very fast. PinkDate makes it easy! We optimize the work of the escort, saving time and creating great value.
Markets like Craigslist or Backpage create more problems than they solve. Buyers and sellers have to take care of themselves. Such companies can not and do not participate in individual transactions. This is where PinkDate comes in. PinkDate acts as a broker between clients and companions, providing real customer service and quality experience in a user-friendly, easy-to-use platform. Booking fees and other revenue streams will provide significant revenue for the growth and delivery of world-class services.
Think of PinkDate as your ultimate match. Clients and partners directly interact with PinkDate: we process the entire logistics of searching for a paid companion, for example, planning, profile selection, screening and much more. To accompany PinkDate allows you to choose the level of screening, and we guarantee payment in case of late refusal or absence of the show. For customers, PinkDate ensures that the partners are real and accurate - there are no more spam and fake profiles. In the event of a dispute, PinkDate acts as a full-fledged intermediary to ensure a fair result.
Support platform PinkDate
The PinkDate support platform combines detailed search, booking, payment and screening into a single, user-friendly interface.
Customers can enter detailed search functions, view all available escort and make "Instant Book" requests. The escort can view information about customer screens, provide availability in advance and accept payments. Both sides can benefit from fast and effective interaction, saving time and money in this process.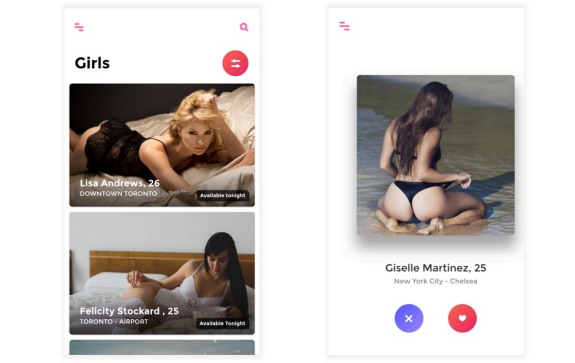 Customers can scroll through profiles and scroll to the right, similar to other dating sites.
The following detailed profile descriptions contain descriptions, rates and possibilities for booking an escort.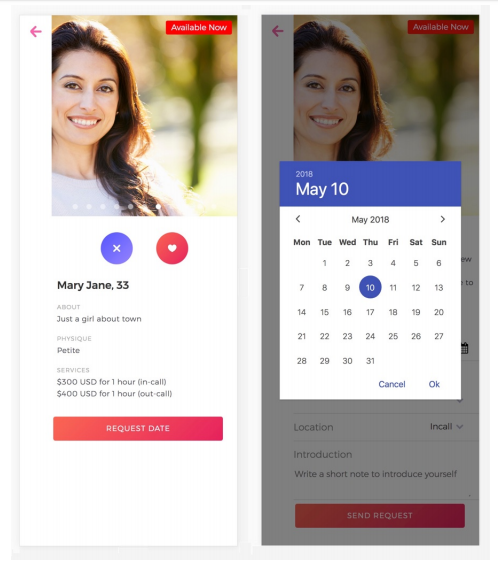 Why PinkDate?
PinkDate will quickly become the main choice for quality dating and will provide a number of advantages for investors, customers and escort.
A). For investors,
PinkDate was created to be very profitable, as well as safe and impenetrable.
Some key advantages for investors:
High income, based on transactions, is directly related to growth.

Investors receive dividends from the profits (50% of net profit will be paid each quarter), and verification through locking provides transparency.

Participate in a large global market on demand, estimated at $ 157 billion per year.

The company is organized anonymously and out-of-court to improve security and remove interference from government regulations.

A platform that is scalable at the global level.
B). For Escorts,
PinkDate is the main choice for escort for doing business. We provide:
A single platform that combines screening, booking, payment and advertising of customers.

We reduce the cost of acquiring customers and reduce the time needed to verify customers by 70%.

Increased visibility for customers due to our large advertising budget and coverage of many online and offline platforms.

The booking fee is only 20% of PinkDate vs. 40% with typical agencies.

The ability to accept payments in the crypto currency, improve confidentiality and reduce control over transactions.
FROM). For
Gone customers , these are days of lost time with back and forth messages and with
unsafe information transmission. PinkDate provides many important
benefits to customers, including:
An entertaining, easy-to-use interface for easy viewing, searching and selection.

The calendar of the online calendar shows the availability of the escort.

Quick and easy planning with one click with immediate confirmation.

The built-in payment system allows payment in cash or through crypto-currency allows anonymity, reduces friction.
Customers are pre-tested for worldwide use.

The web platform provides privacy and security, because there is no real application to download.
Features
Tinder meets the "Instant Book".
Customers scroll through companions and make a list of favorites - more fun than watching ads. Swipe right now!
Unproblematic planning.
No more need to cross between several escorts. Look who is available and order instantly, with guaranteed availability!
Perfect Profiles
PinkDate checks every escort in our system. What you see is what you get, guaranteed.
A secure,
optimized, mutually complementary check ensures that everyone will be comfortable. You still control your data and dates.
Secure
PinkDate has incredibly strict security rules. No hard drives. Multilevel systems. The databases behind the hidden services Tor. Read more
Extrajurisdictional
Being extrajudicial and anonymous, PinkDate minimizes the legal risk for all participants. PinkDate is not immune to the summonses to the court. Like EJC, PinkDate can put users and ethics to justice.
Financial forecasts
We forecast that by the month of 36 the annual volume will be approximately 56 million USD. The US in gross revenue, from users in 30 cities, producing more than 700,000 transactions a year, using services provided by nearly 6,200 escorts.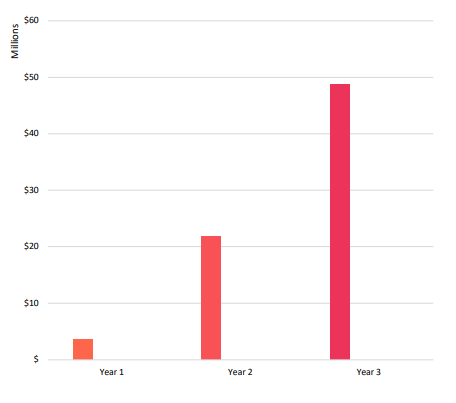 3-year forecasts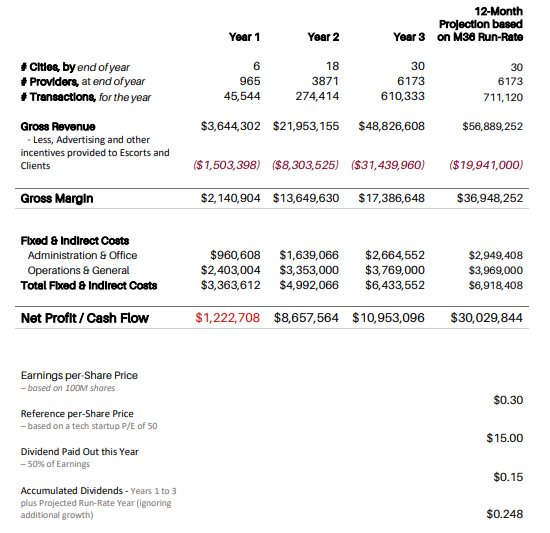 Incentives can include promotional discounts on Escorts and preferential incentives for Clients, as well as referral fees paid to Escorts and Clients. These incentives are generous for the first 36 months, but will be reduced by 50% starting from month 37, and by this time PinkDate will be well known and, therefore, will reduce the need for the same level of incentives. Reducing incentives will lead to an increase in net profit.
Delivery and specification of the token
Approximately 115 million tokens will be issued and issued on the Ethereum block diagram using a smart contract. The PinkDate Platform (PDP) will conform to the ERC-20 standards and will be freely transferable to the Ethereum block chain.
PDP items will represent the company's shares and will give the holder of these tokens the right to redeem dividend payments. PDP items will also be sold on decentralized exchanges (to be announced later).
PinkDate reserves 170 million shares of tokens as treasury. They are not issued and do not increase market capitalization. These tokens will only be distributed in the future, if PinkDate must execute a secondary offer, for example, to facilitate large acquisitions.
Any ICO or ICO chips that have not been sold will be burned, that is, withdrawn from circulation, which will reduce the total number of placed shares and increase the value of the sold shares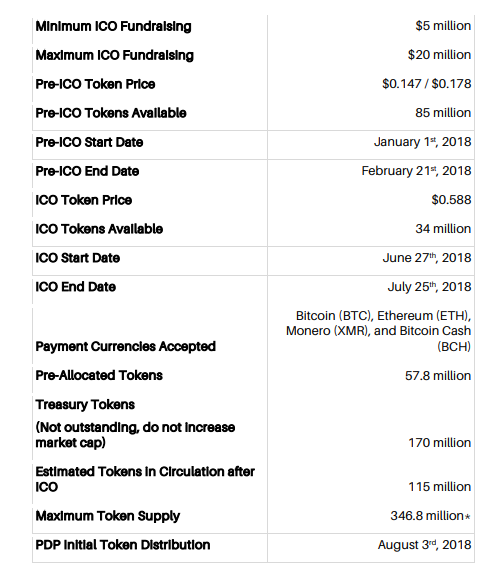 This includes burned shares and 170 million treasury shares for potential future secondary offers.
Road map
January 31
Pre-ICO ends
Special price Pre-ICO ends. The price of Token shares is $ 0.147.
On February 1, the
preliminary expansion of the ICO begins . The extension of the
preliminary ICO begins. The price of Token shares is $ 0.178.
February 9th.
PinkDate ERC-20 token. Deployment of the
Smart Contract is deployed in the Ethereum block chain.
February 14
Internal team beta testing
Beta testing with internal team and select invited users.
21st of February.
The extension of the
preliminary ICO ends. The extension of the preliminary ICO is completed. The price of Token shares is $ 0.178.
On the 25th of April , the
escort portal Beta Complete will begin Escort
registration
June 22
Toronto Go live, invitation only for
Toronto invitation only for customers and escorts
June 27
ICO opens a
$ 0.588 token
July 25
ICO Endes
Tokens can no longer be purchased through ICO
Q3 2018
Token distribution begins Token shares distribution
will begin through investors portal
Q3 2018
First Launch City - Toronto
PinkDate will be available for public use in Toronto
Q3 2018
Public Launch - Montreal
PinkDate will be available for public use in Montreal
Q3 2018
Transparency through a single issuer Blockchain A
fully transparent Go-Live audit protocol
Q4 2018 Location
in USA
Location to be determined
More info:
Website: https://pinkdate.is/
Sales of the token: https://www.pinkdate.is/?pk_campaign=rev01
Technical paper: https://pinkdate.is/pinkdate-white-paper-2018.pdf
Twitter: https://twitter.com/goPinkDate
Telegram: https://t.me/joinchat/FbwIhkXJqs9-ngYZM3KKOA
ANN: https://bitcointalk.org/index.php?topic=3750767.new#new
Author: https://bitcointalk.org/index.php?action=profile;u=1234556