GBP/USD Price Prediction: Cable Continues to be Bought on the Dips

GBP is holding reasonable ground despite the raft of back and fourth headlines on the Brexit drama.
GBP/USD bulls have their sights set on the above supply zone; this can be seen tracking from 1.3200-1.3300.
GBP/USD: Recent Price Behavior
GBP continues to ride the rollercoaster from last week into this week. Once again sentiment is being driven by Brexit, after what was a very volatile week. Traders continue to keep guessing with the raft of headlines that is keeping them on their toes. One minute there is optimism thanks to a comment from a UK or EU official, which drives the pound higher; then the next minute someone throws cold water on that speculation, leading to a reversal of the initial move.
Despite the uncertainty, GBP/USD managed to close the week firmly in the green, seeing a strong bullish candle. There is a pattern of behavior currently observed across the board, with GBP being bought on the dips. It appears the market is driving the pound higher purely on hope and belief that something is eventually going to be hammered out.
Brexit Developments: Quick Recap
Last week the British Prime Minister Theresa May met with the President of the European Commission, Jean-Claude Juncker, regarding legal assurances on the Irish backstop. This is an area that is preventing much progress between UK and EU officials. Both parties last week noted that the talks were constructive, which had initially supported the pound. Juncker the following day spoke to the press and said: "I'm not optimistic, I have Brexit fatigue, it's a disaster".
Following on from the above detailed, Theresa May delayed the meaningful vote on her agreement with the EU. She has called for the vote to take place by 12th March, while she continues to try and make progress with the EU. On Sunday, the prime minister said; "positive talks with the EU were still ongoing and leaving on 29 March was within our grasp". A similar tone was echoed from May speaking from Egypt on Monday.
Technical Review – GBP/USD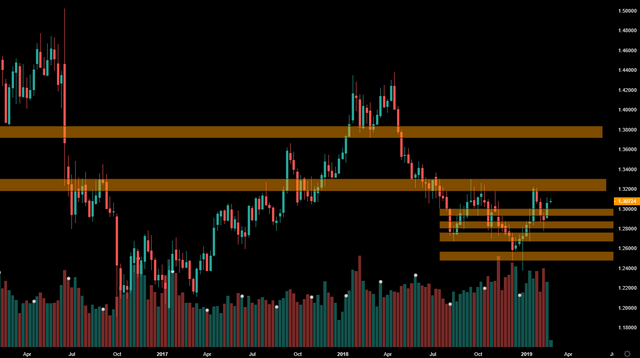 GBP/USD weekly chart.
Looking initially via the weekly chart view, GBP/USD is gunning for a supply zone of 1.3200-1.3300. The price last traded up here at the back-end of January; this area is a massive territory for sellers. It had not traded convincingly above since June 2018, when the pound was moving within a firm downward trend.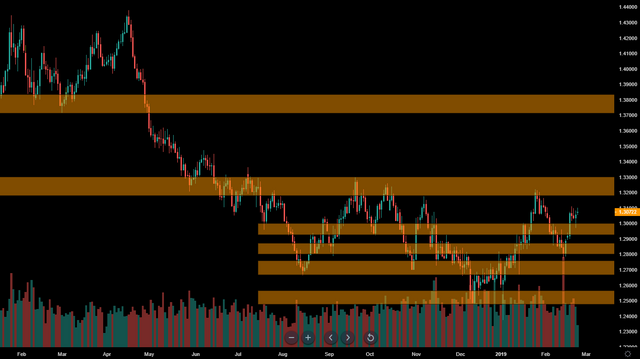 GBP/USD daily chart.
In terms of the daily chart view, there does not appear to be too much in the way of resistance until the supply zone mentioned above. Should the bulls manage to breakdown this territory, then a move back up to 1.3600 may occur in no time. The price last traded up at these heights back in January 2018.
Happy Trading!!!