Crypto Price Analysis: 5 Altcoins to Watch This Week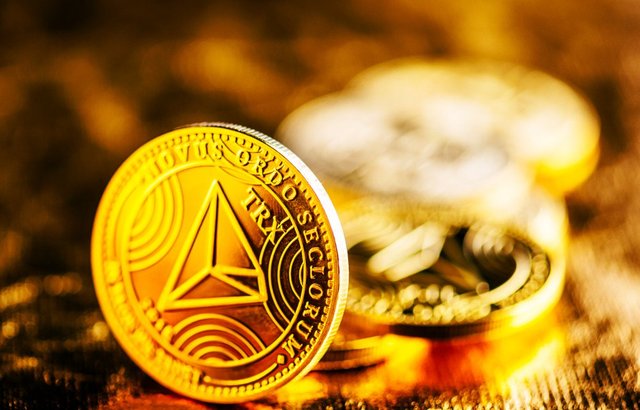 Five out of five altcoins on last week's list traded within our expectations. EOS (EOS/BTC) led the way as it rallied and breached our target of 0.000926. Komodo (KMD/BTC) also rallied and touched our initial target of 0.0000279, while VeChain (VET/BTC) flipped 0.00000115 resistance into support.
On the other hand, Mainframe (MFT/BTC) failed to recover a key price area, which is why it is now ripe for bottom picking at around 0.0000007. Lastly, Ethereum (ETH/BTC) pulled back as expected but it is still showing signs of strength.
This week, we put our attention on altcoins that continue to hold their ground even after yesterday's massive dump. Here are the five altcoins to watch this week.
TRON (TRX/BTC)
TRON went into full correction mode after failing to take out resistance of 0.00000858 on January 27, 2019. Almost a month later, the market looks attractive to bottom pickers and bargain hunters. TRON is close to our interest level of 0.00000585.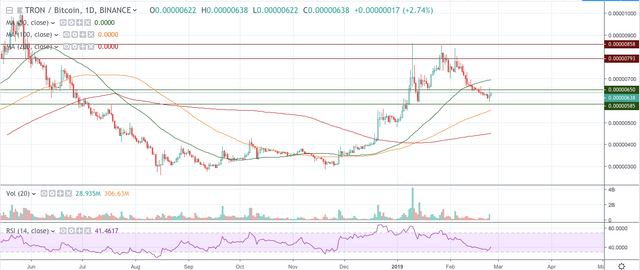 Daily chart of TRX/BTC
Technical indicators are showing signs of recovery. The daily RSI is close to oversold and volume has significantly dropped since the January 27 top. Should bulls hold 0.00000585, 0.00000650 and 0.00000793 are the immediate targets. Otherwise, TRON may plummet to as low as 0.000005.
Litecoin (LTC/BTC)
Litecoin was one of the main victims of yesterday's Bitcoin (XBT/BTC) selloff. Nevertheless, the market remained strong as bulls defended immediate support of 0.0115. As a result, we have a beautiful bull flag in the works.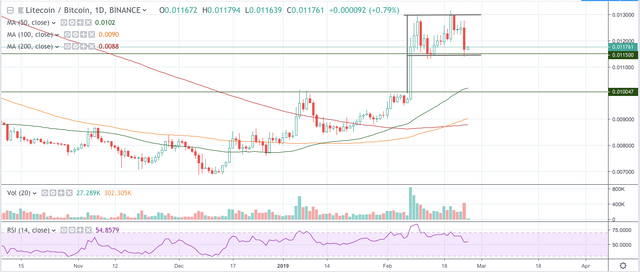 Daily chart of LTC/BTC
As long as Litecoin trades above 0.0115, bulls have the momentum to rally to resistance of 0.013 and possibly breach it. However, a move below this support will likely send the market down to 0.01.
Bitcoin Cash (BCH/BTC)
While most market participants are focused on Bitcoin, Ethereum, and EOS (EOS/BTC), almost nobody is paying attention to Bitcoin Cash. This is exactly what the smart money wants so that they can accumulate positions in peace.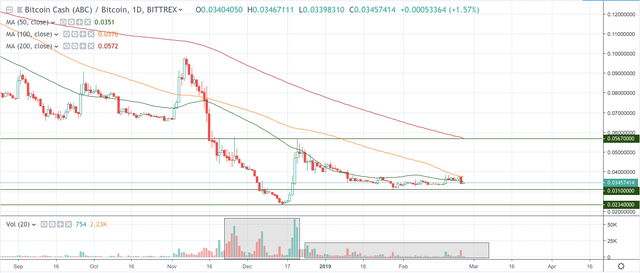 Daily chart of BCH/BTC
A quick look at the volume reveals capitulation followed by accumulation. While the smart money participants are accumulating, they are also establishing a higher low setup of 0.031. As long as Bitcoin Cash stays above this level, 0.0567 resistance is the target.
Cardano (ADA/BTC)
Cardano suffered two dumps last week but it still managed to keep its head above the water. An analysis of the daily chart shows that bulls are working hard to protect support of 0.0000112. They are likely to succeed as multiple supports converge at this price area. We have the horizontal support and the diagonal support, as well as the 100-day moving average.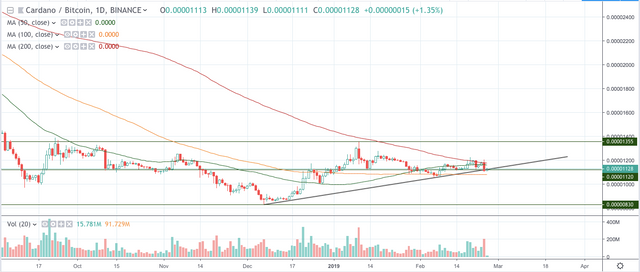 Daily chart of ADA/BTC
As long as Cardano holds this level, 0.00001355 is fair game. If there will be a significant move below its support of 0.00001125, then 0.00001 is the bottom picking target.
OmiseGo (OMG/BTC)
OmiseGo is a market that looks ready to rally. It broke support of 0.000335 on January 27, 2019. Almost a month later, the market has finally recovered the support. The move below the support can now be considered a bear trap.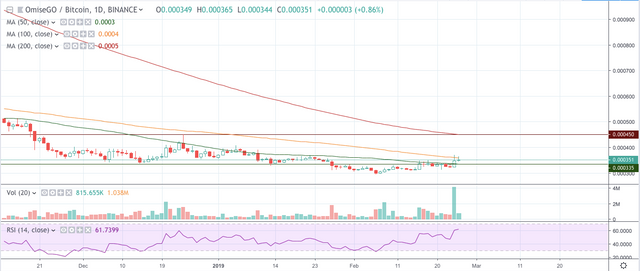 Daily chart of OMG/BTC
A successful retest of 0.000335 can be the spark that ignites the rally to the range high of 0.00045. On the other hand, a move below the support will likely negate all the bullish momentum gathered by OmiseGo over the last few days.
Bottom Line
The entire crypto market was shaken yesterday after Bitcoin bears dropped a massive supply bomb. Nevertheless, altcoins such as TRON, Litecoin, Bitcoin Cash, Cardano, and OmiseGo appear to be standing strong. Keep a close eye on how they react over the next few days.
Happy Trading!!!