How to turn your Musicoin into actual MONEY!

What you need to know to turn your Musicoin into actual money
So you're a musician and you registered an account with Musicoin.org, the awesome new blockchain driven streaming platform. You have earned a good amount of those shiny (well you have imagination don't you?) Musicoin and now wonder what the hell to do with them. How do you turn them into actual money?
To convert your Musicoin into cash, you will first need to get them out of your Musicoin.org profile wallet and into an exchange where you can trade them for Bitcoins, the more "mainstream" cryptocurrency. Once you have Bitcoins, you can more easily "sell" those Bitcoins for "real" money. Here's how it's done...
First, you will need to create an account on an online cryptocurrency exchange. The only two exchanges listing Musicoins at the moment are Bittrex and Cryptopia. As Bittrex doesn't presently accept new registrations (they have been overwhelmed with an unexpected surge in demand) , we will be focusing on Cryptopia.

Creating an account on Cryptopia is quite simple, they don't even require an ID verification, only a valid email address. Once you entered all the necessary information and validated your account by clicking the link in the email they send you, you can begin trading, or in this case, turn your Musicoin into Bitcoin.
First, you have to transfer your Musicoin from your profile wallet to your Cryptopia Musicoin balance. In order to do so, you must first transfer your Musicoin to an external wallet, either in the one the Musicoin Project team provides:
https://github.com/Musicoin/desktop/releases
or by reading my other card to learn how to create a wallet on MyEtherWallet.com:
https://channels.cc/c/a7b44501-5491-4e59-bece-2d9a521ad9d6
Once you have an external wallet setup, you can now transfer your Musicoin from your profile wallet. DO NOT ATTEMPT to transfer Musicoin directly to Cryptopia, as the coins would be lost forever! You need to access your profile's dashboard in order to begin this process:
https://musicoin.org/nav/profile
On your dashboard, there is a box that allows you to send your coins to another wallet address:
This box, on the higher right corner of the page, has a "show options" button that you will need to click to make the cascade options appear: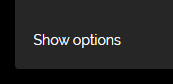 Once you clicked it, the bottom of the box will look like this: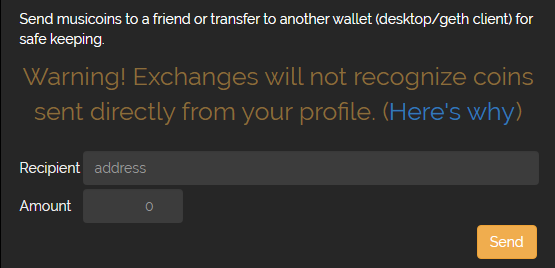 This is where you will enter the address of the external wallet you created earlier. The address will be easily readable, whatever wallet you chose to use, either on the graphic user interface of the desktop wallet or on site at MyEtherWallet.com, being also refered to as "public key". Once you found your address, copy and paste it in the space named "recipient" on your Musicoin.org profile, then type in the amount (the number of coins you want to transfer) into the space named "amount" and click send. I strongly recommend doing a test by sending only one coin before sending a larger amount. You can verify if the transaction was properly "mined" (google "cryptocurrency transaction mining") by using the blockchain explorer and typing your Musicoin.org profile wallet address (not your external wallet address) in the search box in the top right of the page.
Once your coins are in your external wallet (note that the initial transfer may take a few minutes), you will then transfer the amount you want to convert in Bitcoin to your Cryptopia Musicoin wallet. You can find the address needed to deposit (transfer) your coins here:
https://www.cryptopia.co.nz/Balances
You will notice a search box on the top right of your screen:

Type "Musicoin" in the box and press enter. Then locate the GREEN deposit icon, to the left of the Musicoin listing and click it:

This will open a new page where you will be able to copy your Musicoin wallet address so you can paste it in your external wallet, in order to transfer your coins to your Cryptopia balance: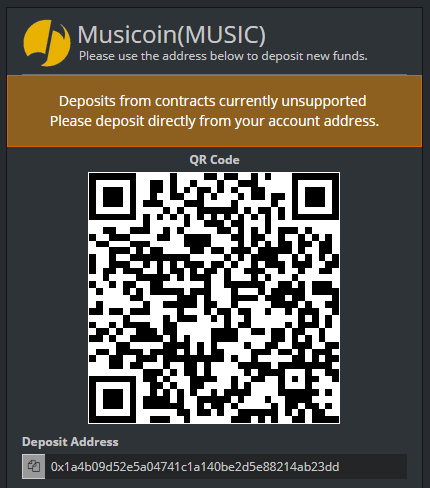 N.B.: The address featured in this image is my own, so feel free to send any tips my way ;)
0x1a4b09d52e5a04741c1a140be2d5e88214ab23dd
Once you pasted your Cryptopia Musicoin wallet address in the space provided in your EXTERNAL wallet, click send. This transaction, as the previous one, will take a few minutes to occur, as it needs to be "mined" on the blockchain before showing up in your Cryptopia balances. Again, you can verify the state of the transaction with the blockchain explorer, as explained earlier. This time, you will need to type the Cryptopia Musicoin wallet address in the search box to see if the coins were effectively transfered. Note that there will be a few minutes delay before the coins actually show up on your Cryptopia balance, even if you can see them on the blockchain. Do not worry, this is normal, as Cryptopia needs to confirm transfer "in house" before your coins become available to you.
Now that you have access to your Musicoin on Cryptopia, we wil convert them to Bitcoin by "selling" them on the exchange. However, you might want to consider holding on to your Musicoin a bit longer, as the current value in Bitcoin is quite low, but once you made up your mid and decide to convert them, here is how you proceed:
First, go to the EXCHANGE area of Cryptopia:
https://www.cryptopia.co.nz/Exchange?market=MUSIC_BTC
Once there, you will notice a graph showing the recent market "behavior" of this coin, and underneath, two boxes: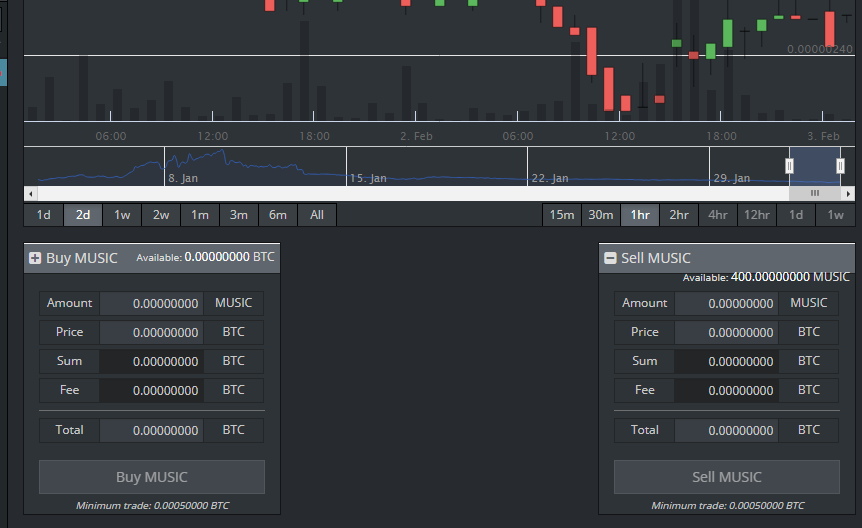 The one that interests us is the one on the right: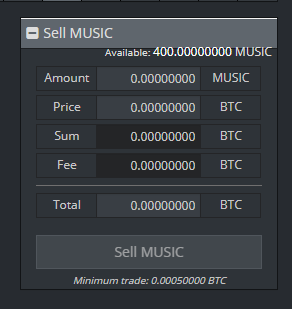 You will notice in the top right of the box, the total amount of Musicoin you have on your balance, in the case of this example, I have 400.00000000 (400) Musicoin available to sell (convert into Bitcoin)
Find the current higher offer to purchase Musicoin in the listing below the sell box: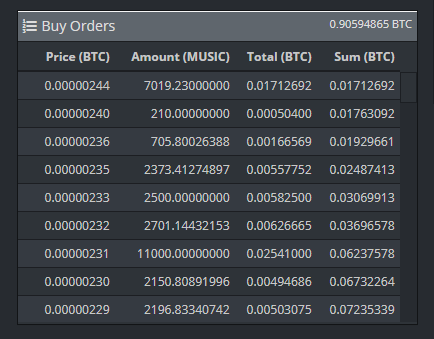 In this case, the highest offer would be 0.00000244 (244 Satoshi) Bitcoin. Satoshi are Bitcoin fractions, as one whole Bitcoin is worth several thousand dollars. You can google the term "Satoshi bitcoin unit" to understand more of the jargon.
Once you found the highest offer, if this amount suits you, click on the amount itself in the list. You will notice that the amount is automatically updated as the sell price in the SELL BOX above. Now, click on your AVAILABLE MUSIC amount to instantly add that amount to the SELL BOX. You should see the total price of the transaction adjust accordingly.
Note that the minimum transaction allowed must total at least 50000 Satoshis, including fee, to be processed. If everything seems right to you after reviewing, click "sell MUSIC"
You should get a prompt telling you your Musicoin have been sold and the amount they sold for. Once the sale has been successfully realized, you can now look into converting your newly acquired Bitcoin into money.
Before we continue, I will however warn you about the very high transaction fees implied in withdrawing (transfering) Bitcoin out of the exchange to the service I am about to mention, where they can be converted into actual money. Bitcoin is the cryptocurreny with the highest transaction fees. So you might like to do a little research yourself into alternatives, like converting your Bitcoin into Ethereum, one the other "main" coins, right here on Cryptopia, before selling (transfering) them for money. The fees to withdraw Ethereum are less than HALF what they are for Bitcoin. Some services like COINBASE (if you make an account and provide identification) might accommodate you to help turn Ethereum into money and then deposit the funds directly in your bank account. As COINBASE does not offer such services to every country, I will not elaborate and will let you do your own research.
Now that you made your mind and still want to transfer the Bitcoin to be converted into actual money, I will show you how you can get the money deposited directly to your PAYPAL account. What some of you will like about this method is that it is anonymous and therefore does no require you provide any ID. You only need your PAYPAL email address. The service I am speaking of is BESTCHANGE.COM
https://www.bestchange.com/bitcoin-to-paypal-usd.html
Once you are on the Bestchange.com page, you will notice a section named "Exchange Rates"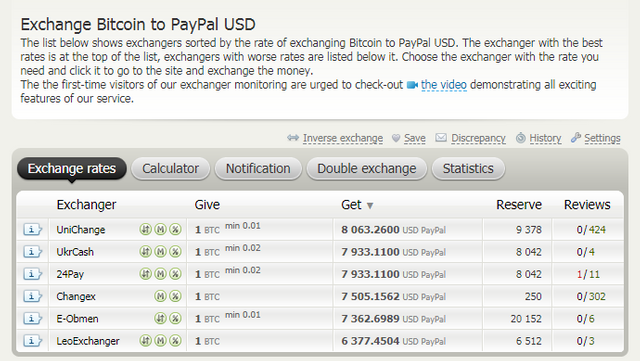 Under the word "exchanger" is a list of all the different services offering to purchase your Bitcoin in exchange for US Dollars (USD). Next to each name, you will notice some have a minimum Bitcoin requirement for transaction, while others do not. You can also see that some offer much more for your Bitcoin than others. Pick the one that you deem suitable for your needs and click it in the list. Do not worry, you are not making an actual transaction yet, clicking will only take you to the site of the service offerers. You can also right-click the name and pick "open in a new tab" to easily return to the main list, in case you decide not to use that particular exchanger.
Once you found an exchanger you deem suitable for your needs, just follow the simple instructions on their site and sell them your Bitcoin, you will need to go back to Cryptopia's balances page, in order to withdraw (transfer) the Bitcoins to the address the exchanger will provide you. The withdraw button is the red one to the left of the Bitcoin name:

By clicking the red button, you will open this box: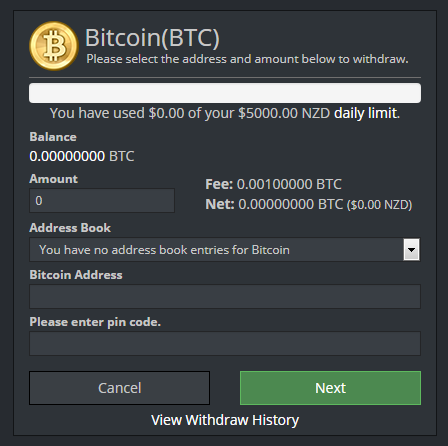 As you can see, the fees for withdrawing (transfering) Bitcoin to the exchanger are quite high, but since you have read up to here, it means you are prepared to assume them. Therefore, copy the address where you must send the Bitcoin (from the exchanger's website) and paste it in the space named "Bitcoin Address" in the box above, in your Cryptopia account. You will also need to type in the PIN code you selected when creating your account, for security purposes. Once everything is double checked, type in the amount of Bitcoin you wish to sell and click "Next".
Once it's done, Cryptopia will send you an email to the address they have on file, where there will be a link you will need to click, in order to validate the transaction. Check your emails for mail from Cryptopia and click the link. You will then be taken back to Cryptopia, where a confirmation message will let you know the transaction is now pending, meaning it is in the process of being "mined" on the blockchain, as mentioned earlier. Expect a longer delay, as Bitcoin transactions take much more time than Musicoins.
From here, all you need to do is wait for the exchanger you picked to send you a message confirming they effectively received your payment. There are also ways to browse the Bitcoin blockchain, similarly to the way you did it for Musicoin. This is not necessary for you to do it, but if you really must, do a google search on "Bitcoin blockchain explorer" and pick the ones that suit you. Otherwise, just arm yourself with PATIENCE and prepare to soon enjoy your new REAL MONEY deposited on your PAYPAL balance, as soon as the exchanger you used completes the transaction on their end, after receiving your coins.
So that wraps it up, YES, I KNOW, it is awfully complicated for someone who's not tech savy to be able to finally get their hands on their money, that's why I decided to write this article. But you have to keep in mind that Musicoin is still very new and the Musicoin.org site is still in "beta" version. Therefore, things will surely keep on improving in the months to come, as the popularity of the site (and the cryptocurrency) keeps growing. In the meantime, you now at least have a way to cash out if you really want to. I would still advise you to keep some Musicoin well stashed in your external wallet or your Cryptopia balance, as they will assuredly rise in value exponentially with the site's popularity and content growing. Who knows, you might even become rich! ;)
If you enjoyed my tutorial and want to give me a pat on the back, here are my wallet addresses:
Musicoin: 0x1a4b09d52e5a04741c1a140be2d5e88214ab23dd
Bitcoin: 1FpdSmg8e5QC7Ewz8zP2CdkzBJCvGHzxPg
Ethereum: 0xf1b3bfc9d45035d68c9692710ee867d4398d1e60
Thank you for reading!