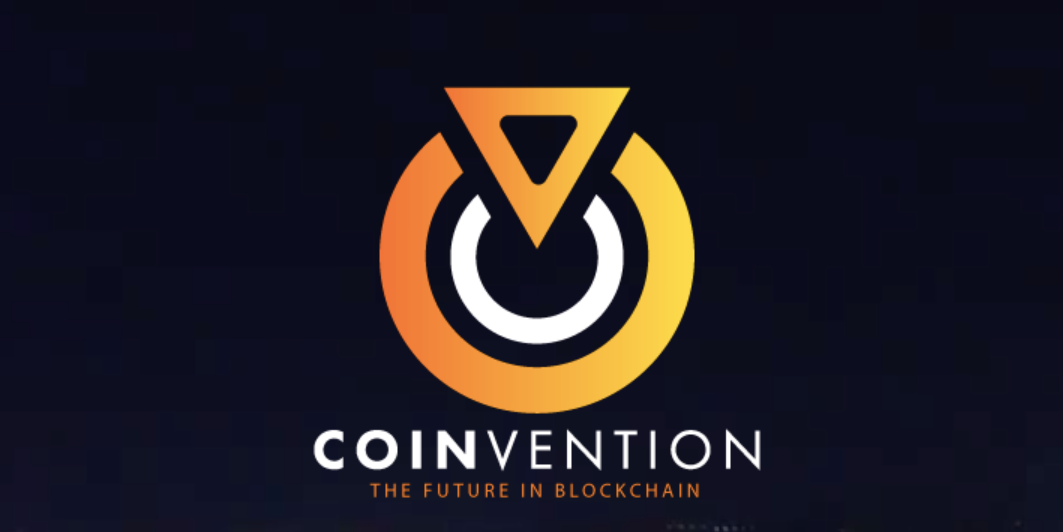 The @StateofAnarchy's own Carmen Carangi (@chickencaam) will be attending coinvention.io today, a conference in the heart of Philadelphia where he will be expanding the Anarcho-network.
Yesterday(August 30th 2018), the event hosted a FREE hackation and networking sessions which hopefully brought some openminded developers and enthusiasts together. https://coinvention.io/ Today should be a very educational experiences for all attending! ENJOY!!!
---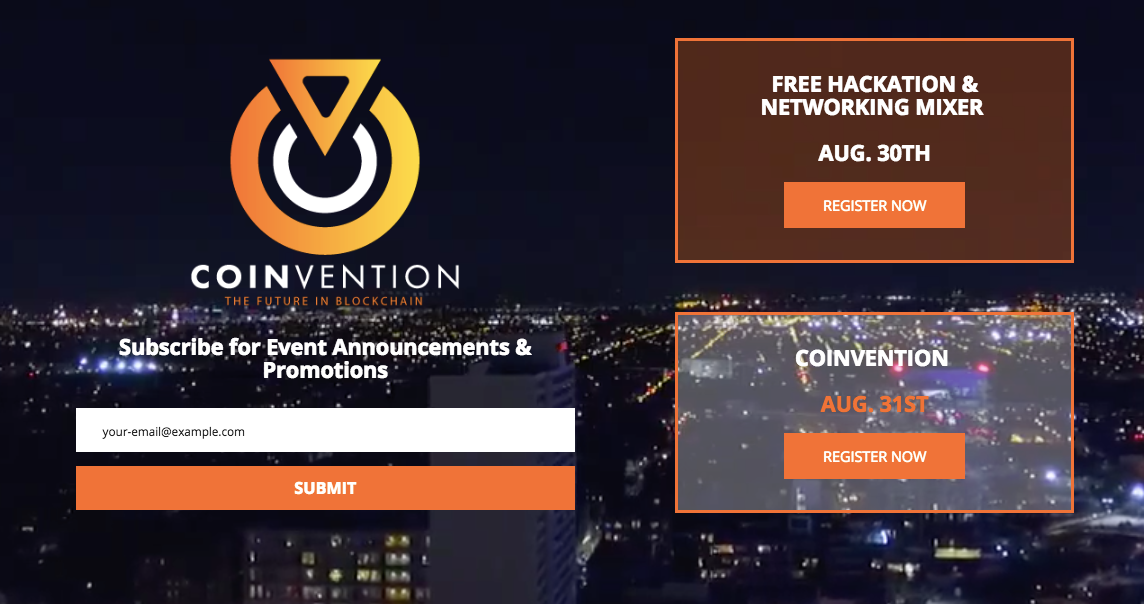 ---
The speaker list extensive!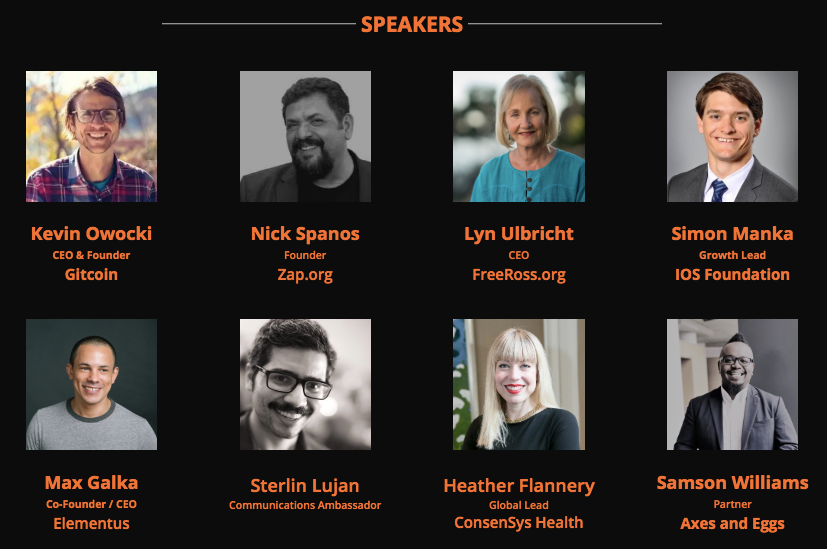 Kevin Owocki CEO & Founder Gitcoin | Nick Spanos, Founder, Zap.org
Lyn Ulbricht, CEO, FreeRoss.org | Simon Manka, Growth Lead, IOS Foundation | Max Galka, Co-Founder / CEO, Elementus | Sterlin Lujan, Communications Ambassador | Heather Flannery, Global Lead, ConsenSys Health | Samson Williams, Partner, Axes and Eggs
---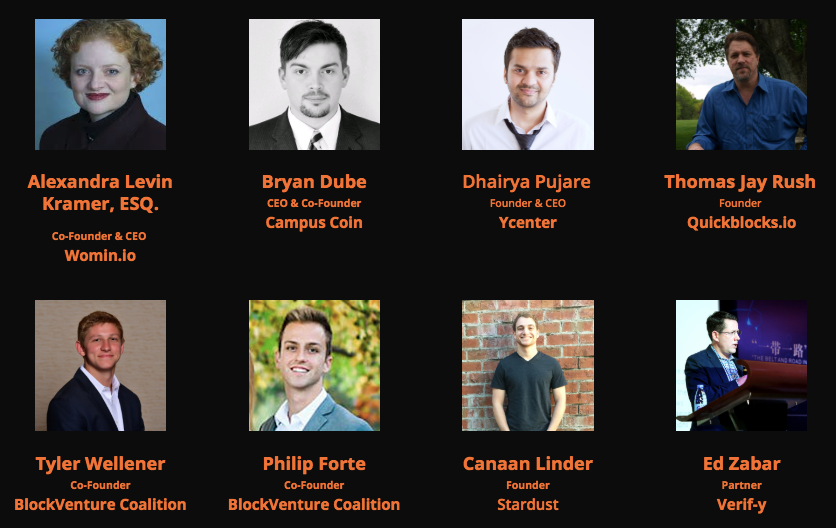 Alexandra Levin Kramer, ESQ., Co-Founder & CEO, Womin.io | Bryan Dube, CEO & Co-Founder, Campus Coin | Dhairya Pujare , Founder & CEO, Ycenter | Thomas Jay Rush , Founder , Quickblocks.io | Tyler Wellener, Co-Founder, BlockVenture Coalition | Philip Forte, Co-Founder, BlockVenture Coalition | Canaan Linder, Founder, Stardust | Ed Zabar, Partner, Verif-y
---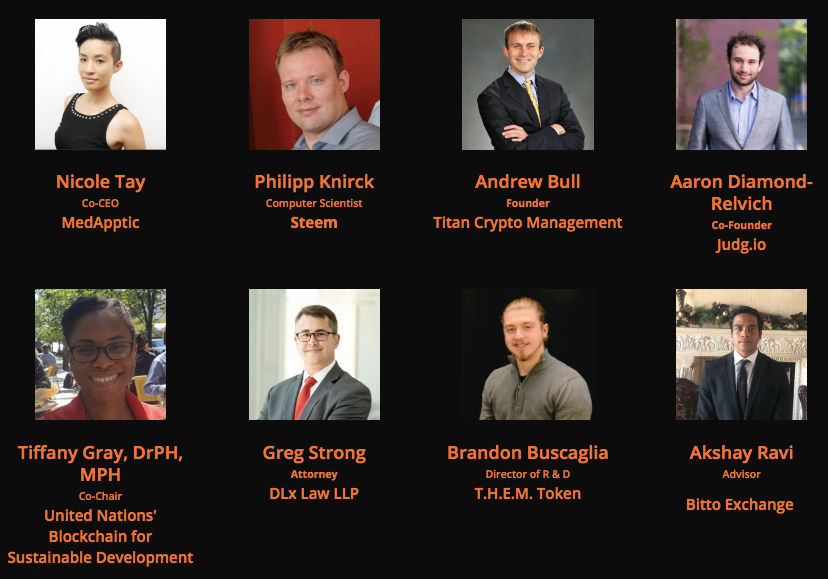 Nicole Tay, Co-CEO, MedApptic | Philipp Knirck, Computer Scientist, Steem | Andrew Bull, Founder, Titan Crypto Management | Aaron Diamond-Relvich, Co-Founder, Judg.io | Tiffany Gray, DrPH, MPH, Co-Chair, United Nations' Blockchain for Sustainable Development | Greg Strong, Attorney, DLx Law LLP | Brandon Buscaglia, Director of R & D, T.H.E.M. Token | Akshay Ravi, Advisor, Bitto Exchange
---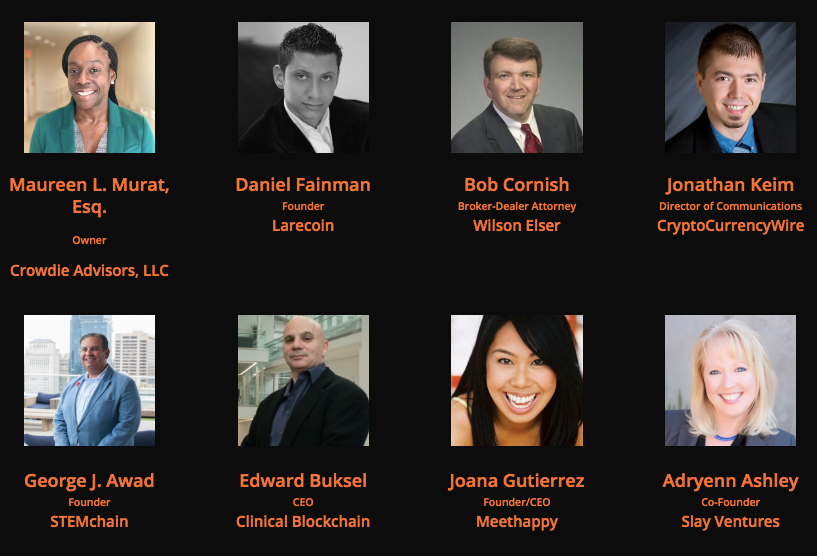 Maureen L. Murat, Esq., Owner, Crowdie Advisors, LLC | Daniel Fainman, Founder, Larecoin | Bob Cornish, Broker-Dealer Attorney, Wilson Elser | Jonathan Keim, Director of Communications, CryptoCurrencyWire | George J. Awad, Founder, STEMchain | Edward Buksel, CEO, Clinical Blockchain | Joana Gutierrez, Founder/CEO, Meethappy | Adryenn Ashley, Co-Founder, Slay Ventures
---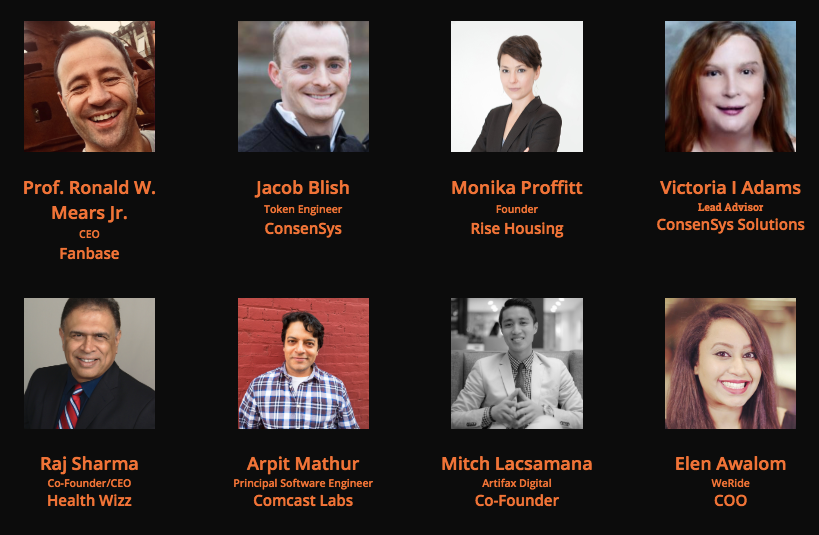 Prof. Ronald W. Mears Jr. ,CEO, Fanbase | Jacob Blish, Token Engineer, ConsenSys | Monika Proffitt, Founder, Rise Housing | Victoria I Adams, Lead Advisor, ConsenSys Solutions | Raj Sharma | Co-Founder/CEO | Health Wizz | Arpit Mathur, Principal Software Engineer, Comcast Labs | Mitch Lacsamana, Artifax Digital, Co-Founder | Elen Awalom, WeRide, COO
---


Kevin Werbach, Professor, Wharton School | Mike McCoy, Blockchain Systems Manager, Accenture | Danny Shopouri, Business Development, Digital Niche Agency
---
And we cannot forget our amazing Crypto Influencers!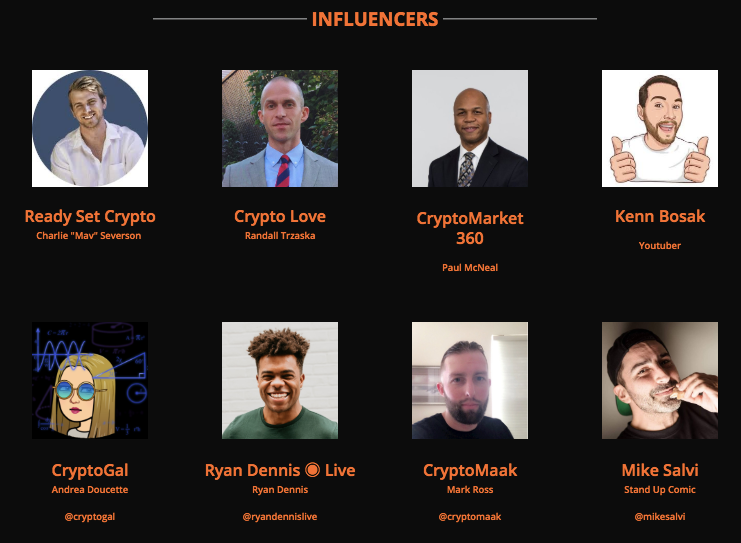 Ready Set Crypto, Charlie "Mav" Severson | Crypto Love, Randall Trzaska | CryptoMarket, 360, Paul McNeal | Kenn Bosak, Youtuber | CryptoGal, Andrea Doucette, @cryptogal | Ryan Dennis ◉ Live, Ryan Dennis, @ryandennislive | CryptoMaak, Mark Ross, @cryptomaak | Mike Salvi, Stand Up Comic, @mikesalvi
---

Legit Crypto, Danny Arteaga | @YourLegitGaming | A Bit Cryptic, Yidu Wang, A Bit Cryptic Medium
---
Here is a list of the companies attending the event.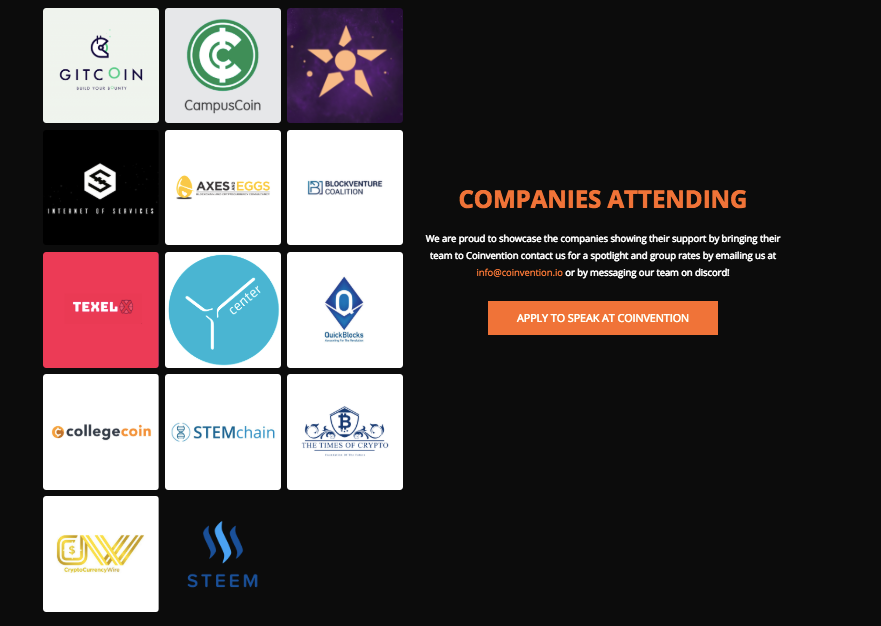 @Gitcoin, @CampusCoin, @InternetofServices, @AxesandEggs, @BlockchainVentureCoalition, @Texel, @Center, @QuickBlocks, @CollegeCoin, @STEMchain, @TheTimesofCrypto, @CryptocurrencyWire, @Steem
---
Meet the Team behind the event!
"The future in blockchain is upon us and it starts in Philadelphia. Our team has spent months building what we believe to be the perfect convention and we would love for you to join us on August 31st at the Loews Hotel for a fun and productive convention centered around the community that we love. This convention was designed for you, and at every step of the way our team put our decisions to a vote to ensure that this convention represented the investors, job seekers, new comers, and yes even some shill. Our mission is simple, provide an event that is in tune with the authentic cryptocurrency culture at an affordable price in awesome cities. If you would like to know more about us we invite you to contact us, we are happy to engage with our community. We are almost always on Discord" - https://discordapp.com/invite/PEzG3Xb
---
This is @PatrickALeach of The @StateofAnarchy signing off. If you wanna catch up with Carmen(@chickencaam) in person today at https://coinvention.io/ get over there! We're always looking for new friends and collaborative anarchists!
What are you waiting for!?
SEE YOU THERE!!!
---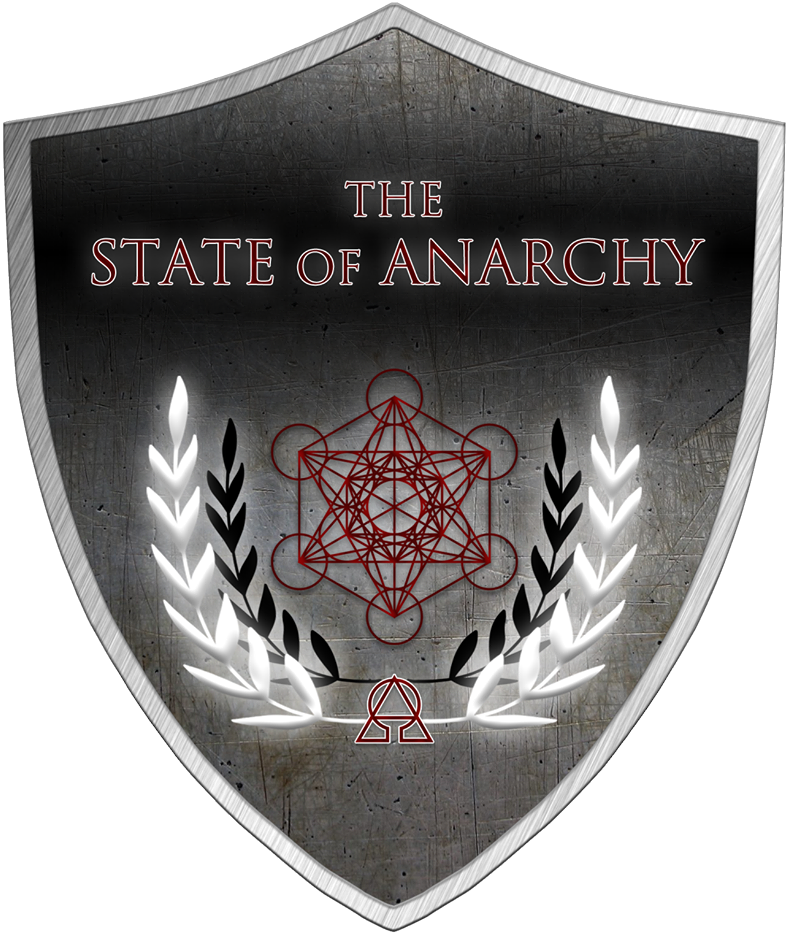 ---

Instagram: @thestateofanarchy
Website: http://thestateofanarchy.com/
YouTube: http://bit.ly/TheStateofAnarchy
Statebook: http://bit.ly/TheBookofAnarchy
Steemit: @chickencaam @PatrickALeach @SonnyMazzone


---
Crypto Tip Jar
Bitcoin: 17w77NVmtTxj78d1Dnx3vh5FjwHvzpkts8
Bitcoin Cash: qzvxljvm82hywnrsdv6vqd9m2zjj207y65fc04f2w5
Binance: 0x49e06218d5D05923F0e442265cD2A419D4d17C4D
Dash: XqVzxHF6wi1F9uA8vc8hhWZFyqLgjZCbH7
Ethereum: 0x49e06218d5D05923F0e442265cD2A419D4d17C4D
Lisk: 13974177123382109591L
Ark: ALVqR9qiEwRbHBcZ7kuw5Xwqqzd4nXSMDc
Monero: 458xXh879UPVHNjDmShgPXPtHbYdCVBSE5L5kZ1CnJYuMGLNqZiGPqB9XDSms5RqVBjHNfgxMfo6d6oNjFYKEG1iA7UmRp3