Beware of Private Trading Scams
---
As Bitcoin gains mainstream popularity, majority of Malaysians seek to convert MYR (Ringgit Malaysia) to BTC or other alt-coins.
Basically, there are multiple channels for exchanges to happen (e.g., centralized trading platforms, Peer to Peer (P2P) platforms and private contacts). Each channel presents its own pros and cons for traders.
Scams are tricks that are often prevalent throughout private trades that happen online through WhatsApp or Telegram. These activities happen at large because there's no formal protocols for registering users.
---
Here's an account of how we, even as active traders, have almost been scammed (20th February, 2017). The conversation between us and the perpetrator is in Malay, we have taken the initiative to include translated summaries of the conversation under each screenshot.
Chapter 1 - Greed and an offer you cannot refuse
Most scams begin with an offer that sounds realistically too good to be true, especially when you're always on the look out for great deals.
We were approached by a man (he claimed that his name is B) via WhatsApp. B has gotten our company mobile number through our advertisement on LocalBitcoin. He offered us Bitcoins for sale at a rate that was 3-4% below market rates on even the most competitive exchange.
We were interested in his offer and decided to follow-up with him the next morning.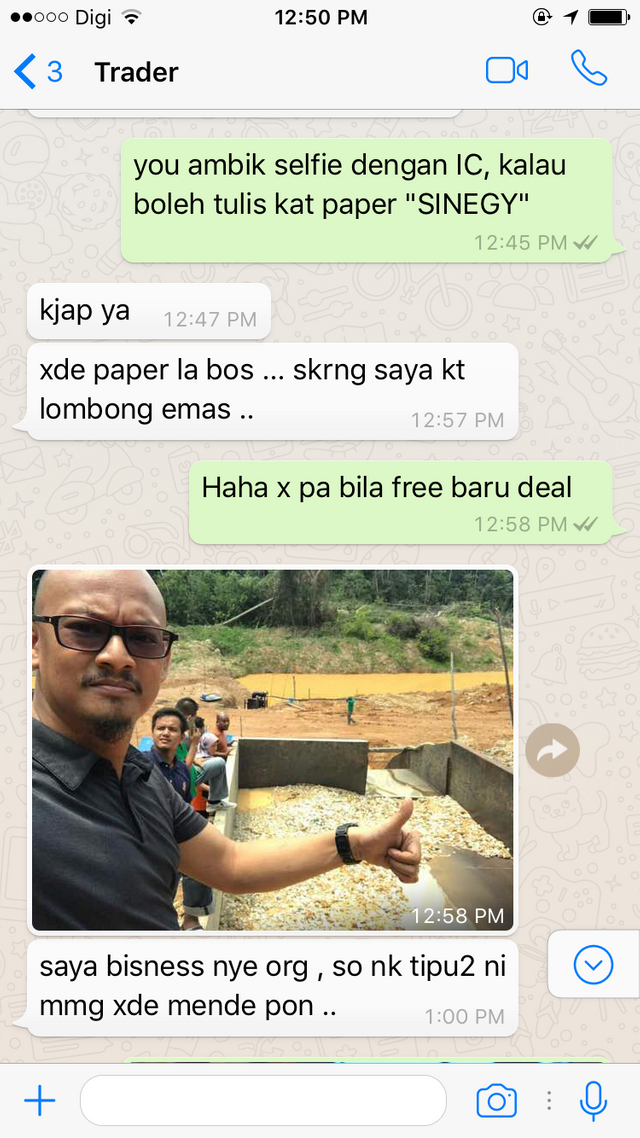 We asked for B to take a selfie with SINEGY written on it. B claims to be out at a gold mine and is a business man so he has no intention to scam
---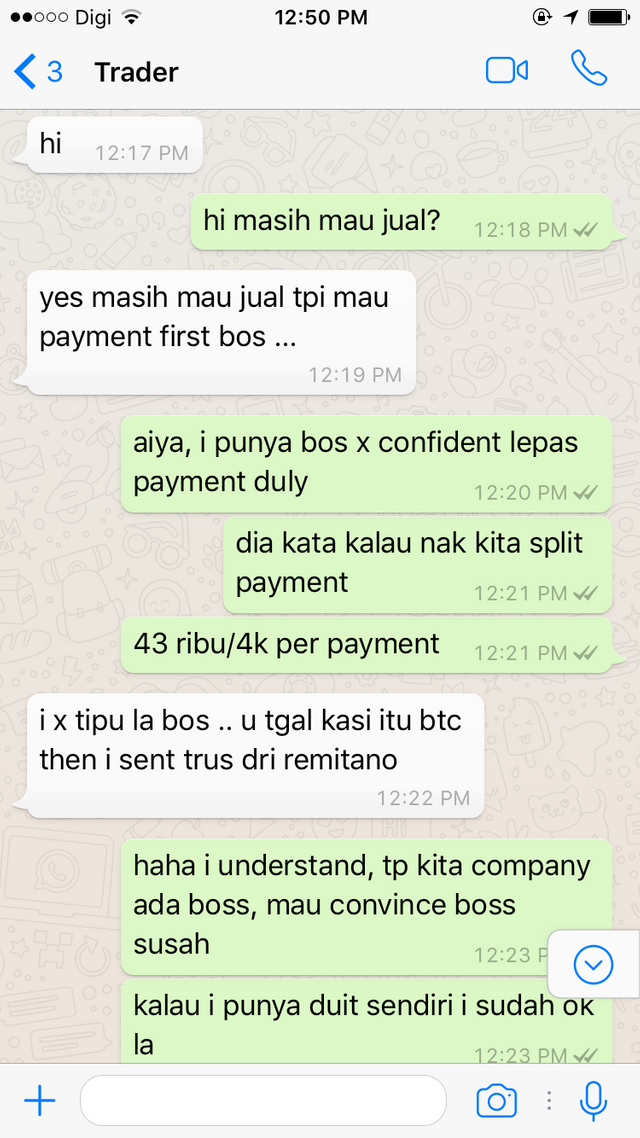 B wants to continue dealing but demands for payments first. We expressed our concerns and lack of confidence in the conditions he proposed
---
Chapter 2 - Excuses and Compromise
During a follow up phone call, we informed that in order for the deal to happen, we would have to receive the BTC first before transferring MYR to his bank account, simply because we had more credibility as an institution. Although B did not agree, we came to a compromise where we would split the transaction into smaller tranches.
To proceed, we asked for B's personal details as part of our KYC procedure. We required him to send us a selfie which includes his Identification card and him holding a handwritten note "SINEGY, date". In exchange, we proved our identity to him.
B came up with excuses that he's unable to do that as he was travelling for work. However, he sent us a photograph of an IC and Passport of whom he claimed to be - "Bakhtiar Samsul". He even showed us a photo of "him" being away at work in a goldmine.
We were slightly hesitant but proceeded to compromise as he said he was going to send us 0.5BTC, so we proceeded to arrange for an Instant Transfer to the bank account which he provided. In the midst of transferring him the MYR, we found out that the bank account does not belong to him, instead it belonged to a Tan Shu Wen.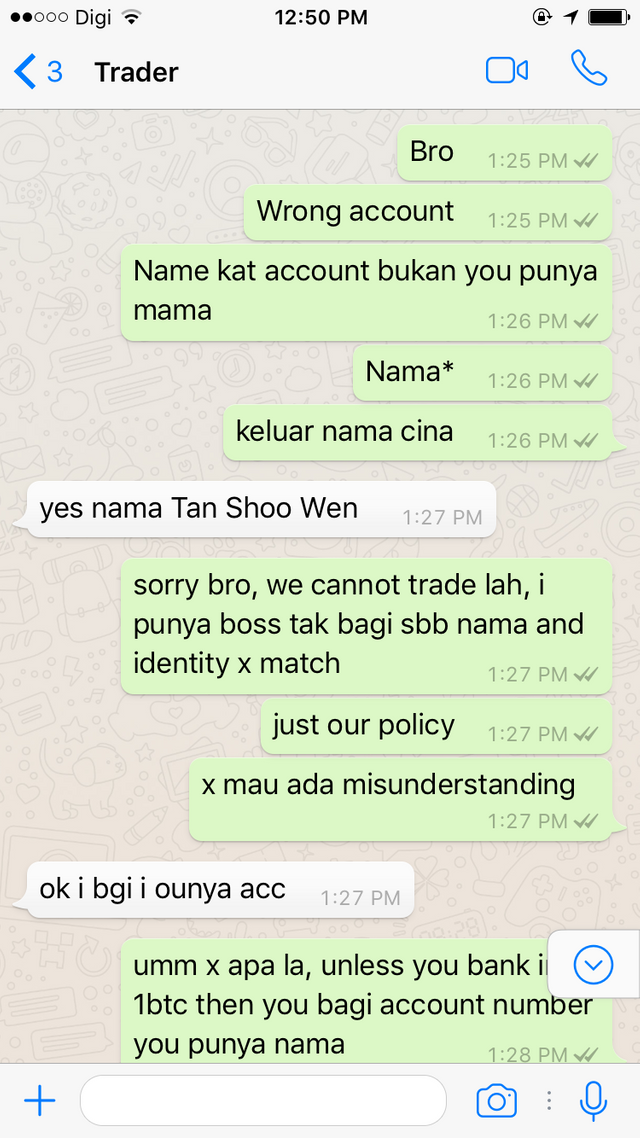 We informed him that the bank account given did not match his identity. We said we were unable to proceed as it was against our company policy. B said he will give us his own bank account
---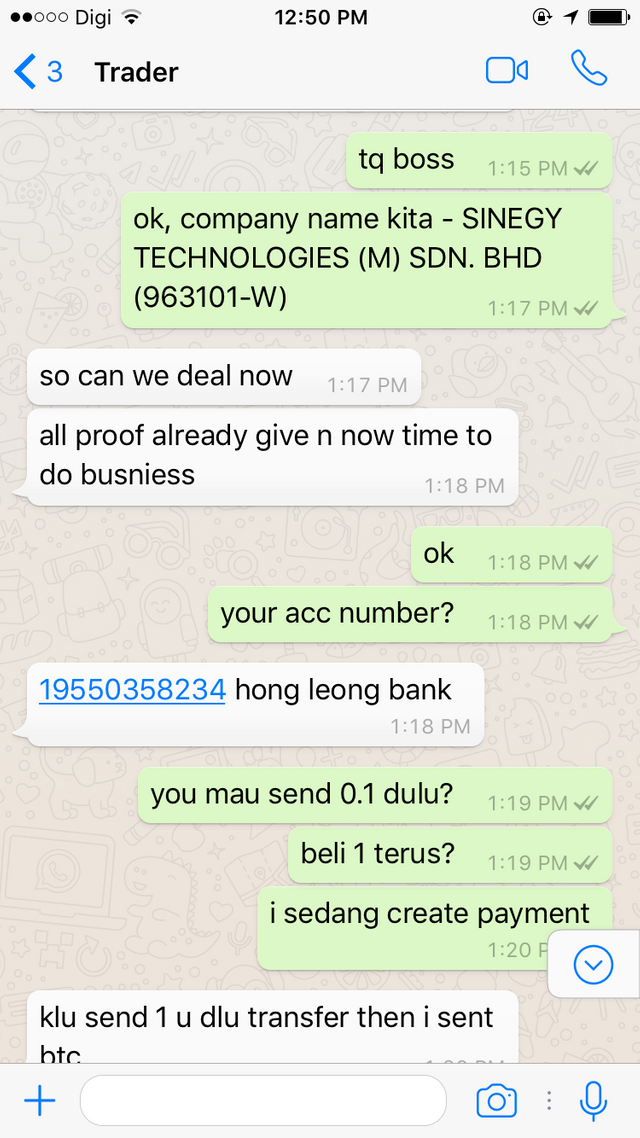 B gave us his bank account number
---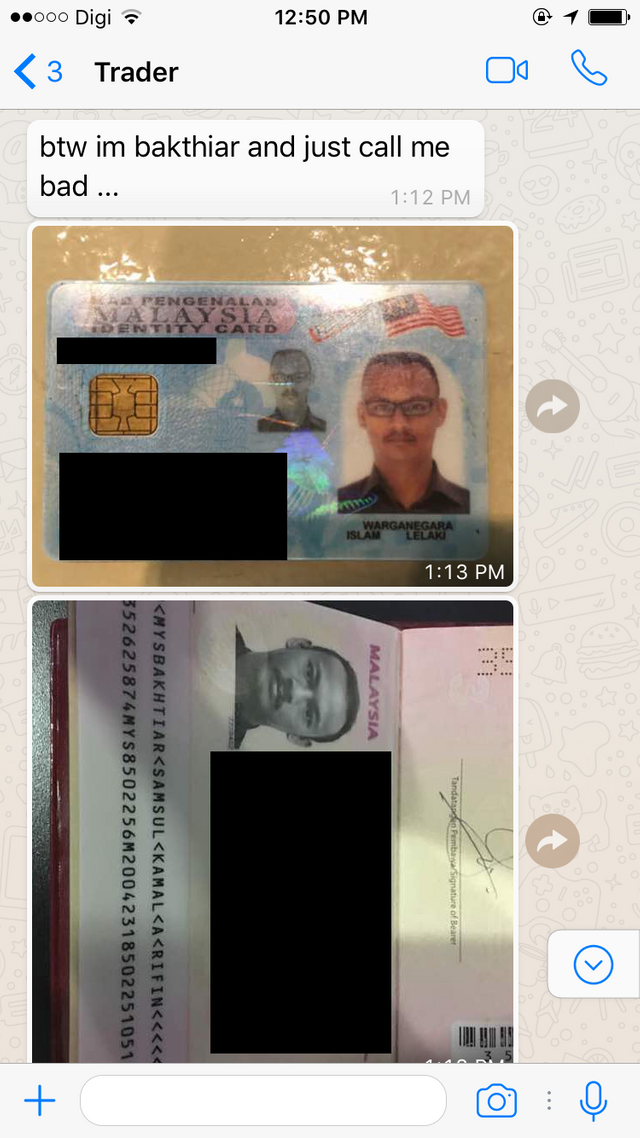 B sends his KYC details
---
Chapter 3 - Pressure and Denial
As soon as we figured we could be duped, we did not proceed with the payment to Tan Shu Wen. We then messaged B. His excuse was that he was trading on behalf of several people. He was only earning commissions off the trades.
He proceeded to convince us by sending us links to view the blockchain transaction. However either the link was broken or the transaction was rejected due to double spending. In addition, he started pressuring us to release the payment over to him. In spite of the pressure, we maintained that we will only release the payment once the BTC arrives to our wallet.
The suspicion that occurred led us to do some basic investigation. We found out that the real Bakhtiar Samsul is actually cryptocurrency enthusiast with a rather popular following. However, the real Bakhtiar Samsul have never contacted us in the first place. We figured he must have came across this regularly.
When I tried to contact B to confront him over his intention to dupe and scam us, he denied ever trying to fake his identity. He maintained that he was just a "man in the middle", in addition to many other twist and turns intended to confuse us further.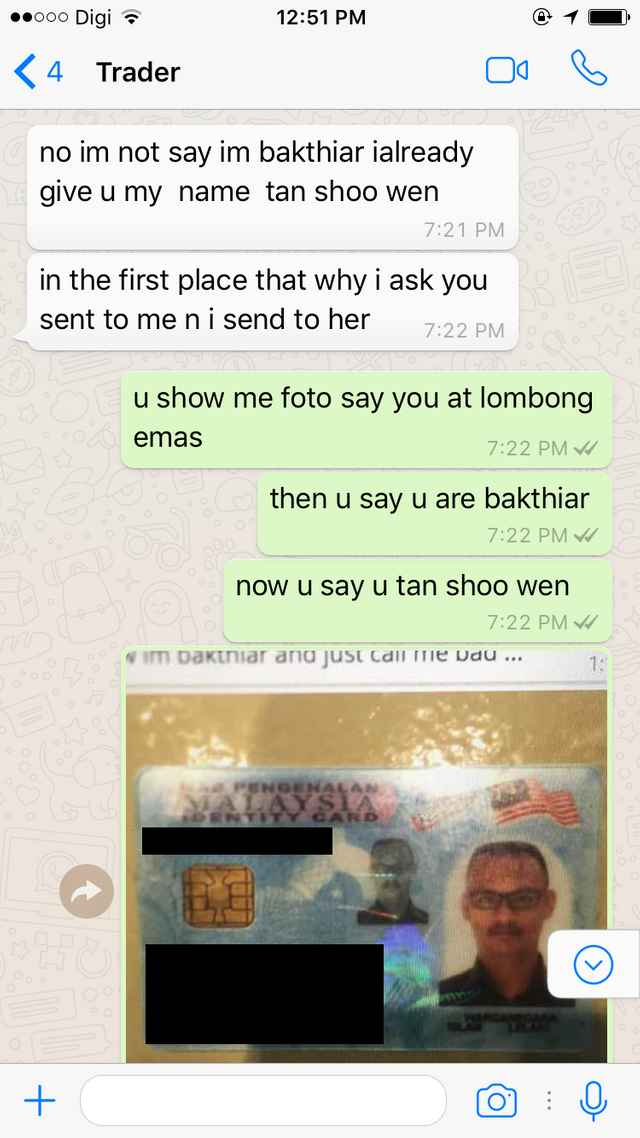 B starts swirling
---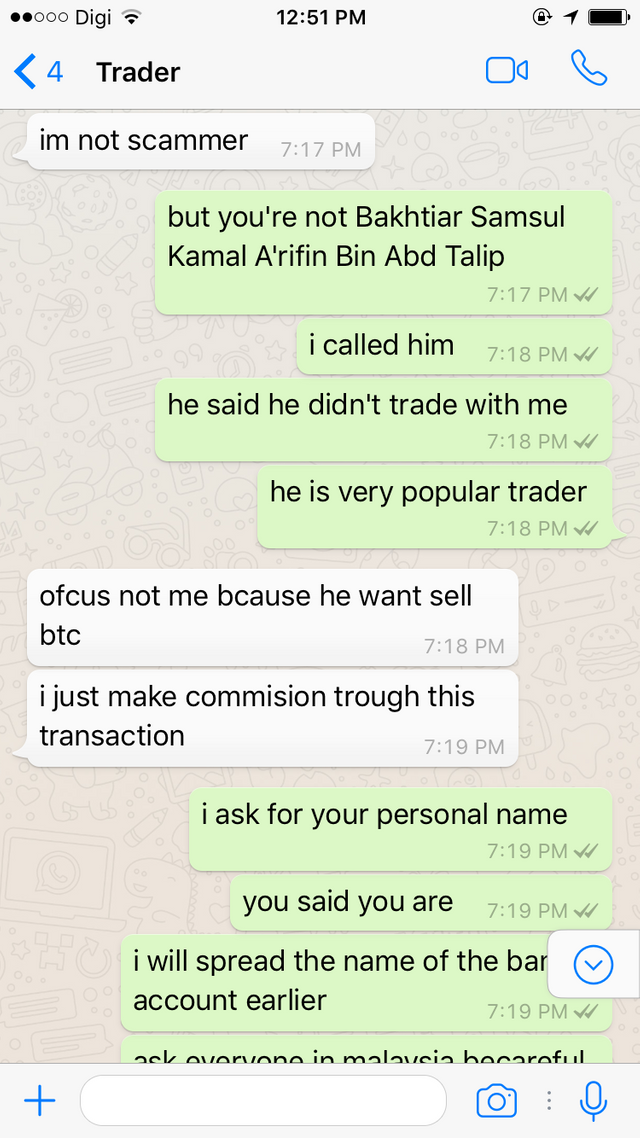 At this point, we have chosen a GIF that would probably be a better summary of what's going on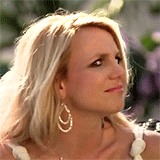 What the what? 😐
---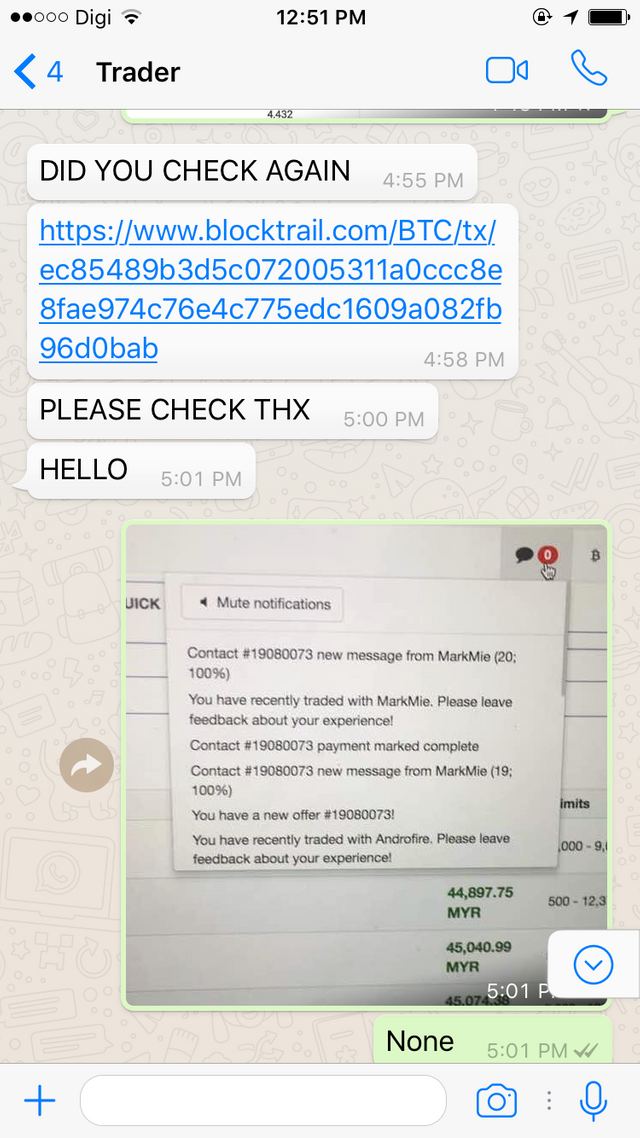 ---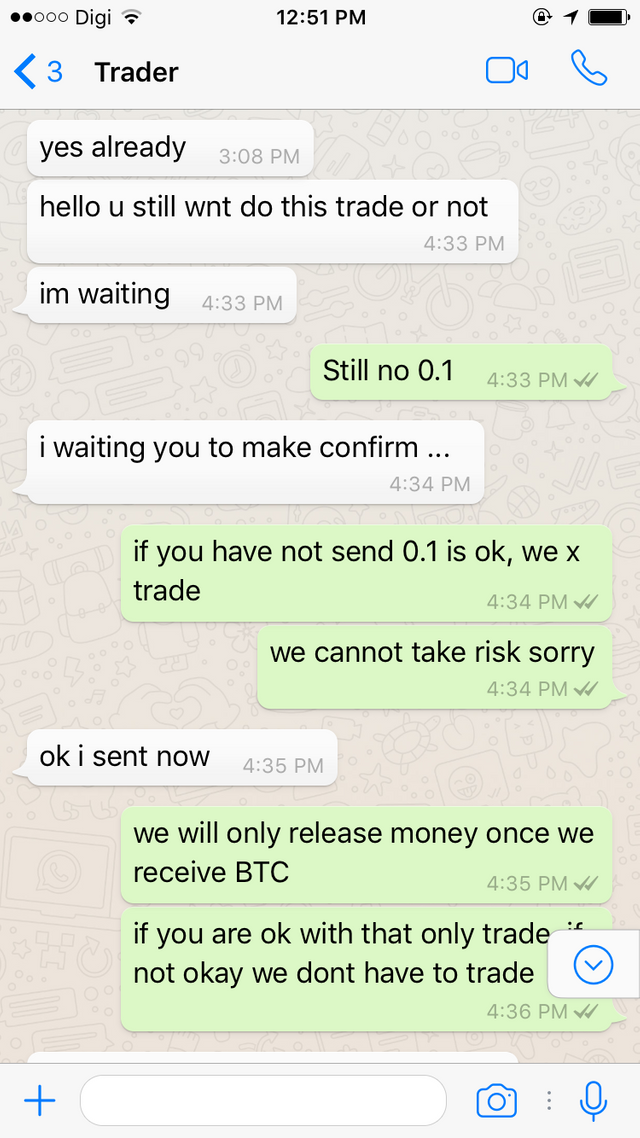 ---
Moral of the story
Always verify the identity of the buyer or seller during private trades, especially if it involves a large sum. Simple video calls to ascertain the identity of both parties goes a long way in securing private trades.
Beware when trading with +6013-8934759
If you are someone with not more than one identity 🙊, you are more than welcome to reach out to us at:
Website
https://sinegy.com/ and https://marketplace.sinegy.com/
Learn about our MKTP Initial Exchange Offering
Social platforms
Facebook Telegram Twitter
Support email
[email protected]