SUMMARY:
You can't just compare all coins with each other. Different markets, different fundamentals. Today we are going to have a look at the Currency market. The importance of each coin and future possibilities of these currency coins. After reading this, hopefully you will get the idea why some coins have no future and others are THE future.
1. Bitcoin: 1st generation blockchain with currently bad scalability currently, though the implementation of the Lightning Network looks promising and could alleviate most scalability concerns, scalability and high energy use.
2. Ripple: Centralized currency that might become very successful due to tight involvement with banks and cross-border payments for financial institutions; banks and companies like Western Union and Moneygram (who they are currently working with) as customers customers. However, it seems they are aiming for more decentralization now. https://ripple.com/dev-blog/decentralization-strategy-update/. Has high TPS due to Proof of Correctness algorithm.
3. Bitcoin Cash: Bitcoin fork with the difference of having an 8 times bigger block size, making it 8 times more scalable than Bitcoin currently. Further block size increases are planned. Only significant difference is bigger block size while big blocks lead to further problems that don't seem to do well beyond a few thousand TPS. Opponents to a block size argue that increasing the block size limit is unimaginative, offers only temporary relief, and damages decentralization by increasing costs of participation. In order to preserve decentralization, system requirements to participate should be kept low. To understand this, consider an extreme example: very big blocks (1GB+) would require data center level resources to validate the blockchain. This would preclude all but the wealthiest individuals from participating.Community seems more open than Bitcoin's though.
4. Litecoin: Little brother of Bitcoin. Bitcoin fork with different mining algorithm but not much else. Copies everything that Bitcoin does pretty much. Lack of real innovation.
5. Dash: Dash (Digital Cash) is a fork of Bitcoin and focuses on user ease. It has very fast transactions within seconds, low fees and uses Proof of Service from Masternodes for consensus. They are currently building a system called Evolution which will allow users to send money using usernames and merchants will find it easy to integrate Dash using the API.
You could say Dash is trying to be a PayPal of cryptocurrencies. Currently, cryptocurrencies must choose between decentralization, speed, scalability and can pick only 2. With Masternodes, Dash picked speed and scalability at some cost of decentralization, since with Masternodes the voting power is shifted towards Masternodes, which are run by Dash users who own the most Dash.
6. IOTA: 3rd generation blockchain called Tangle, which has a high scalability, no fees and instant transactions. IOTA aims to be the connective layer between all 80 billion IOT devices that are expected to be connected to the Internet in 2025, possibly creating 80 billion transactions per second or 800 billion TPS, who knows. However, it needs to be seen if the Tangle can keep up with this scalability and iron out its security issues that have not yet been completely resolved.
7. Nano: 3rd generation blockchain called Block Lattice with high scalability, no fees and instant transactions. Unlike IOTA, Nano only wants to be a payment processor and nothing else, for now at least. With Nano, every user has their own blockchain and has to perform a small amount of computing for each transaction, which makes Nano perform at 300 TPS with no problems and 7,000 TPS have also been tested successfully. Very promising 3rd gen technology and strong focus on only being the fastest currency without trying to be everything.
8. Decred: As mining operations have grown, Bitcoin's decision-making process has become more centralized, with the largest mining companies holding large amounts of power over the Bitcoin improvement process. Decred focuses heavily on decentralization with their PoW Pos hybrid governance system to become what Bitcoin was set out to be. They will soon implement the Lightning Network to scale up. While there do not seem to be more differences to Bitcoin besides the novel hybrid consensus algorithm, which Ethereum, Aeternity and Bitcoin Atom are also implementing, the welcoming and positive Decred community and professoinal team add another level of potential to the coin.
9. Aeternity: We've seen recently, that it's difficult to scale the execution of smart contracts on the blockchain. Crypto Kitties is a great example. Something as simple as creating and trading unique assets on Ethereum bogged the network down when transaction volume soared. Ethereum and Zilliqa address this problem with Sharding. Aeternity focuses on increasing the scalability of smart contracts and dapps by moving smart contracts off-chain. Instead of running on the blockchain, smart contracts on Aeternity run in private state channels between the parties involved in the contracts. State channels are lines of communication between parties in a smart contract. They don't touch the blockchain unless they need to for adjudication or transfer of value. Because they're off-chain, state channel contracts can operate much more efficiently. They don't need to pay the network for every time they compute and can also operate with greater privacy.
An important aspect of smart contract and dapp development is access to outside data sources. This could mean checking the weather in London, score of a football game, or price of gold. Oracles provide access to data hosted outside the blockchain. In many blockchain projects, oracles represent a security risk and potential point of failure, since they tend to be singular, centralized data streams. Aeternity proposes decentralizing oracles with their oracle machine. Doing so would make outside data immutable and unchangeable once it reaches Aeternity's blockchain. Of course, the data source could still be hacked, so Aeternity implements a prediction market where users can bet on the accuracy and honesty of incoming data from various oracles.It also uses prediction markets for various voting and verification purposes within the platform. Aeternity's network runs on on a hybrid of proof of work and proof of stake. Founded by a long-time crypto-enthusiast and early colleague of Vitalik Buterin, Yanislav Malahov. Promising concept though not product yet
10. Bitcoin Atom: Atomic Swaps and hybrid consenus. This looks like the only Bitcoin clone that actually is looking to innovate next to Bitcoin Cash.
11. Dogecoin: Litecoin fork, fantastic community, though lagging behind a bit in technology.
12. Bitcoin Gold: A bit better security than bitcoin through ASIC resistant algorithm, but that's it. Not that interesting.
13. Bitcoin Diamond: Asic resistant Bitcoin and Copycat.
14. Digibyte: Digibyte's PoS blockchain is spread over a 100,000+ servers, phones, computers, and nodes across the globe, aiming for the ultimate level of decentralization. DigiByte rebalances the load between the five mining algorithms by adjusting the difficulty of each so one algorithm doesn't become dominant. The algorithm's asymmetric difficulty has gained notoriety and been deployed in many other blockchains.DigiByte's adoption over the past four years has been slow. It's still a relatively obscure currency compared its competitors. The DigiByte website offers a lot of great marketing copy and buzzwords. However, there's not much technical information about what they have planned for the future.
You could say Digibyte is like Bitcoin, but with shorter blocktimes and a multi-algorithm. However, that's not really a difference big enough to truly set themselves apart from Bitcoin, since these technologies could be implemented by any blockchain without much difficulty. Their decentralization is probably their strongest asset, however, this also change quickly if the currency takes off and big miners decide to go into Digibyte.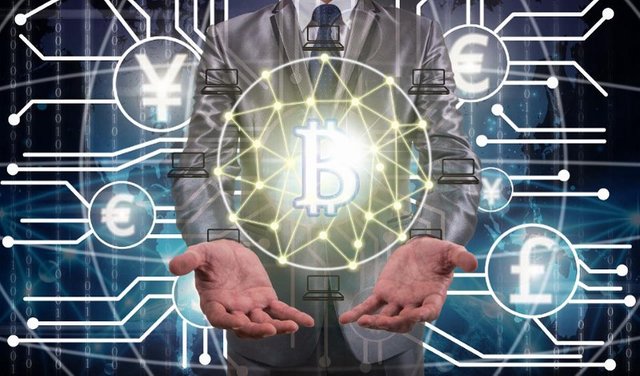 Thank you for taking your time to read my post. I hope that all the above information will be useful to you. If you have questions or more information please leave it in the comments.
Have a beautiful day!
Follow me on Twitter for Real Time Alerts!
Follow me on Steem for detailed crypto news and analysis!