The NIO Token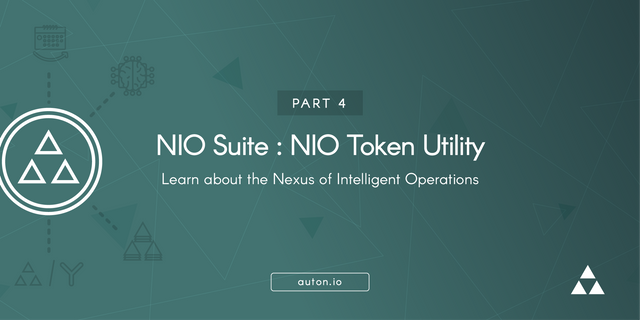 NIO is the NIO Suite's native cryptocurrency. It allows convenient, secure, and cost-effective access to each tool in the NIO Suite (AutoNIO, NIOnet, and NIOdex), acting as the Nexus of Intelligent Operations for cryptocurrency trading services.
From ICO to Present Day
The token issued first was originally used by traders to pay a $50 monthly subscription fee to utilize the AutoNIO platform. These monthly payments were immediately burned through a smart contract set up by the founding team.
While AutoNIO has found success with this token model, garnering over 3,000 users in the last eight months, the NIO team and community strongly believe that it is time for an update that opens access to the advanced functionality of the NIO Suite.
Accordingly, the AutoNIO Foundation will be issuing a relaunch of the trading services and tools network, designed to improve the functionality of the NIO token while rewarding users for their loyalty.
Future Token Utility
NIO tokens in the new NIO Suite ecosystem will be required for paying fees associated with deploying algorithms, as well as for purchasing AutoNIO algorithms and trading consultancy services. Users who seek the above functionality will be able to purchase NIO through the Autonio website or a secondary exchange.
Functionality on the new NIO Suite will be dictated through the lens of two different account types: "traders" and "users", which are distinguished by the amount of NIO that one person holds. The token economy is configured as follows:
Free Accounts - "Users"
"Users" on the NIO Suite qualify as any individuals with fewer than a fixed amount of NIO tokens in their connected Ethereum wallet. These users will be able to access all of the basic services on the NIO Suite.
Paid Accounts - "Traders"
Those seeking maximum value from the NIO Suite will be able to upgrade their accounts to "trader accounts" by purchasing and holding greater than a fixed amount of NIO tokens. Trader rewards and incentives will be tiered according to the amount of NIO held by the user.
The upgraded NIO Economy includes the ability to:
i) Vote on platform updates using NIO
ii) Spend NIO within AutoNIO and NIOdex
iii) Earn referral bonuses in NIO
iv) Receive Staking Rewards in NIO from the NIOdex
Quadratic Voting
Updates to the design of the new NIO Suite will be developed in accordance with the conscience of NIO's community. As such, all 'trader' accounts on the NIO Suite will be able to vote on future NIO Suite developments, including prioritizing development funds for specific tools, and voicing which exchanges, pairs, and products should be added to the NIO ecosystem. Each vote will be completed using a quadratic procedure to protect the governance of the NIO Suite from monopoly.
AutoNIO Platform
AutoNIO is a decentralized AI trading system that grants open access to numerous algorithmic trading opportunities. It allows users to learn about, build, sell, and deploy intelligent trading algorithms, and run market makers through a single user-friendly interface.
Using the AutoNIO platform, traders of all backgrounds are able to run complex cryptocurrency trading algorithms with zero prior development knowledge needed. Algorithms can be deployed on several different exchanges 24 hours a day, with little more setup needed than entering an Ethereum address and a password.
Those users that encounter difficulty in realizing returns after deploying AutoNIO algorithms will be able to seek out expert assistance, mimic other top traders, and purchase better algorithms - without needing to understand their technical underpinnings.
Adding Liquidity to Crypto Exchanges
Crypto exchanges outside of the NIO Suite that are looking to add liquidity to their markets can do so through integration with AutoNIO. AutoNIO's user base and algorithmic trading capabilities add a strong influx in orders on any desired trading pair; thereby removing some of the volatility from exchanges.
In the future, the launch of an AutoNIO market maker on each exchange will provide exchanges with orders on either side of the market that can be executed upon by exchange users. This enhances user experience and mitigates the risk associated with low volume.
NIOnet & NIOdex
With NIOnet's direct integration with the AutoNIO platform, traders will be able to execute trades based on sentiment analysis immediately across a number of exchanges, saving additional time spent placing and confirming orders.
Trading experts looking to trade high volumes securely and inexpensively will be able to do so directly through the NIOdex. Traders will additionally be able to refer others into the NIO Suite, earning referral fees on all referees' transactions.
Referrals
Both users and traders are highly encouraged to bring new users into the NIO Suite. Users who refer new users into the Suite will benefit simply from the network effects associated with more algorithm creators, while traders will have an added incentive.
Once users are considered "traders", they will be able to copy a personalized referral link from the "referrals" tab on the AutoNIO or NIOdex platforms and share that with friends, family, or members from other discords, telegrams, or community forums.
Referral links will be stored directly within NIO Suite smart contracts, meaning that traders will be able to receive referral fees across browsers and devices.
Staking Rewards
The staking function of the token within the NIOdex, has been carefully designed to incentivize traders using the exchange and build out a new layer of functionality for the NIO token. Staking on the NIOdex will be both secure and convenient for users, accessible through either their My Ether Wallet address (MEW), or from their ledger hardware wallet.
Staking rewards will be structured around two mechanisms: staking rebates tied to the volume directly generated by each user, and profit sharing from the overall usage of the NIOdex. Any user that generates volume by either buying or selling on the NIOdex will be eligible for instant staking rebates. These will be distributed in proportion to the amount of NIO they hold.
The NIOdex will further award 60% of the exchange revenues among NIO holders who stake their tokens. As the architecture of the exchange develops and expands, there may be additional opportunities for revenue sharing with NIO holders.
For more information please visit our website at http://auton.io/