People of QUOINE: Thanh Pham — Customer Support Lead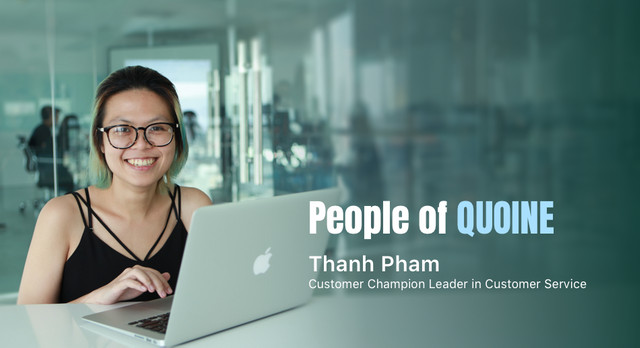 Introduce yourself
Hello. This is Thanh Pham (first name Thanh), the first Vietnam-based English-speaking customer support employee at QUOINE, now customer support lead of QUOINE's Vietnam branch. I started working for QUOINE in January 2016. Before that I was a language teacher teaching Japanese to tech company employees.
I like common sense and dislike shenanigans. I bake bread in my free time. I'm a cat person. My favorite song recently is Hardwired.
What does your department do?
True to its name, the department is about supporting customers should they run into issues on QUOINE platforms and playing the bridge between customers and actual tech help. While most of us didn't come from technical backgrounds, we have plenty of experience working in the service sector and always try our best to help out while still following company policies.
What are your daily tasks?
I deal with withdrawal requests (fiat & crypto), team training and various daily operational tasks. I also handle trading-related support tickets as well as any tickets team members may have trouble solving.
What are some of the difficulties that the team are facing?
Tech knowledge — as said above, most of the Vietnam-based support team have no technical background. Technical inquiries can take a while to get resolved simply because we will need help from our developers who are incredibly busy at all times. Also, the way QUOINE is organized as a whole, security clearance wise, does affect how much a Support agent can know and help. This is not something that can be changed however as security is our foremost priority, and we ask for your understanding on this matter. That being said, we're always hiring more techies.
English — it's not easy trying to sync everybody's English level and I'm saying this as a teacher. As it is right now a customer might run into different support agents with different English skill levels in one email exchange, and while it's a relatively minor annoyance compared to other much more pressing issues, it's still an annoyance. We do have a lengthy English test for job candidates.
What are some of the latest updates you want to share with our community?
We're moving to a new office location in early July. Our team will have an entire office corner to ourselves.
What are some of the goals that your department is working towards?
Better support flow, from a customer service POV. The flow right now is still email-based — you send an email to [email protected], this email gets converted into a support ticket (Zendesk veterans out there anyone?) and gets in line and waits until an agent reaches out and replies — it can be a hassle when the issue at hand is an emergency. We would like to build a self-service system for generic inquiries, and to dedicate our human team to emergencies and any issues that require a human touch. Right now there's already a thing called Answer Bot that detects the subject of your inquiries using key words and replies immediately via email all articles that it thinks might help you. It's basically a baby bot (trial run for 31 days) and needs your help in learning and graduating Bot school.
More support languages. Right now we have English, Japanese, Mandarin, Vietnamese, and Korean. We would like to expand to Spanish at least, then Portuguese, French, and maybe Italian.
A message to our community
Please utilize our Knowledge Bases (quoine.zendesk.com/hc/en-us and qryptos.zendesk.com/hc/en-us). We like to help people as much as we can, but at the end of the day, it's desensitizing to see someone send a message via email (not even web form) asking about things Knowledge Bases have covered.
Also, when your technical inquiry is taking too long to get resolved, please don't send profanities (especially not in your mother language — that's cheating). We are aware of the timeline, we feel your pain, and we're trying our best. See the 4th question above.
Question from community?
Why do we take so long in processing withdrawals? — answered and explained here https://qryptos.zendesk.com/hc/en-us/articles/115012089728