Mike's weekend message to QUOINE community (July 14th, 2018)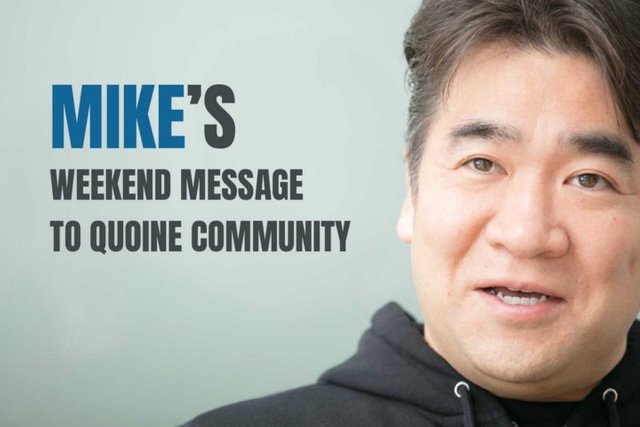 Dear QUOINERS,
I hope you are having a wonderful weekend.
I was in our Vietnam office this week to celebrate our new office in Saigon Centre. As our team in Vietnam grows to over 100 people, I feel blessed to work with such amazing people (as you know, we are only good as our people). We hire the best, train, and retain.
I also conducted a live AMA in a long time. It was important for me to talk about my vision regarding the entire Liquid ecosystem. We've been updating QUOINERs on our trading platform (Liquid Platform) but hadn't given any update on our blockchain initiative.
As we have been working on our Distributed Ledger (not Blockchain) for quite some time, I wanted to give our community an update myself directly. Since not everyone watches my AMA, I would like to summarize my AMA in my own words, as it is very important to me.
1. Name Change
As we prepare to launch our Liquid Trading Platform, we believe it is best to change our QASH Blockchain to Liquid Distributed Ledger or LDL. The QASH Token will be rebranded to become the Liquid Token (LQD) as well.
2. LDL's Addressable Market and Target Developers
LDL will focus on Financial Services, which is 20–30% of the entire global economy according to OECD, specifically fintech startups. That is how Amazon AWS grew. They initially focused on startups (mobile / social) and now dominate the cloud industry.
Blockchain/DLT is a new industry, hence LDL will work with startups who put blockchain and distributed services as its core. Not just a feature.
LDL will provide what every Fintech desperately needs (to be a medicine, not a vitamin) as we ourselves are a fintech company. We know the pains that every fintech faces and will address these in our LDL.
3. LDL Development
QUOINE will be the initial steward and spearhead the development of LDL. However, LDL will eventually decouple from QUOINE the company and will be owned by the developer community (open source).
LDL will be the asset of the community and the continued development and wellbeing will be overseen by a Foundation, not QUOINE.
4. Future of LDL and LIQUID Token (LQD)
The LDL and Liquid Token will outlive QUOINE the company. I initially struggled to explain which would be more valuable. QUOINE shareholders (security tokens) or Liquid Token holders. Now I am very clear: it will be Liquid Token holders.
LDL will become the preferred DLT for fintech, and eventually all financial services. The Liquid Token will be the native token of LDL and the token will have utility outside of QUOINE's trading platform. It will have a life of its own. QUOINE will only have minimal insignificant ownership of Liquid Token.
5. Value of Liquid Token
The Liquid Token (LQD) will be a pure cryptocurrency, and the value of LQD will be in the hands of the developers and holders. They can help contribute to further develop, enhance and innovate the Liquid Distributed Ledger.
Theoretically, the value of utility tokens should not increase astronomically. And security tokens will be capped by the profit/NPV of the token issuer. But the value of LQD can increase without limit as long as the community helps enhance LDL and the surrounding ecosystem.
6. QUOINE's involvement
QUOINE will lead the LDL development until handing over to the developer community. We aim for Alpha release in September, then beta by the end of the year.
QUOINE will be the first PoC customer of LDL. We will migrate the Liquid Trading Platform on to LDL. We will also build a mobile banking platform on top of LDL.
It is going to be an exciting time.
Finally, I'm posting a link from our weekly Roundup by Tammy Ha!
By the way, we'd like to get your feedback on how we can improve our newsletters. Please complete this survey and share your opinions for a chance to win one of three pairs of Sony Wireless Headphones.
Please have a wonderful weekend.
Mike K