Welcome to my Cryptocurrencies Market Overview for Wednesday, February 14, 2018.
Hot crypto news today:
Bitcoin is back above $9,000 :-)
Litecoin surges 25% to $200 ahead of LitePay launch and possible fork.
South Korea's government gave the strongest signal yet that it will allow cryptocurrency exchanges to keep operating in the country.
Users on Coinbase won't be able to add new credit cards as a payment option.
Bitfinex announced it would build a decentralized exchange on the EOS.IO blockchain platform.
And more crypto news below...
Cryptocurrencies Market Overview - February 14, 2018
24 Hour Change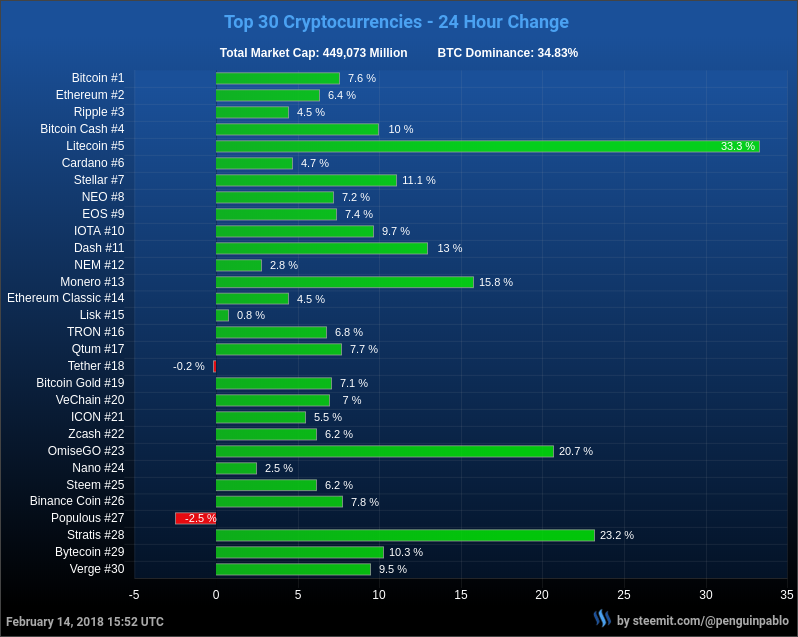 Realtime chart on my website CoinMarkets.today
7 Day Change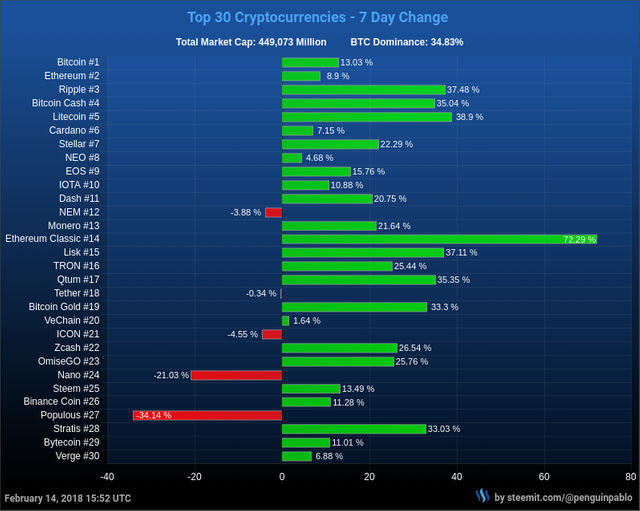 Month-to-Date Change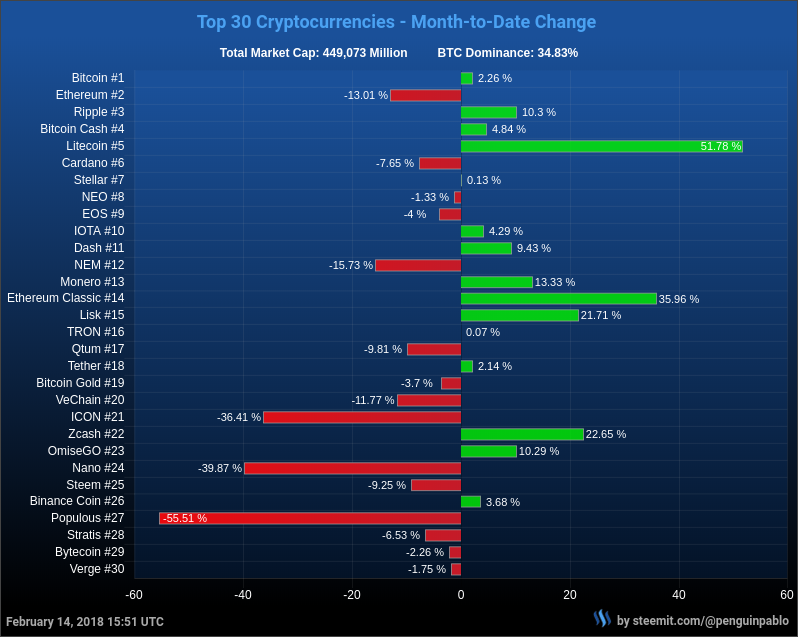 24 Hour Volume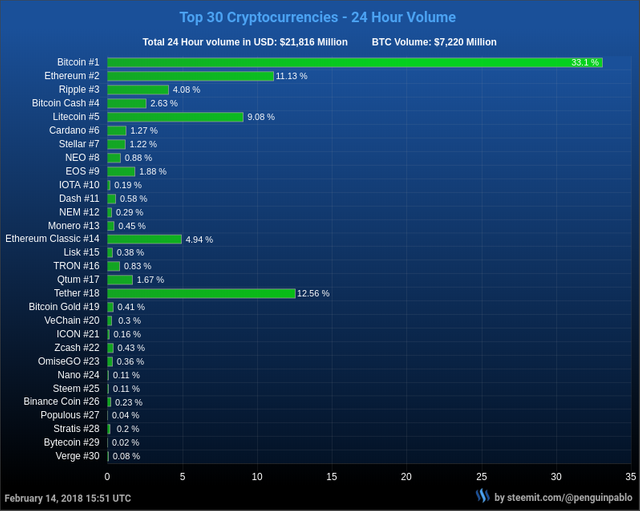 Market Capitalization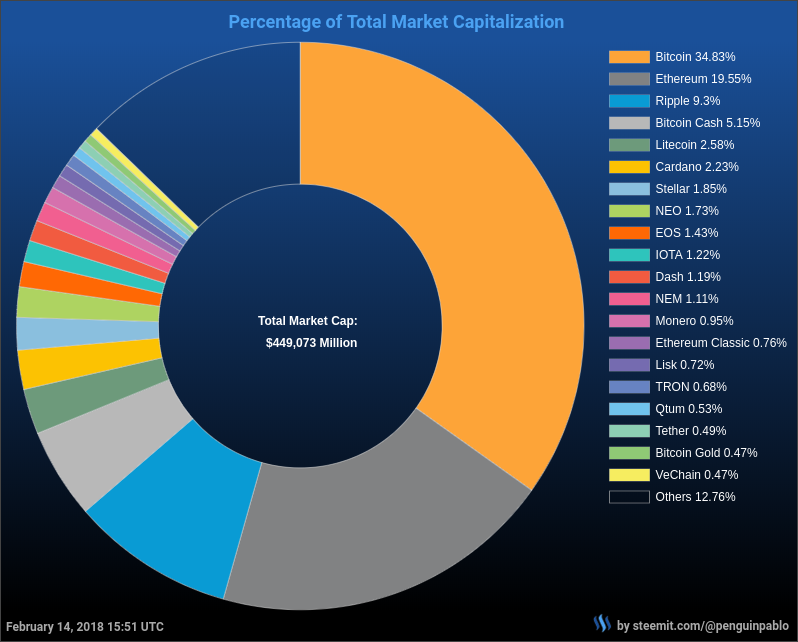 Bitcoin daily chart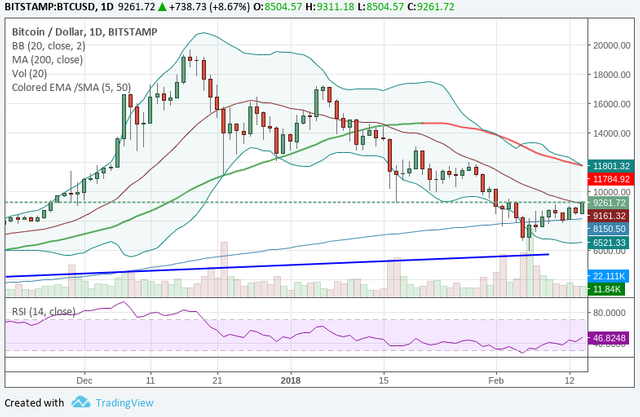 Feel free to use and share my charts, but please mention me as the author.

Latest Crypto News - February 14, 2018
Bitcoin looks set to test the $10,000 mark soon, as per technical analysis, although some investors fear the Lunar New Year may play spoilsport. Ahead of New Year holidays (starting Feb. 15), Chinese and South Koreans often exchange bitcoin for fiat currencies (to fund increased spending), and bitcoin (BTC) tends to drop in the run-up to the event.
Read more: www.coindesk.com
More sources about Bitcoin's price:

Litecoin (LTC) is putting on a show today amid news a group of developers may seek to fork its blockchain, the fifth-largest by total value.
Read more: www.coindesk.com
Other sources:

South Korea's government gave the strongest signal yet that it will allow cryptocurrency exchanges to keep operating in the country, a welcome development for traders who had feared an outright ban in one of the world's biggest markets for digital assets.
Read more: www.bloomberg.com
Other sources:

Cryptocurrency startup Coinbase said Tuesday that its U.S.-based users won't be able to add new credit cards as a payment option.
Read more: www.coindesk.com

Ripple has announced an agreement today, Feb. 14, with the Saudi Arabian Monetary Authority (SAMA) to provide support for Ripple's cross-border payments technology to banks in the Kingdom of Saudi Arabia (KSA).
Read more: cointelegraph.com

Japan's Coincheck exchange reinstated Japanese yen withdrawals yesterday and investors are already flocking to take out their funds following the firm's recent hack.
Read more: www.coindesk.com

Bitfinex announced on Monday it would build a decentralized exchange on the EOS.IO blockchain platform. The high-performance exchange will be called EOSfinex and will combine the speed and scalability of the EOS.IO blockchain with Bitfinex's expertise in the crypto market, according to the statement.
Read more: cryptovest.com

Luno, founded in South Africa in 2013, has plans to become one of the leading cryptocurrency traders in the world. CEO and founder Marcus Swanepoel has a goal that would leave many bigger companies in the shade: 1 billion customers by 2025.
Read more: money.cnn.com

We have already witnessed the launch of futures contracts based on the price of Bitcoin, but there has been virtually no development where other crypto-related financial instruments are concerned. The argument for Bitcoin exchange-traded funds (ETFs) just got a serious boost as JPMorgan called such a release a "holy grail" for investors.
Read more: cryptovest.com

A tiny fraction of Americans are reporting their cryptocurrency transactions to the IRS, according to a study from Credit Karma Tax. Fewer than 100 of 250,000 federal tax returns prepared and filed so far this year through the company have filed a Form 8949 for cryptocurrency gains and losses, Credit Karma said Tuesday. That's less than 0.04 percent of filers.
Read more: www.cnbc.com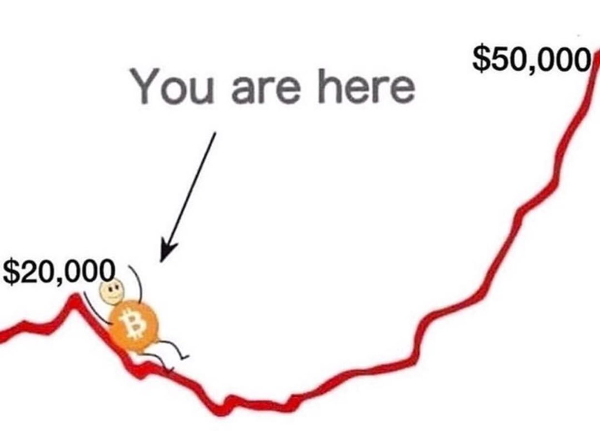 ---
Visit my websites:
SteemBlockExplorer.com - SteemNow.com - CoinMarkets.today
¯\___(ツ)____/¯ Follow me @penguinpablo