Bitcoin Cash is up and running for a little over 24 hours now and only 12 blocks have been mined so far. This means if you need 6 confirmations it takes about 12 hours.
This will speed up once the difficulty will be lowered which happens if less than 6 blocks are found within a 12 hour time frame. Since the last block was mined at 02:51 UTC this will probably happen later today or perhaps tomorrow.
If the difficulty would not be lowered it would take over three months until the average block time of BCH is at ten minutes again, because there are about 1200 blocks to go this period. 1200 blocks / 12 blocks per day = 100 days. In that case I plan to fork Bitcoin Cash, correct the difficulty and call my new coin "Bitcoin Cash AD" (Adjusted Difficulty). Who's willing to buy my shitcoin? ;-)
Meanwhile, the price of Bitcoin Cash is going crazy! I think the price is going up, because there are almost no sellers anymore. Nobody can deposit any BCH on an exchange. Besides, no new blocks have been mined for 12 hours, creating a scarcity and hence an increase of the price. Now wait for the Bitcoin CRash when exchanges open BCH deposits!
What is the Hashrate of Bitcoin Cash compared to Bitcoin?
I'm not aware of a site that shows the current hashrate of the Bitcoin Cash network. Please let me know if you found one.
One could argue BCH has approximately 8.2% of the hashrate of the Bitcoin network. There have been 12 blocks mined since the hard fork while in the meantime there have been mined 147 blocks on the original Bitcoin chain. 12 / 147 = 8.2%
24 Hour Change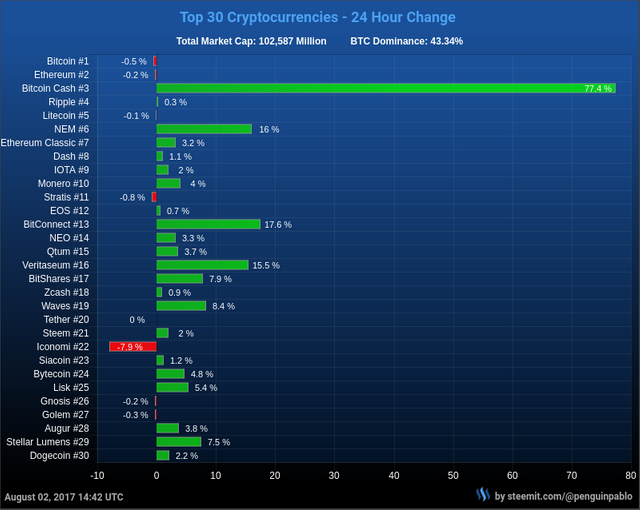 7 Day Change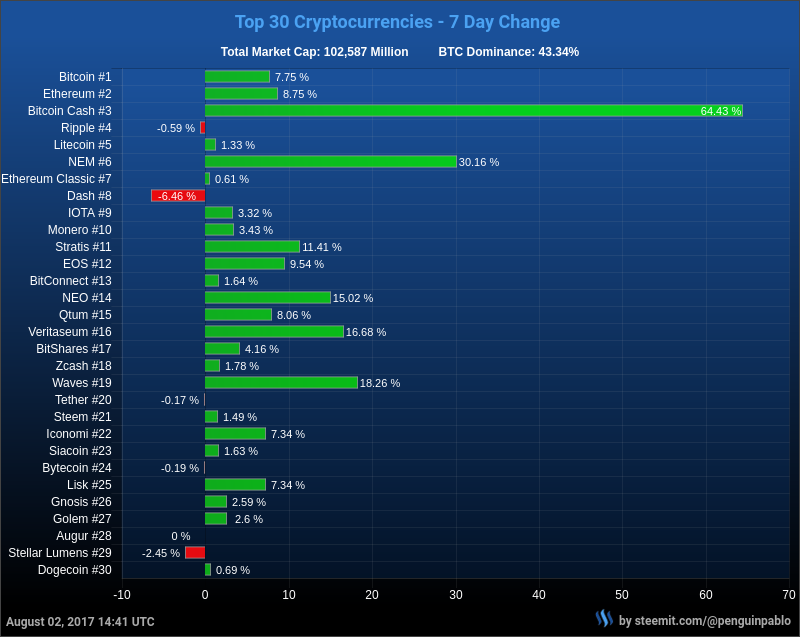 Month-to-Date Change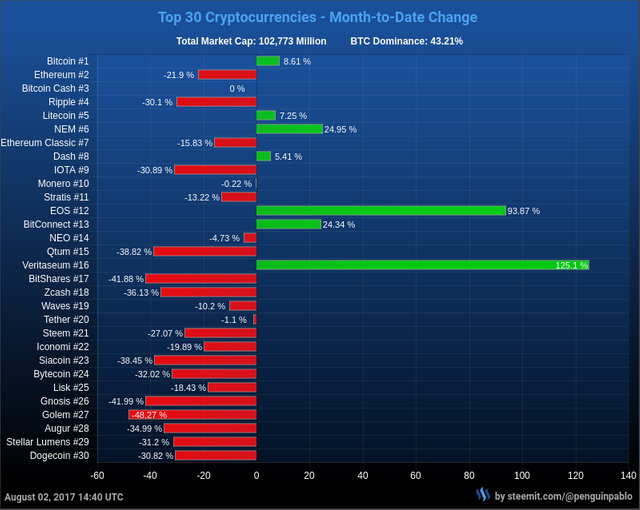 Market Capitalization

Latest Crypto News - August 02, 2017
Things are still looking remarkably positive for Bitcoin Cash, the recently created altcoin which forked off the Bitcoin blockchain. For a project many assumed would fail and lose value pretty quickly, things have taken an interesting turn. In fact, the Bitcoin Cash price is skyrocketing right now and even managed to surpass the US$750 mark.
Read more: themerkle.com

Much is still uncertain, but to the extent that it is know, this article explains how you can claim — and potentially use — your BCH.
Read more: bitcoinmagazine.com

Several major cryptocurrency exchanges experienced a number of difficulties during the highly anticipated bitcoin cash distribution that took place yesterday.
Read more: bitcoin.com

Bitcoin might be dividing into two separate blockchains, but its downward slide has so far been contained, signaling confidence the biggest cryptocurrency will come out of the split unscathed.
Read more: bloomberg.com

If you've been following the bitcoin fork drama this week, you may have heard the term "stock split" thrown around in interviews with "experts."
Read more: coindesk.com

Bitcoin Cash is gaining momentum. Just a day after the split we can already talk about preliminary results.
Read more: coinspeaker.com

The Chicago Board Options Exchange (CBOE) has partnered with Gemini, the bitcoin exchange backed by investors Cameron and Tyler Winklevoss, as part of a bid to launch cryptocurrency derivatives trading.
Read more: coindesk.com

A South Korean lawmaker has proposed amending the country's Electronic Financial Transaction Act to more closely regulate cryptocurrencies.
Read more: coindesk.com

The Peoples Bank of China (PBOC) is currently offering six open positions for digital currency related fields.
Read more: cointelegraph.com

I went to the future and took a screenshot of Coinmarketcap.com ;-)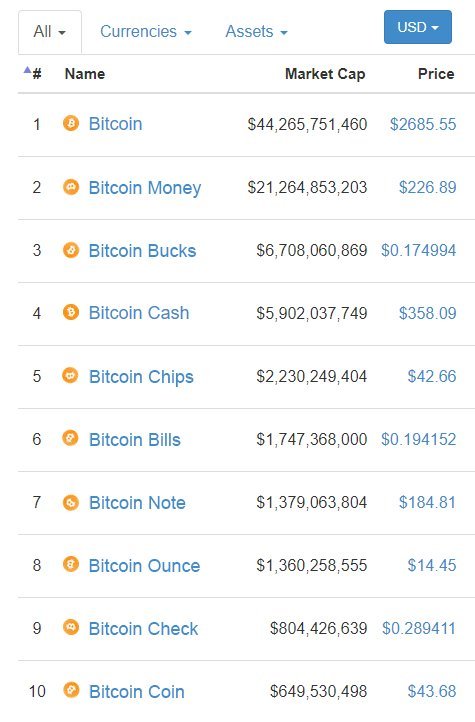 Source: Twitter
---
¯\___(ツ)____/¯ Don't miss out on my next post! Follow me @penguinpablo