Some people compare the current boom of cryptocurrencies with the Dotcom bubble of the late '90s. I certainly see similarities, but that doesn't mean the cryptocurrency market is in a bubble right now. Not yet in my opinion. Let me explain why...
Dotcom bubble vs ICOs
The dotcom bubble started growing in the late '90s, as computing and the internet expanded all over the world. Companies just had to add '.com' to their name and investers were willing to pay huge amounts of money for their stocks without even looking at the profits and revenue of the company.
Companies were going to the stock market with IPOs and received big prices, with stocks sometimes doubling on the first day. The value of the NASDAQ grew from around 1,000 points in 1995 to a high of more than 5,000 points in March 2000. What a time, it was insane!
I think the same can be said about the current Inintial Coin Offerings (ICOs). Many new digital coins are coming to the crypto markets while the company behind the coins only have made a promise to deliver an interesting blockchain project. At the launch of the ICO their is no working product yet, only a promise to deliver something later. No money is being earned yet. Only time will tell which of these digital coins will have a long life like Amazon.com and which of them will end up as Pets.com (who went bankrupt shortly after the Dotcom bubble bursted).
The Cryptocurreny markets VS the Dotcom bubble
On March 10, 2000, the combined market capitalization of all companies on the NASDAQ was at $6.71 trillion; the crash began March 11.
I've made the next image to compare $6.71 trillion with the total market capitalization of all 867 cryptocurrencies...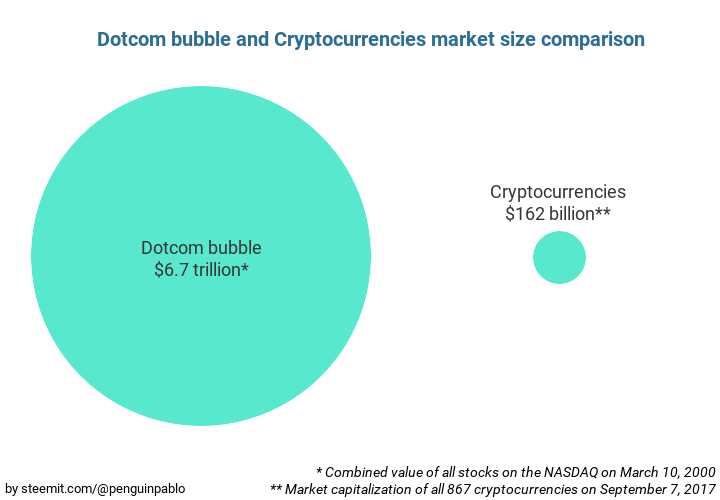 ---
And don't forget $6.71 trillion is only for the companies traded on the NASDAQ in the US. There are many other stock markets worldwide which are not included.
Comparing the biggest companies of today
| Company | Market Cap |
| --- | --- |
| Apple | $815 billion |
| Google | $649 billion |
| Microsoft | $561 billion |
| Facebook | $493 billion |
| Amazon.com | $474 billion |
| All cryptocurrencies combined | only $162 billion |
As you see... If the cryptocurrency market is currently a bubble then it is a very small one.
---
¯\___(ツ)____/¯ Don't miss out on my next post! Follow me @penguinpablo