I should have sold all my Bitcoin and Steem to buy Dogecoin last month, but I would have called you crazy of you gave me such a silly advice a month ago. Shouldn't Steem be worth at least more than Dogecoin? How can a coin which started as a joke be worth 573 million while Steem has a market cap of only 263 million. I don't get it, but congratulations to all Dogecoin HODLers! As well as to all Nano, Bytom and Metaverse ETP HODLers which coins also had a great month in August. But besides these four coins and LISK all other cryptocurrencies in the Top 50 had another bad month again. Especially Ether took a big hit again.
Bitcoin saw its market dominance rise from 47.8% to 52.8%.
The total crypto market cap dropped from 273 billion to 230 billion.
STEEM did also very bad and lost another 26.6% of its value :(
Nano was last month's winner with a surge of 66.85%.
Here is the full overview of last month.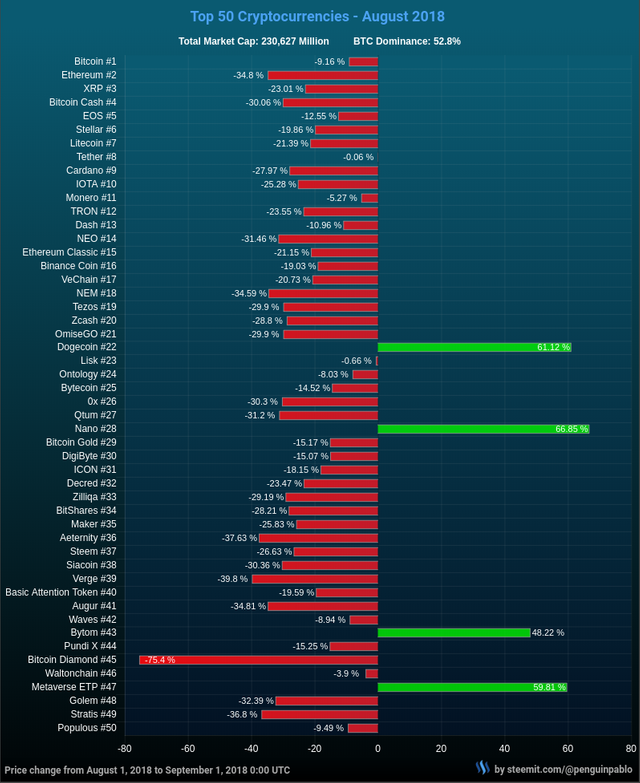 | Cryptocurrency | Price August, 1st | Price end of August | Change |
| --- | --- | --- | --- |
| Bitcoin | $7,735.30 | $7,026.49 | -9.16% |
| Ethereum | $431.99 | $281.64 | -34.8% |
| XRP | $0.44 | $0.34 | -23.01% |
| Bitcoin Cash | $776.27 | $542.96 | -30.06% |
| EOS | $7.33 | $6.41 | -12.55% |
| Stellar | $0.28 | $0.22 | -19.86% |
| Litecoin | $78.84 | $61.98 | -21.39% |
| Tether | $1.00 | $1.00 | -0.06% |
| Cardano | $0.14 | $0.10 | -27.97% |
| IOTA | $0.95 | $0.71 | -25.28% |
| Monero | $122.09 | $115.66 | -5.27% |
| TRON | $0.03 | $0.03 | -23.55% |
| Dash | $217.38 | $193.55 | -10.96% |
| NEO | $29.69 | $20.35 | -31.46% |
| Ethereum Classic | $16.17 | $12.75 | -21.15% |
| Binance Coin | $13.82 | $11.19 | -19.03% |
| VeChain | $0.02 | $0.02 | -20.73% |
| NEM | $0.16 | $0.11 | -34.59% |
| Tezos | $1.94 | $1.36 | -29.9% |
| Zcash | $209.73 | $149.32 | -28.8% |
| OmiseGO | $6.12 | $4.29 | -29.9% |
| Dogecoin | $0.00 | $0.00 | +61.12% |
| Lisk | $4.54 | $4.51 | -0.66% |
| Ontology | $2.74 | $2.52 | -8.03% |
| Bytecoin | $0.00 | $0.00 | -14.52% |
| 0x | $1.11 | $0.77 | -30.3% |
| Qtum | $6.86 | $4.72 | -31.2% |
| Nano | $1.78 | $2.97 | +66.85% |
| Bitcoin Gold | $26.37 | $22.37 | -15.17% |
| DigiByte | $0.04 | $0.03 | -15.07% |
| ICON | $1.11 | $0.91 | -18.15% |
| Decred | $56.21 | $43.02 | -23.47% |
| Zilliqa | $0.06 | $0.04 | -29.19% |
| BitShares | $0.16 | $0.12 | -28.21% |
| Maker | $596.15 | $442.17 | -25.83% |
| Aeternity | $1.86 | $1.16 | -37.63% |
| Steem | $1.29 | $0.95 | -26.63% |
| Siacoin | $0.01 | $0.01 | -30.36% |
| Verge | $0.02 | $0.01 | -39.8% |
| Basic Attention Token | $0.27 | $0.22 | -19.59% |
| Augur | $30.08 | $19.61 | -34.81% |
| Waves | $2.35 | $2.14 | -8.94% |
| Bytom | $0.14 | $0.20 | +48.22% |
| Pundi X | $0.00 | $0.00 | -15.25% |
| Bitcoin Diamond | $4.43 | $1.09 | -75.4% |
| Waltonchain | $4.87 | $4.68 | -3.9% |
| Metaverse ETP | $2.14 | $3.42 | +59.81% |
| Golem | $0.26 | $0.18 | -32.39% |
| Stratis | $2.50 | $1.58 | -36.8% |
| Populous | $4.74 | $4.29 | -9.49% |

My previous monthly crypto reports
---
Visit my websites:
SteemBlockExplorer.com - SteemNow.com - CoinMarkets.today
¯\___(ツ)____/¯ Follow me @penguinpablo