Today in the news:
China's Tencent Holdings has entered into a partnership with a local tax bureau to use blockchain technology in stopping tax evasion.
Eight cryptocurrency exchanges in Singapore have been warned not to engage in unauthorised trading.
Don't forget to register your EOS tokens: 6 days left.
Bitcoin's hash rate is still steadily increasing despite the price drop.
John McAfee predicts a major price surge in July.
And more crypto news below...
24 Hour Change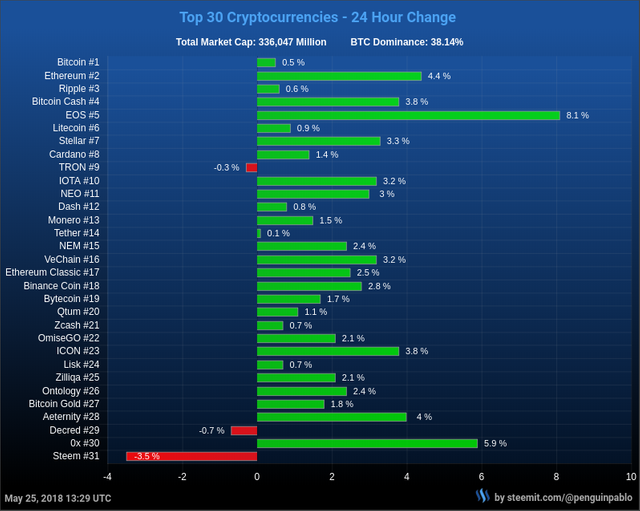 Realtime chart on my website CoinMarkets.today
7 Day Change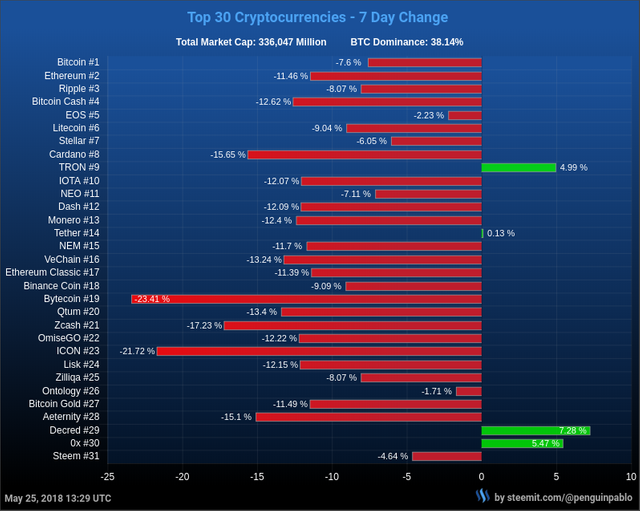 Month-to-Date Change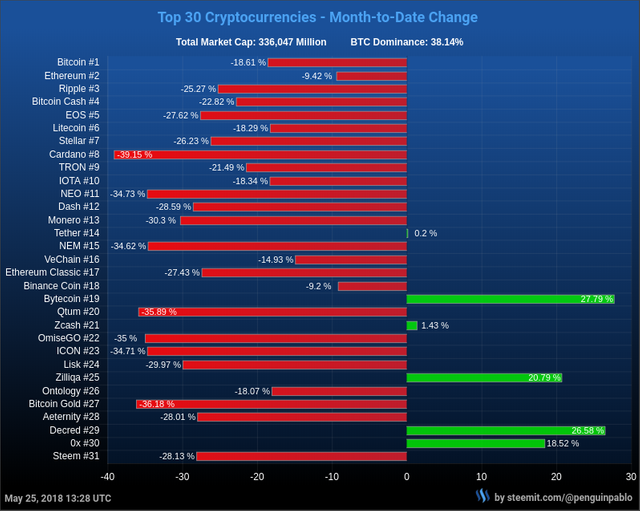 24 Hour Volume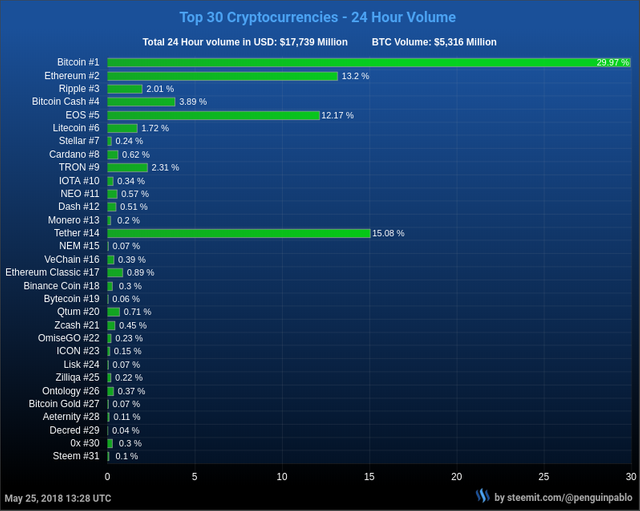 Market Capitalization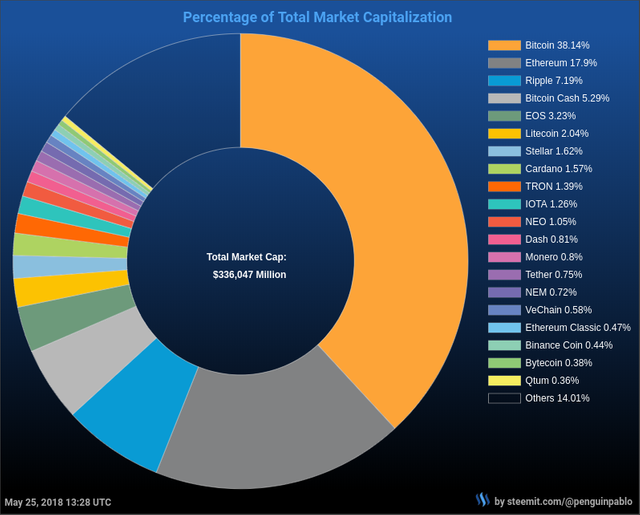 Bitcoin daily chart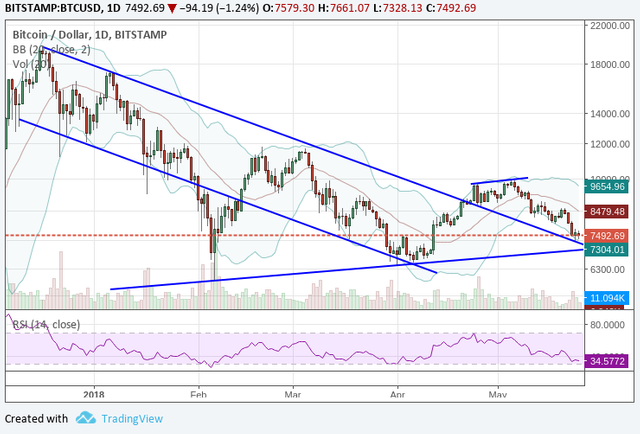 Feel free to use and share my charts, but please mention me as the author.

Latest Crypto News - May 25, 2018
As CCN reported yesterday, on May 24, the bitcoin price dipped below $7,250 as a massive sell-off from the $7,700 mark intensified. After three consecutive sell-offs within a 24-hour period, the price of bitcoin dropped from $7,900 to $7,250, eventually stabilizing at $7,400.
Read more: www.ccn.com
More about Bitcoin's price:

Chinese internet giant Tencent has partnered with the tax authority in the city of Shenzhen to use blockchain in the fight against tax evasion.
Read more: www.coindesk.com
More sources:

Bitcoin Gold has been an interesting social experiment. This hard fork of Bitcoin had some high ambitions at first. Several months down the line, it seems things look a lot worse for wear. With one individual controlling most of the network, the ecosystem is facing a serious threat. Solving this matter has proven to be rather difficult.
Read more: www.newsbtc.com

Hurry up and register your tokens - this message will be heard more and more often in the coming six days. After May 31, EOS held on Ethereum-compatible wallets will be locked and rendered useless - it will not even be transferable. Unless users register their balances through the official EOS site, or send them to an exchange, they will be at the mercy of EOS core developers.
Read more: cryptovest.com

The mining pool of HDAC, a blockchain platform and company operated by Hyundai BS&C, a subsidiary of South Korea's biggest car manufacturer and major conglomerate, experienced a hacking attack on May 24 and was forced to halt withdrawals temporarily.
Read more: www.ccn.com

More Americans may move away from traditional finance and into crypto if the the U.S. Federal Reserve (Fed) relaxes post-2008 financial regulations, according to a study published by Weiss Ratings May 22.
Read more: cointelegraph.com

South Africa's central bank is choosing to call cryptocurrencies like bitcoin as 'cyber-tokens' rather than currencies, arguing they do not 'meet the requirements of money'.
Read more: www.ccn.com

The Monetary Authority of Singapore (MAS) has warned eight unnamed digital token exchanges against engaging in the unauthorized trading of securities or futures contracts without permission. The MAS has also warned an initial coin offering (ICO) issuer to stop offering digital coins in Singapore.
Read more: bitsonline.com
More sources:

Looking at the chart on Blockchain.info, we see a very steady increase in hash rate during the months leading up to and after the market sell-off. Looking at a chart of the total cryptocurrency market capitalization and hash rate side by side will show a clear divergence. Why is it that hash rate is increasing while prices are still in a continuing decline?
Read more: www.actionforex.com

John McAfee, the founder of one of the best-known antivirus software companies, seems to be enjoying his new role as the unofficial fortune teller of the crypto market. McAfee tweeted that he expects Bitcoin prices to jump up to $15,000 in July, reversing the current bearish trend.
Read more: cryptovest.com

Employees of a regional police department in Ukraine were recently caught mining cryptocurrencies using the department's resources, according to the court document. They had been mining for four months before they got caught and their mining farm seized.
Read more: news.bitcoin.com

Visit my websites:
SteemBlockExplorer.com - SteemNow.com - CoinMarkets.today
¯\___(ツ)____/¯ Follow me @penguinpablo