Welcome to my Cryptocurrencies Market Overview for Monday, January 22, 2018.
Today in the news:
It's another red day again unfortunately.
The Bitcoin Lightning Network on mainnet is growing fast. Over 110 nodes and 251 payment channels now.
Bitcoin transaction fees are coming down. 20-30 sats/byte transactions now getting confirmed on the next block.
South Korea's government is hitting the country's crypto exchanges with tax demands in a bid to control the market.
24 Hour Change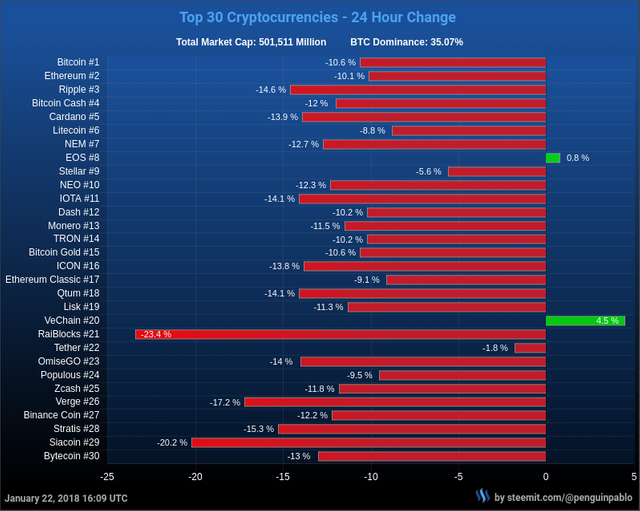 Realtime chart on my website CoinMarkets.today
7 Day Change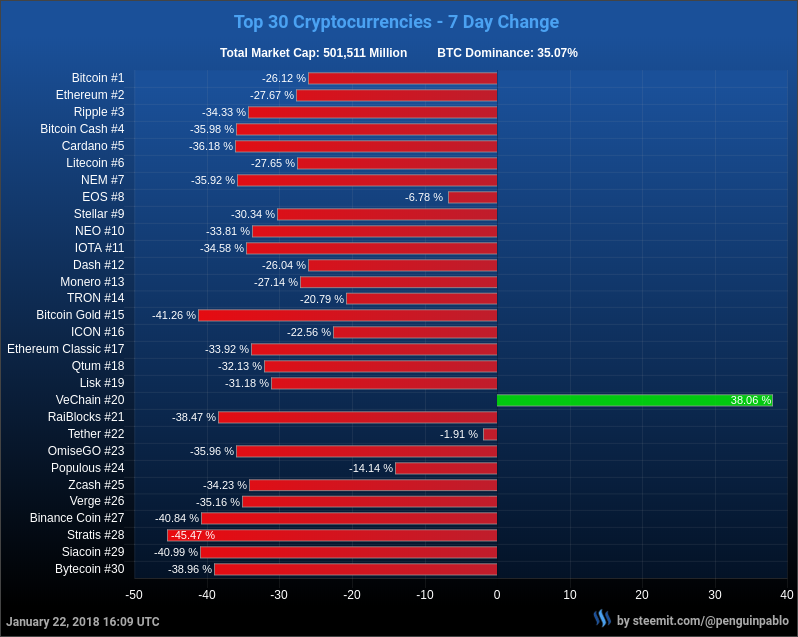 Month-to-Date Change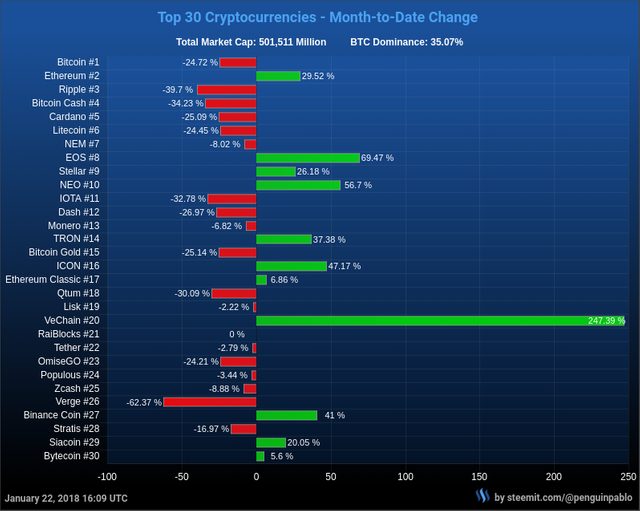 24 Hour Volume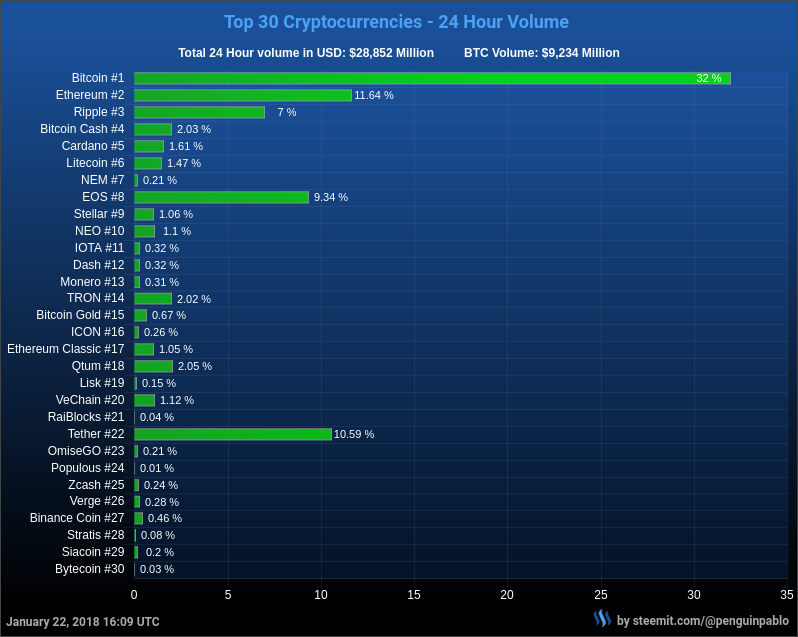 Market Capitalization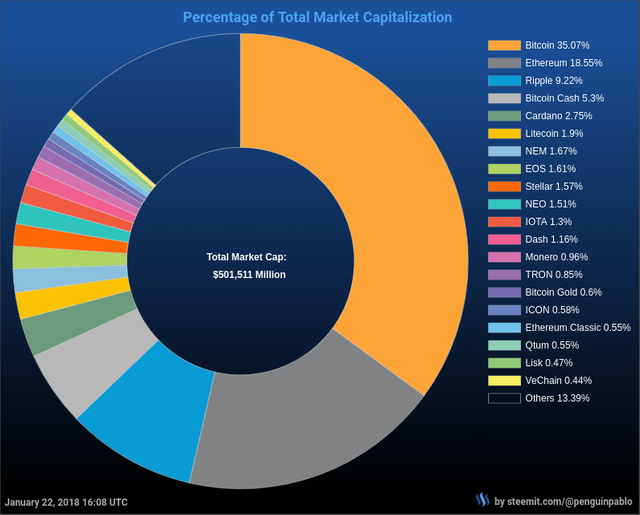 Bitcoin daily chart (log scale)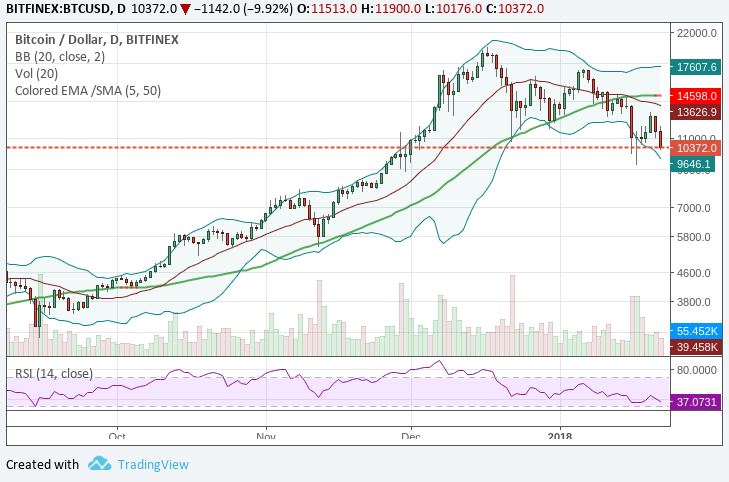 Feel free to use and share my charts, but please mention me as the author.

Latest Crypto News - January 22, 2018
The cryptocurrency market experienced yet another minor correction earlier today, after an initial decline in value on January 21. Many major cryptocurrencies in the market with the exception of several digital assets fell by around 10 percent in value, with Ripple recording a 10 percent loss and Bitcoin Cash demonstrating a 8.5 percent drop in price.
Read more: ccn.com
Other sources:

Local news agency Yonhap reports that South Korean government has announced Monday, Jan. 22 that it will be collecting a 22 percent corporate tax and a 2.2 percent local income tax from the country's cryptocurrency exchanges.
Read more: cointelegraph.com
Other sources:

The first ever physical transaction may have been completed on the Lighting Network two days ago, according to Reddit user /u/btc_throwaway1337, who purchased a VPN Router through a payment channel provided by TorGuard.
Read more: cointelegraph.com
Other sources:

The South Korean government has announced that six major banks will be ready to provide services to cryptocurrency exchanges this month. Under the new system, the government requires exchanges to share user data with banks.
Read more: bitcoin.com

Mark Zuckerberg, worth $71 billion at just 33, has done rather well by Facebook's centrally managed system. Over the past decade and a half, the social media behemoth's closed-source algorithm has quietly manipulated its millions of users' news feeds to capture maximum ad dollars and steer them all to Zuck and his shareholders.
Read more: coindesk.com

Moving funds into Korean exchanges for their premium prices, or unique availability of coins, may become impossible for Western investors.
Read more: cryptovest.com

The International Monetary Fund (IMF), an organization that aims to foster global monetary cooperation and financial stability, has called for global coordination on cryptocurrencies, warning of the risks of surging cryptocurrency prices.
Read more: coindesk.com

The South Korean government has announced that six major banks will be ready to provide services to cryptocurrency exchanges this month. Under the new system, the government requires exchanges to share user data with banks.
Read more: bitcoin.com

The IOTA community has recently been hit with a bit of drama, as some individuals have been left with their wallets drained due to malicious websites providing users with a new wallet seed.
Read more: ccn.com
Other sources:

A new survey in Russia has shown that more than half of the population is aware of Bitcoin. However, Russians are mostly reluctant to purchase the cryptocurrency.
Read more: cryptovest.com

---
¯\___(ツ)____/¯ Don't miss out on my next post! Follow me @penguinpablo