Welcome to my Cryptocurrencies Market Overview for Tuesday, February 20, 2018.
Today in the news:
Bitcoin Core 0.16.0 set to launch in coming days.
The Bitcoin mempool has now been empty for about three weeks. 1-5 satoshi/byte transactions are being cleared on the next block.
The South Korean government will "encourage" banks to work with cryptocurrency exchanges, according to a new report.
The Venezuelan government has officially launched the pre-sale of its controversial "petro" token.
Bank of England governor Mark Carney is trying to spread FUD by claiming Bitcoin has failed as a currency.
And more crypto news below...
24 Hour Change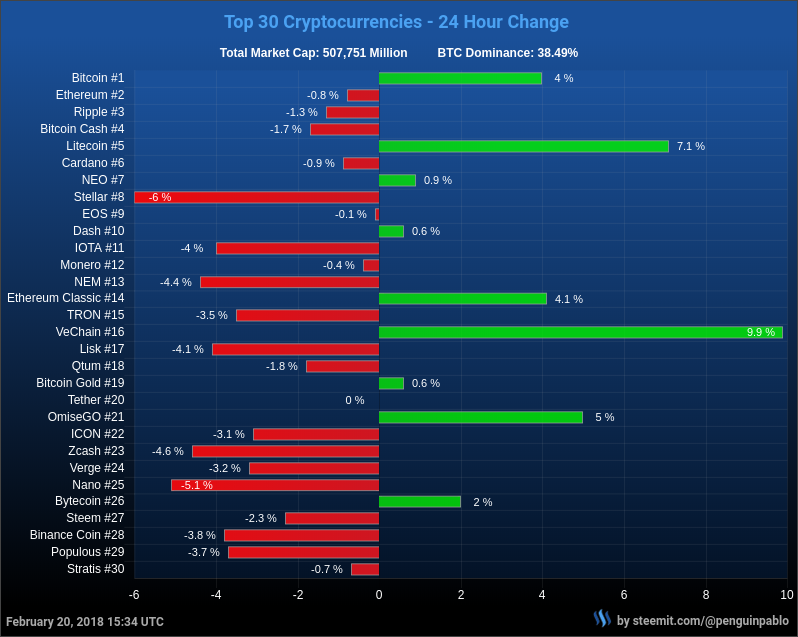 Realtime chart on my website CoinMarkets.today
7 Day Change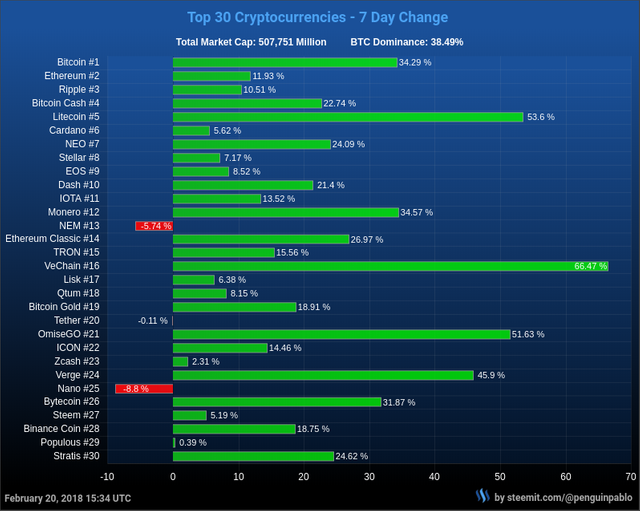 Month-to-Date Change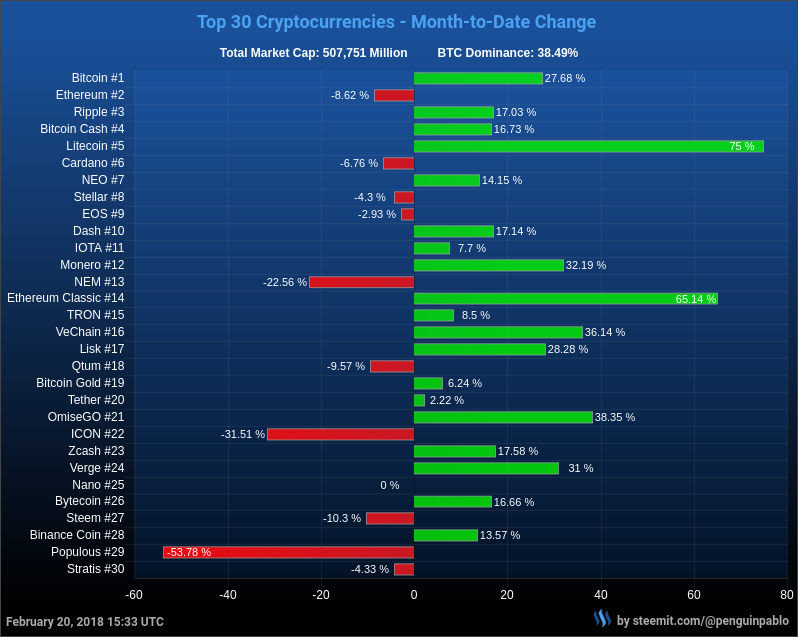 24 Hour Volume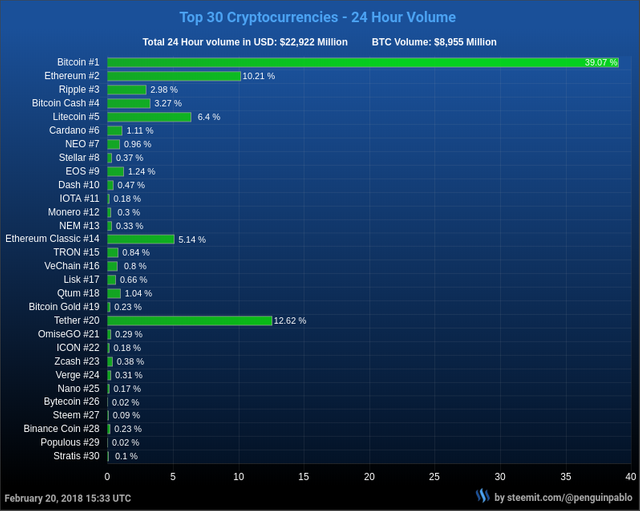 Market Capitalization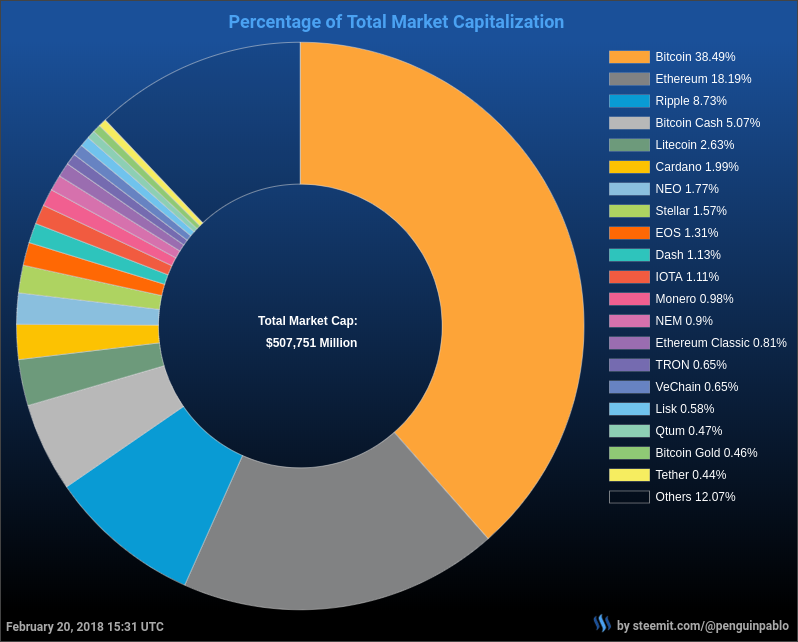 Bitcoin daily chart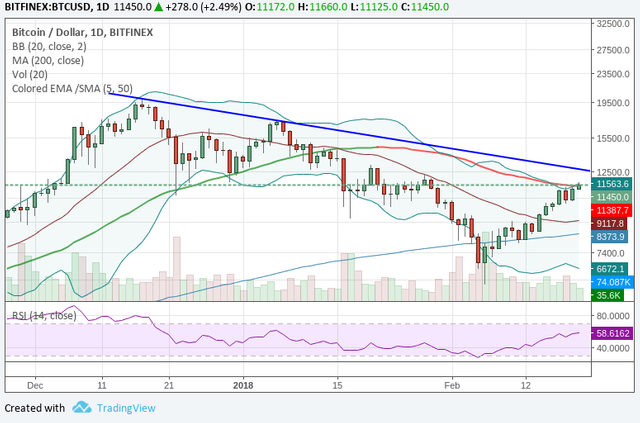 Feel free to use and share my charts, but please mention me as the author.

Latest Crypto News - February 20, 2018
The cryptocurrency market cap briefly rose as high as $516.8 billion but has since receded to $507.9 billion. This represents a single-day increase of $7.2 billion and equates to an approximate advance of 1.4 percent.
Read more: www.ccn.com

The median daily transaction fee on the bitcoin network fell to $0.79 on Sunday, a six-month low. That represents a dramatic 97-percent decline from the peak of $34 reached on December 23. The median daily bitcoin transaction fee was more than $10 from mid-December until mid-January but has been declining steadily since then.
Read more: arstechnica.com

The head of South Korea's financial regulator and watchdog has now confirmed the government will support cryptocurrency trading while encouraging banks to facilitate transactions with exchanges, effectively killing any fears of a rumored ban.
Read more: www.ccn.com
Other sources:

A new tax bill has been introduced in the Wyoming state senate on Feb. 16 that would exempt virtual currencies from state property taxation, and suggests an effective date be provided for the tax exemption implementation.
Read more: cointelegraph.com

The Venezuelan government has officially launched the pre-sale of its controversial "petro" token, according to a report.
Read more: www.coindesk.com

South Korea has been a leading market for bitcoin over the last year or so in terms of adoption, trading volumes, and regulatory response. Now one of the top figures in the government associated with regulating cryptocurrency has passed away, with stress suspected to be a contributing cause.
Read more: news.bitcoin.com
Other sources:

Segregated Witness (SegWit) is special. And it's not just because the bitcoin code change is focused on scaling the network (it is), or that it paves the way for a new layer for the tech that's potentially faster and cheaper (it does).
Read more: www.coindesk.com
Other sources:

Investors need more control over ICOs. At least, that's according to ethereum creator Vitalik Buterin. One of the early thinkers to shape the crypto funding mechanism concept, he hasn't quite put the idea aside, last month proposing it could be combined with a decentralized autonomous organization (DAO) to best allow investors to have a say in how money raised gets handled.
Read more: www.coindesk.com

Bank of England (BoE) Governor Mark Carney declared that Bitcoin cannot be considered a legitimate currency by "traditional" definitions, The Telegraph reported Monday, Feb. 19. At an event at London's Regent's University, Carney claimed that Bitcoin failed to meet two major requirements of a traditional currency, claiming that Bitcoin is neither a means of exchange, nor a store of value.
Read more: cointelegraph.com
Other sources:

The price of Litecoin (LTC) held fast even after the hard fork was completed this weekend, making another shot for $250. Previously, investors believed the price would rise before Sunday, and drop after the fork, or just before it.
Read more: cryptovest.com
Other sources: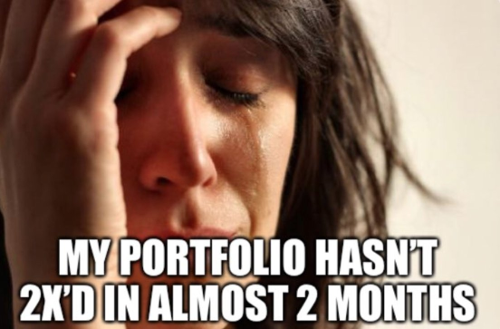 ---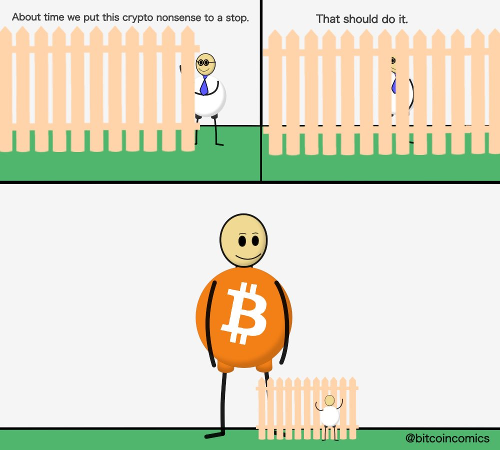 ---
Visit my websites:
SteemBlockExplorer.com - SteemNow.com - CoinMarkets.today
¯\___(ツ)____/¯ Follow me @penguinpablo