Welcome to my Cryptocurrencies Market Overview for Thursday, April 12, 2018.
Today in the news:
STEEM has skyrocketed today, up 45%!
Bitcoin spikes upwards from under $6,900 to $8,000, a new high for April.
EOS is now the fifth-largest cryptocurrency by market cap.
OKEx announced to become the second major cryptocurrency exchange to move to Malta.
Monero will shortly support the Ledger hardware wallet.
A blockchain-themed conference in Shanghai was abruptly suspended by the police.
J.P. Morgan has been sued for charging undeclared fees to customers who used their credit cards to purchase cryptocurrency.
And more crypto news below...
24 Hour Change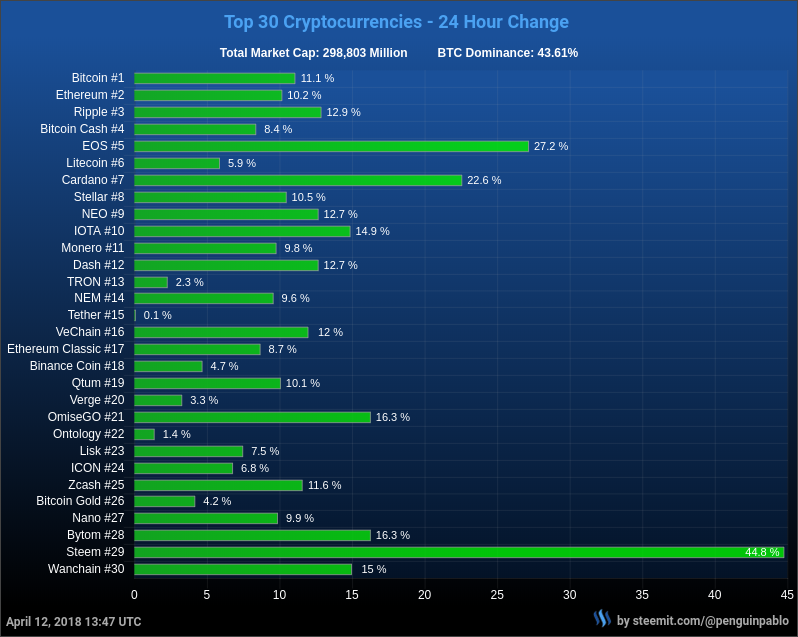 Realtime chart on my website CoinMarkets.today
7 Day Change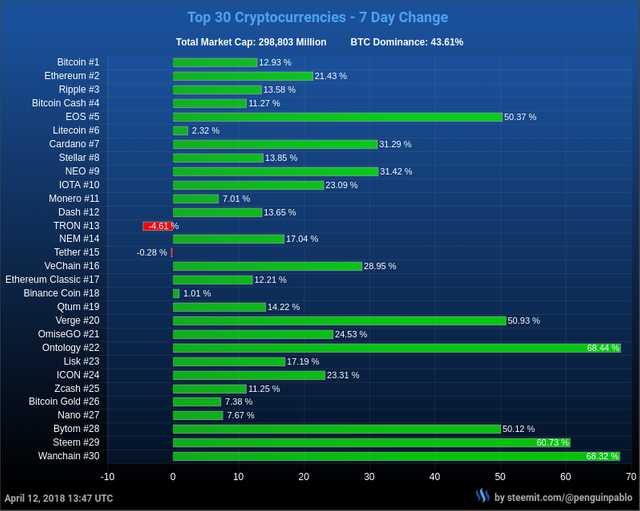 Month-to-Date Change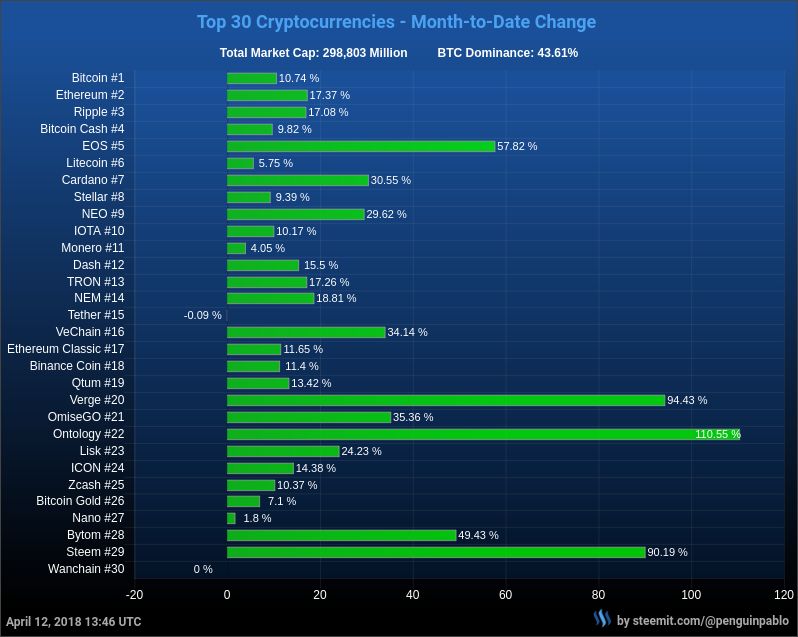 24 Hour Volume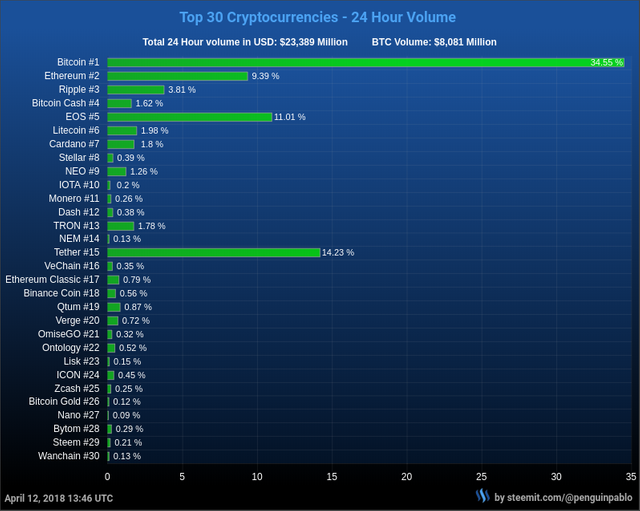 Market Capitalization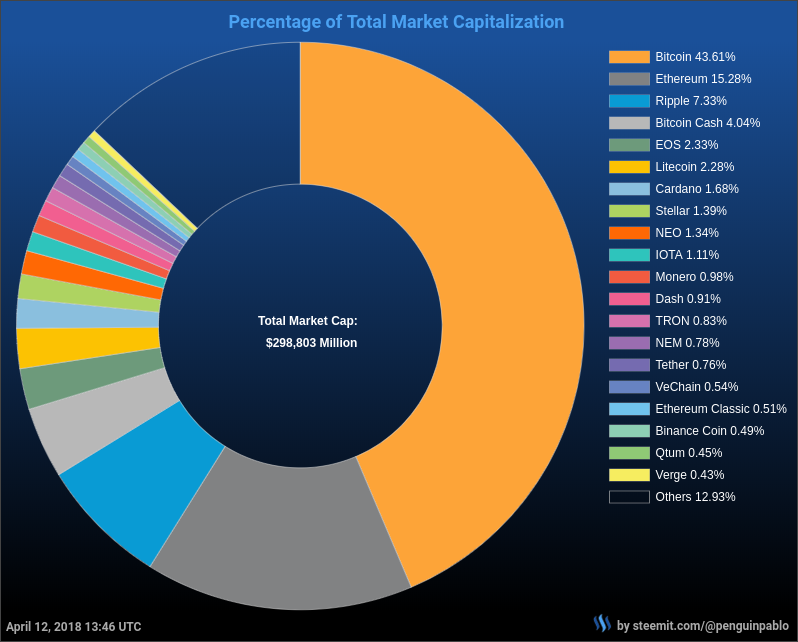 Bitcoin daily chart (log scale)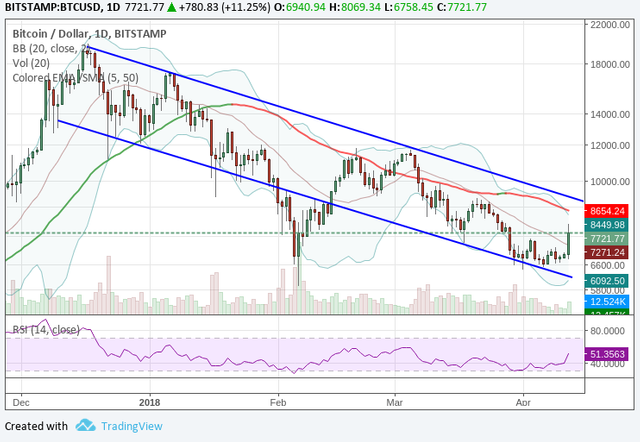 Feel free to use and share my charts, but please mention me as the author.

Latest Crypto News - April 12, 2018
Bitcoin surged more than 17 percent in a sudden move on Thursday to above $8,000 at one point, according to trading on Coinbase. The cryptocurrency hit a high of $8,011 on Coinbase.
Read more: www.cnbc.com
More sources about Bitcoin's price:

JPMorgan Chase & Co has been hit with a lawsuit in Manhattan federal court accusing it of charging surprise fees when it stopped letting customers buy cryptocurrency with credit cards in late January and began treating the purchases as cash advances.
Read more: www.reuters.com
Other sources:

Another major cryptocurrency exchange is about to set up shop in Malta, cementing the small Mediterranean island nation's status as a burgeoning hub for cryptocurrency startups. OKEx, the world's second-largest cryptocurrency exchange as measured by daily trading volume, on Thursday announced that it will open an office in Malta and make it a "foundation for further OKEx growth."
Read more: www.ccn.com
Other sources:

Privacy-focused altcoin Monero (XMR) is set to receive official support from cryptocurrency hardware wallet manufacturer Ledger, lead code maintainer Riccardo Spagni has confirmed.
Read more: bitcoinist.com
Other sources:

A blockchain-themed conference in Shanghai was abruptly suspended by police on Thursday. The one-day event, dubbed the Global Fintech & Blockchain China Summit 2018 and organized by a business conference organizer called PTP International, was originally scheduled for April 12. Yet around midday (local time) on Thursday, the morning session was halted by police, and all attendees and organizers of the event were removed from the venue. The afternoon session of the event was also cancelled.
Read more: www.coindesk.com
Other sources:

Global banking giant Santander Group is reportedly launching a blockchain-based application for cross-border foreign exchange on Friday.
Read more: www.coindesk.com

The Litecoin Foundation and TenX have entered into a partnership that could soon produce a debit card ready for LTC payments.
Read more: cryptovest.com

Bitcoin and cryptocurrencies are intriguing because they are very different from the traditional financial systems we use today. One particular subject people have pondered is whether or not bitcoin complies with the religious law that forms a part of Islamic tradition — otherwise known as Shariah Law. This week a microfinance firm based in Indonesia, Blossom Finance, published a 22-page working paper that concludes that "bitcoin qualifies as Islamic money, except where it is banned by a local government."
Read more: news.bitcoin.com

EOS skeptics are often surprised by the market - this digital asset seems to have endless upward potential and rises easily. EOS added up to 45% in a single day, to trade above $8.22, displacing Litecoin from position 5 on CoinMarketCap.
Read more: cryptovest.com
Other sources:

India's central bank, the Reserve Bank of India (RBI) has caused a stir on April 5, 2018 by announcing that it would not allow regulated institutions like banks, payment service providers and non banking finance companies (NBFCs), to provide services to persons or businesses that deal with cryptocurrencies.
Read more: cointelegraph.com

Cryptocurrency is the main source of income for 12% of Russian speaking crypto users, according to a new survey. More than 90% of the respondents say they want to use digital coins as a means of payment, and a quarter of those interviewed are already doing that. 40% of the participants view cryptos like bitcoin as a good long-term investment. They have no intentions to sell their crypto holdings in the near future.
Read more: news.bitcoin.com

Visit my websites:
SteemBlockExplorer.com - SteemNow.com - CoinMarkets.today
¯\___(ツ)____/¯ Follow me @penguinpablo