Welcome to my Cryptocurrencies Market Overview for Tuesday, January 02, 2018.
Today in the news:
Bitcoin's dominance of the cryptocurrency market is at its lowest level ever.
Ethereum starts 2018 at an All-Time high.
Both Localbitcoins and BTC.com have implemented SegWit today to reduce the transaction fees.
Cryptovest.com wrote an article about the current price surge of STEEM.
24 Hour Change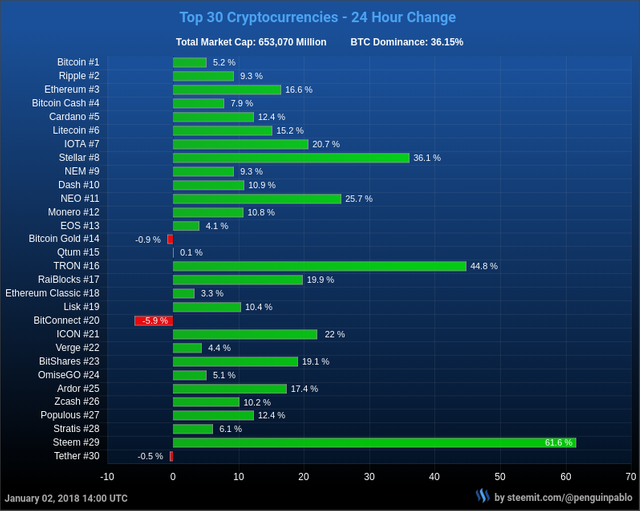 Realtime chart on my website CoinMarkets.today
7 Day Change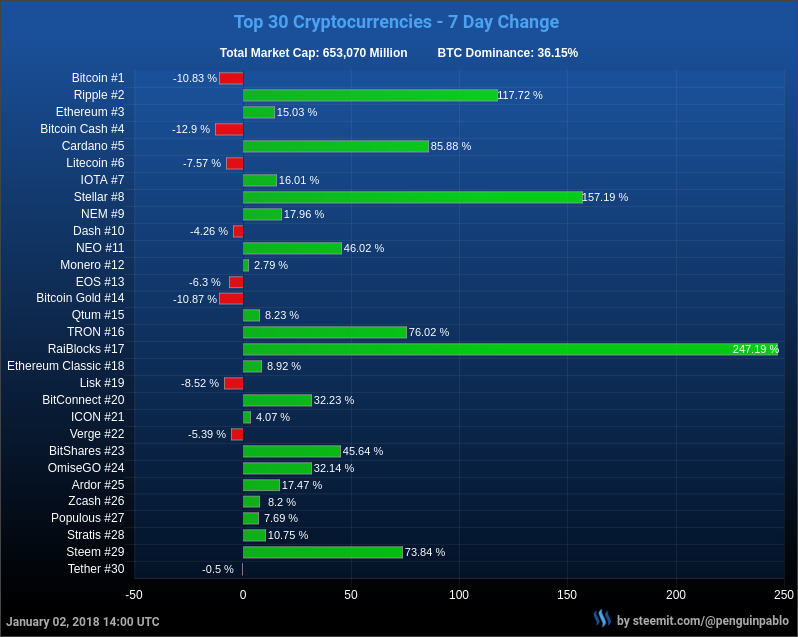 Month-to-Date Change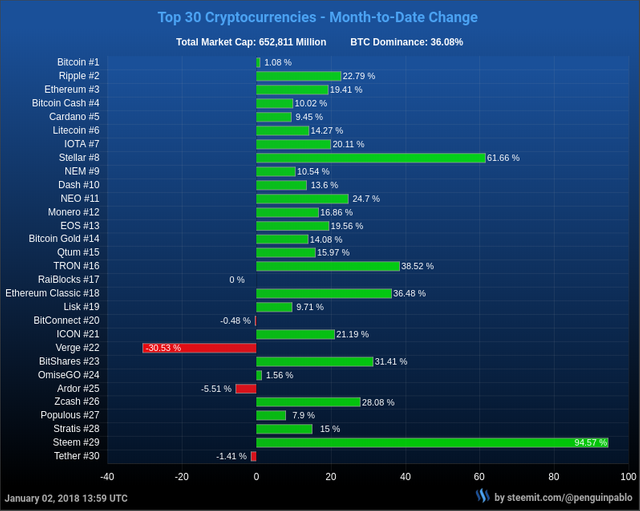 24 Hour Volume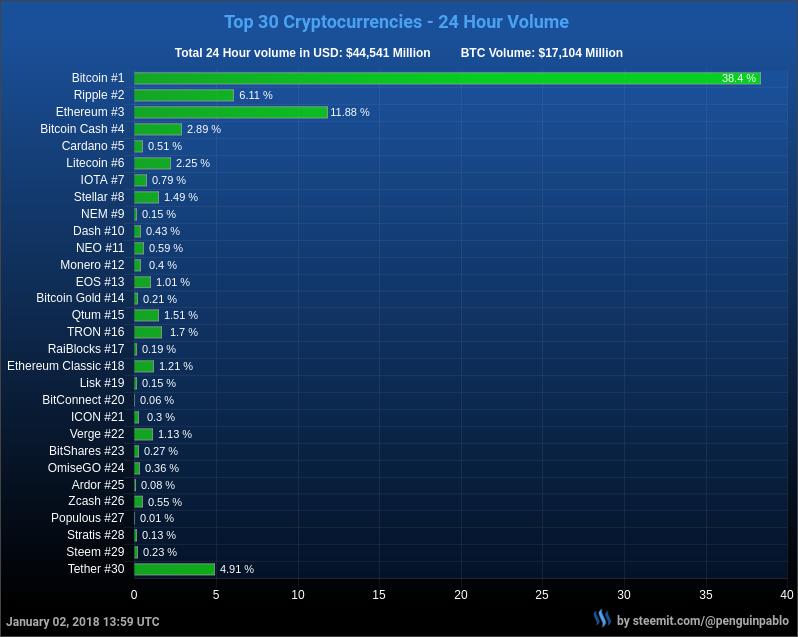 Market Capitalization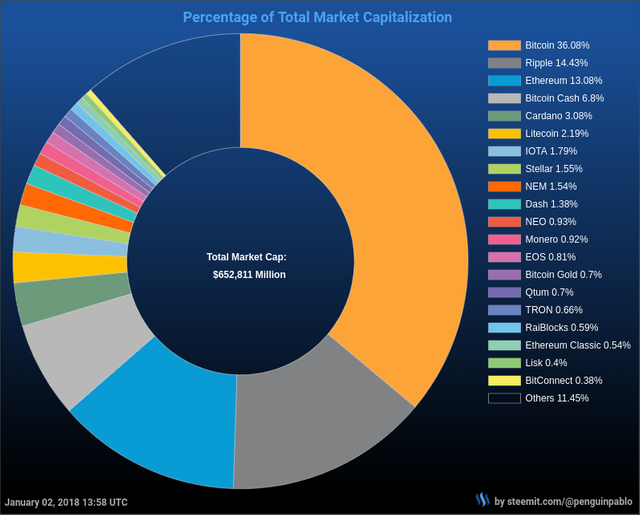 Bitcoin daily chart
The 50-day simple moving average (SMA, the green line) seems to be a strong support line.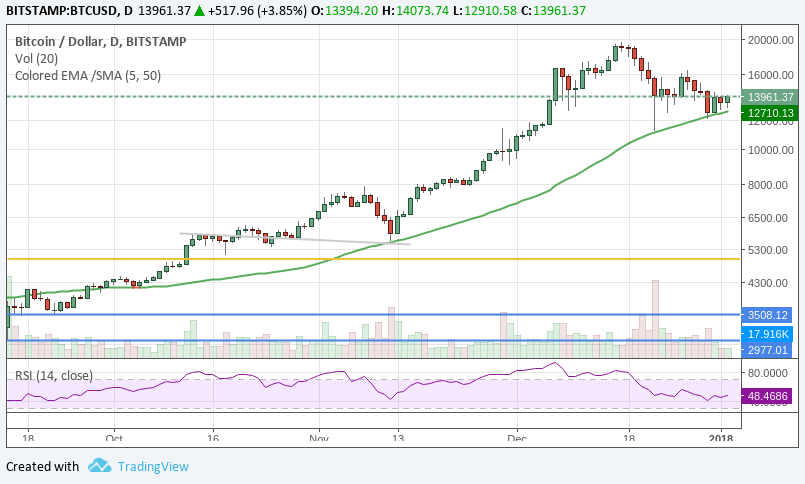 Feel free to use and share my charts, but please mention me as the author.

Latest Crypto News - January 02, 2018
Bitcoin's dominance of the cryptocurrency market is at its lowest level ever thanks to rising interest in alternative digital coins. On Tuesday, its market cap was $231.8 billion, or around 36.1 percent of the total value of all cryptocurrencies. This is the lowest share of the market that bitcoin has had in its history.
Read more: cnbc.com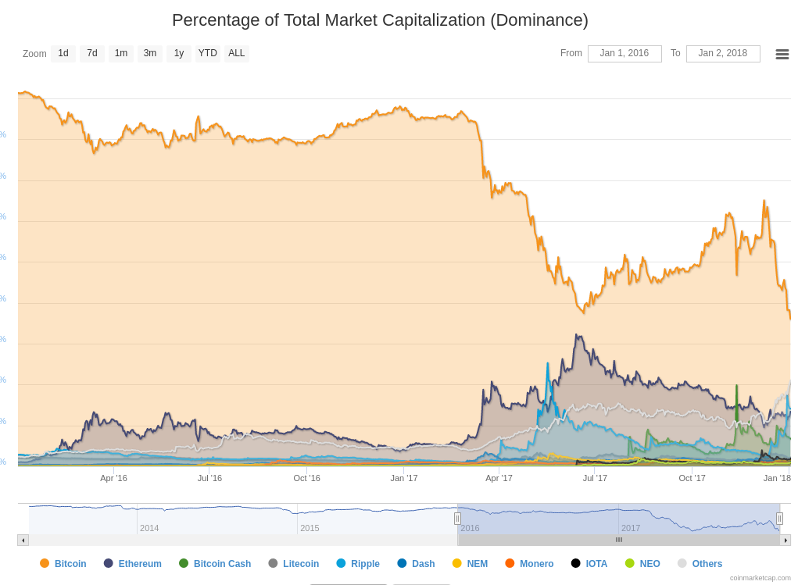 The native token of the ethereum platform, ether, has started the new year with a bang, hitting an all-time high of over $900 this morning.
Read more: coindesk.com

European Central Bank (ECB) executive board member Yves Mersch has said bitcoin could pose a threat to economic stability if financial infrastructure institutions get involved with the tech.
Read more: coindesk.com

The blockchain-based social media was the next altcoin to go through sudden growth, rising to $6 and viewing previously unheard-of prices.
Read more: cryptovest.com

Analysts Yoshiyuki Suimon and Kazuki Miyamoto claim bitcoin will assist Japan in a Gross Domestic Product (GDP) boost of 0.3% heading into the first three months of 2018. At the end of 2017, the cryptocurrency boasted a ¥12 trillion market capitalization, and if trends continue into early this year, that could translate into lifting Japanese personal consumption by anywhere from ¥0.2 to ¥0.4 billion, they explain, referring to the phenomenon as the bitcoin effect.
Read more: bitcoin.com

At one time the Beijing-based digital currency exchange Huobi was once the largest bitcoin trading platform in China before the central bank stopped domestic exchanges from trading cryptocurrencies. This month Huobi has revealed its carved a deal with the Japanese financial institution SBI Group and will be launching two new cryptocurrency exchanges in Q1 of 2018.
Read more: bitcoin.com

Ripple (XRP) on the surface looks just like yet another up and coming crypto coin. However, Ripple, for good or ill, is different. Some crypto investors believe XRP is not the asset they are looking for. So here are the five ways Ripple is different compared to other high-float, relatively low-priced coins.
Read more: cryptovest.com

Bitcoin is losing its luster with some of its earliest and most avid fans -- criminals -- giving rise to a new breed of virtual currency. Privacy coins such as monero, designed to avoid tracking, have climbed faster over the past two months as law enforcers adopt software tools to monitor people using bitcoin.
Read more: bloomberg.com

The South Korean cryptocurrency market accounts for a relatively small percentage of global Bitcoin trades, but has nonetheless played a crucial role in bringing RIpple's market capitalization from $40 billion to $88 billion. Ripple was one of the best-performing crypto assets of 2017, boasting a 360x increase in value.
Read more: cointelegraph.com

President Vladimir Putin has reportedly commissioned Russian officials to work on developing a national cryptocurrency dubbed the "cryptorouble."
Read more: coindesk.com

¯\___(ツ)____/¯ Don't miss out on my next post! Follow me @penguinpablo