Was the Bitcoin Cash hard fork a threat to Bitcoin? Not at all! Last weekend the result of the Bitcoin Fork became a Bitcoin FourK. Bitcoin breached $4,000 USD yesterday and has set a new all-time high of $4,228 on Bitstamp today! :-)
Meanwhile, Steem is 3.8% down again today and is currently the biggest loser in the top 30 cryptocurrencies over the last 7 days. Is Steem being undervalued? I think a rank of #23 is way too low for such a great digital currency. Besides Steem, I also think about selling some of my Bitcoin for SBD (Steem Backed Dollars). If I buy SBD at 0.000215 BTC on Bittrex I actually sell BTC for a price of $4,651 SBD. A great Bitcoin price to take some profits in my opinion :)
24 Hour Change
7 Day Change
Month-to-Date Change
Market Capitalization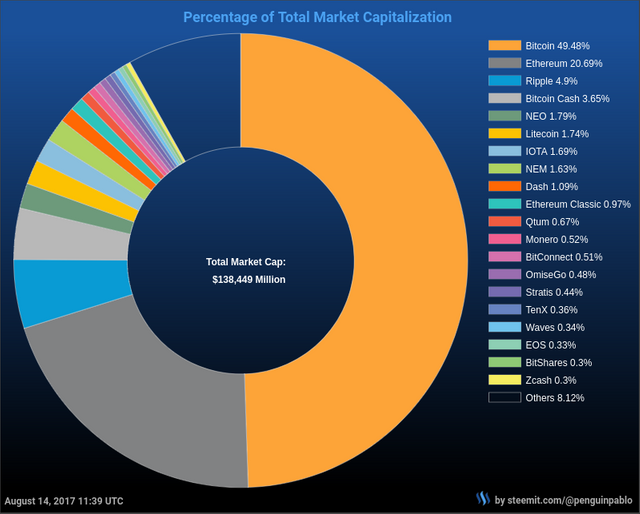 Feel free to use and share my charts, but please mention me as the author.

Latest Crypto News - August 14, 2017
The digital currency bitcoin vaulted to a new record high above $4000 on Saturday, boosted by strong Japanese demand on its way to multiplying its value fourfold this year.
Read more: cnbc.com

Bitcoin soared past $4,000 for the first time on growing optimism faster transaction times will hasten the spread of the cryptocurrency.
Read more: bloomberg.com

NEO, coined as the "Chinese Ethereum," has taken over the #5 position, edging out Litecoin, NEM and IOTA. Taking a look at the 24-hours volume below, we can see NEO has also traded the most over the past 24-hours besides Bitcoin and Ethereum, who usually win.
Read more: medium.com

In the wake of record-setting growth for digital currencies like Bitcoin and Ethereum, graphics card manufacturer Nvidia has expressed their intent to focus more on the cryptocurrency mining market.
Read more: bitcoinist.com

If you ask anyone in the Bitcoin space what the biggest challenge for Bitcoin is, you will likely hear the answer "scalability".
Read more: medium.com

The Hong Kong-based bitcoin trading platform has announced it is immediately leaving retail market in the United States because of challenging regulatory environment.
Read more: coinspeaker.com
More sources:

Bitcoin has nearly passed the market cap of PayPal for the first time, the latest statistics from the industry confirm. In what Colu's Udi Wertheimer called the "real Flippening," Bitcoin's market cap at press time was almost $68 bln, compared to PayPal's $70 bln.
Read more: cointelegraph.com

Bitcoin made an unplanned appearance at the most recent DOTA (Defense of the Ancients) International Tournament, as an audience member held up a 'Buy Bitcoin' sign during announcements of the televised event.
Read more: cointelegraph.com

Nvidia's CEO is bullish on cryptocurrencies following Q2 sales figures that were boosted by GPU sales to miners.
Read more: coindesk.com

As Indian authorities ponder a regulatory framework for the future of digital currencies in the country, India's foremost financial official has remarked about the growing popularity and adoption of bitcoin.
Read more: cryptocoinsnews.com

$1000 USD invested in Bitcoin in July 2010 would now be worth $80 million!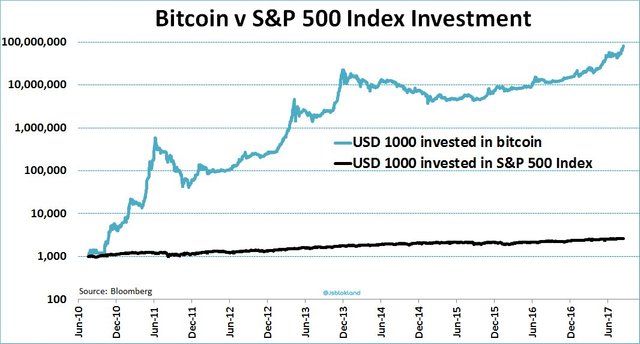 Image source
---
¯\___(ツ)____/¯ Don't miss out on my next post! Follow me @penguinpablo