First 'flagship' Stratis ICO confirmed: Gluon, a silicon valley corporation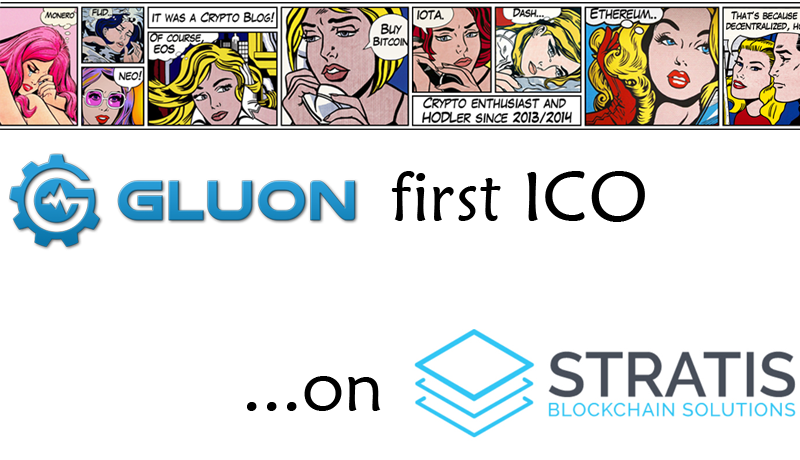 The first ICO on the Stratis blockchain is here! Gluon, a silicon valley based tech company that focuses on creating a secure network of interconnected vehicles to allow users to diagnose, track and monitor issues using IoT devices, AI and blockchain.

GLUON
Gluon is a broad project that focuses on many aspects of the Internet-of-Things, and primarily on the automotive sector and the data that is generated by modern day vehicles. They are aiming to make a data marketplace, allow people to diagnose their vehicles, track parts and more. They are looking to streamline the entire sector, from manufacturing to retailers and consumers, where the IoT and blockchain plays an integral role in providing data for each of these aspects and linking them together.
Gluon is a product with existing funding, impressive revenue and a global presence with offices across the US, UK, Sweden and India. You can read more about the Gluon ICO project here. The exact ICO date is still unknown, other than that it will take place in Q1 2018.

STRATIS
Having the first ICO on Stratis is great news obviously! ICO's are what made Ethereum big, and are now starting to do their part for NEO as well. Stratis is the next major platform to start offering ICO's as well. Interestingly, launching an ICO on Stratis has some interesting advantages for projects, like the ability to create anonymous data sharing which is paramount for serious business who do not want all their information visible to the public eye. Other benefits are the high speed of the Stratis network, as well as the ability to code entirely in C# and .NET, two very popular programming languages.
Earlier this month the CEO of Stratis announced two upcoming ICO's, of which Gluon is now the first, and these are the 'verified flagship' ICO's. I must admit I am slightly underwhelmed by Gluon as a 'flagship ICO' - it doesn't make me excited very much (and it sounds a lot like what other projects are doing too). On the other hand Gluon does seem to be a serious enterprise with existing funding - it is a far cry from many of the 'shitcoins' launching on other platforms.
And despite the name 'flagship', I see no reason why the first ICO has to be an 'amazing' one. It is probably better to first garner some attention, and then release the bombshell in due time.

Still hodling on to my Stratis; too stubborn to sell. Despite my grudge with hodling Stratis, I still do feel like it is behaving differently from many of my other alts. It could remain my 'bleh hodl' but I also give it a 50% chance that it's going to completely catch me offguard and provide gains that I did not think possible before. When I purchased STRAT at $3-4 three quarters of a year ago, I always saw this as a $70 coin. We're still some ways off.

(Art by Roy Lichtenstein)