CHAOEX EXCHANGE: AN OUTSTANDING MULTI-CURRENCY EXCHNAGE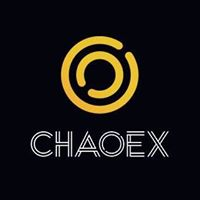 OVERVIEW
Since the invent of blockchain technology, developers have created thousands of cryptocurrencies which is focused on different sectors of the economy such as energy, agriculture, banking, shipping and so many others. Currently, the cryptocurrency market capitalization is worth over $610 billion. Despite the fact that the cryptocurrency market is still a growing market, there are more than 1500 cryptocurrencies today and there are still a lot more to come. However, these cryptocurrencies are faced with countless challenges such as listing on exchanges, difficulties in trading, high volatility, secure transaction, issue of storing coin and the high risk involved among others.
Cryptocurrency Trading platforms also known as Exchanges are online platforms where you can exchange one cryptocurrency for another cryptocurrency or sometimes for Fiat currency. A cryptocurrency exchange is a third-party platform from which one can purchase or trade Cryptocurrencies. A Cryptocurrency can simply be exchanged for Fiat or different Cryptocurrencies on an exchange. There are varieties of Cryptocurrency exchange depending on the type of services they give. They can be trading platforms, peer-to-peer exchanges or brokers. In determining an exchange, factors such as security, speed, fees, the process of buying, ease of use, effective customer service, etc. need to be analyzed.
INTRODUCING CHAOEX EXCHANGE
CHOEX exchange is a Multi-cryptocurrency trading platform based in Hongkong and licensed in Estonia. CHOEX is on a mission to provide users with a simple, reliable and low-cost service to use, buy, sell, and trade various crypto assets, from range of countries. CHOEX exchange token known as CHEX will be the utility token of the CHOEX exchange platform.
CHOEX exchange is a worldwide crypto-crypto exchange that is developed by professionals in order to give traders the best trading experience, with over 100 digital currencies already being traded on the platform such as BCHSV, BTC, LTC, TRX, NEO , ETH and so many more.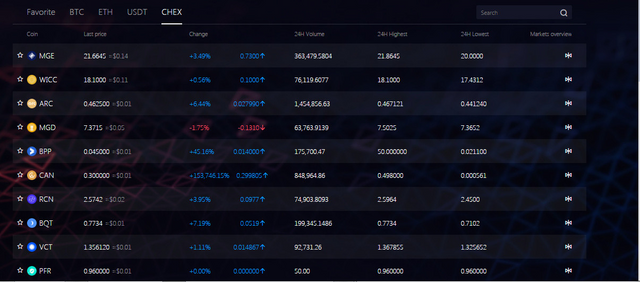 PROBLEM STATEMENT
There are so many cryptocurrency exchanges existing in the world today, and many of them accept crypto to crypto trading pairs. Here are some of the problems facing the crypto exchanges of today, such as
High Trading Fees: Popular exchanges can charge between 0.8% to 3% in fees.
Poor Security: So many Exchanges do not have a strong security to protect users assets.
Poor User Interface: There are so many crypto exchanges that has a poor User-interface which makes it difficult for users to Navigate through the platform.
Low Liquidity: So many Popular exchanges offers Low liquidity which in otherwords delays trading activities on the platform.
OUTSTANDING FEATURES OF CHAOEX EXCHANGE PLATFORM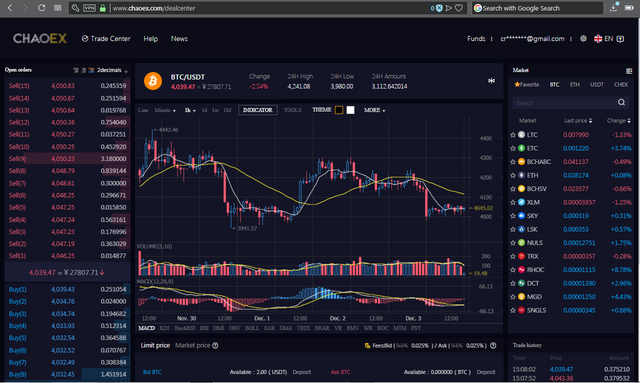 Modern User Interface: As we can see in the image above, CHAOEX exchange has a well designed User interface that makes the trading experience enjoyable and convenient for Traders. The CHAOEX platform will have a browser-based trading platform, Android App platform, IOS app platform, PC (Windows and linux) trading platforms.
Trading Fees: The CHAOEX exchange platform charges trading fees based on user's KYC level. This means that if a user registers on the platform and completes th KYC level 3 verification. He/she gets a trading fee of 0.05%. Other trading charges are as follows, KYC leve1-trading fee 0.1%, KYC level 2-trading fee 0.075%.
Multi-lingual Support: The CHAOEX exchange will support both English and Hong- kong languages. The Default language of the platform will be English.
Trading Pairs: CHAOEX exchange has variety of trading pairs that so many users can be able to trade their favorite digital assets on the platform CHOEX exchange. it will support trading pairs such as; BTC, ETH, XRP, NEO, LTC,CHEX, USDT and so many others.
High Liquidity: The CHAOEX platform guarantees its users with high liquidity and stable trade volumes.
High Security: The CHOEX exchange platform offers users with top notch security, and uses 2FA Google Authenticator, Mobile phone verification, Email verification and a Trading password, which is used for withdrawals, deposits and trading. These High security measures will be implemented by the CHOEX exchange in order to safeguard all assets and Funds of traders on the CHAOEX exchange platform.
Chart Styles: CHOEX exchange platform offers various chart display styles in which traders can choose from. such as ; Candle sticks, Candle stick HLC , OHLC and also an option for Adjusting indicator parameters.
Indicators: The CHAOEX exchange also have various indicators such as MACD, Bollinger Bands, StochasticRSI, EMV and so many others.
OTHER BENEFITS OF CHAOEX EXCHANGE PLATFORM
Registration Bonus: Users can will earn 2 USDT if they register on the CHAOEX exchange platform, and also eatn more USDT if they complete KYC verification.
Referral Bonus: Users whom introduce friends to the CHAOEX exchange platform will receive a referral Bonus of 1 USDT.
Multi-Currency: The CHAOEX exchange has three currencies available on the platform namely; USD, CNY and EUR. Users can select the one they are comfortable with
App Download: You can get the CHAOEX mobile App for both Android and IOS devices. Link: https://www.chaoex.com/download
CHEX TOKEN
The CHEX token is a utility token of the CHAOEX exchange platform that is built on the Ethereum Blockchain based ERC20 Standard.
USE CASES
The CHEX Token can be used as a method for trade, and also to pay exchange charges.
CHEX Token can be used as a medium of exchange as well as for paying transaction fees, trading fee, withdrawal fee, listing fees on CHAOEX exchange.
Paying trading fees with CHEX will be more cheaper than paying with other digital assets lets say BTC.
User's who Hold CHEX will be granted a right to be a part of voting system and choose tokens to be listed and delisted on the CHAOEX exchange.
CHEX TOKEN INFORMATION
Token Symbol: CHEX
Type: Utility
Platform: Ethereum(ERC-20)
Total Supply: 500,000,000 CHEX
Circulating supply: 420,000,000 CHEX
Locked: 80,000,000 CHEX
Contract Address: 0xfbc3c8aad80b5934d134e2cce065702ff254ad7d
Decimals: 18
TEAM
The CHAOEX exchange team is made up of Asians, Europeans and Americans whom are Blockchain experts.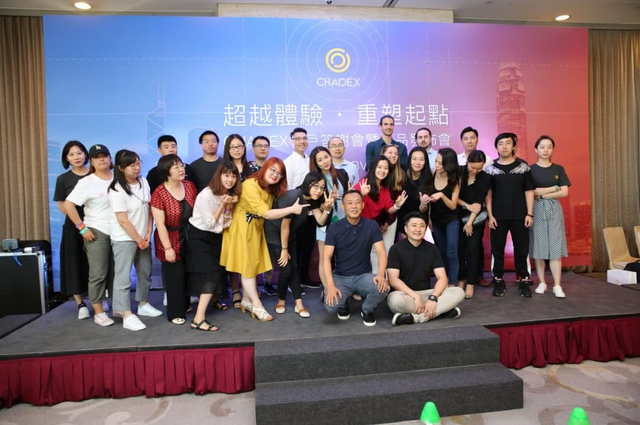 CONCLUSION
Conclusively, CHAOEX is a digital asset exchange licensed in Estonia but regulated in Hong-Kong. It is developed by professionals with the sole aim of providing traders with the best trading experience any Cryptocurrency exchange could offer.
For more information and Participation please Visit
Official Website: https://www.chaoex.com
Facebook: https://www.facebook.com/ChaoExHK
Twitter: https://twitter.com/ChaoExHK
Telegram: https://t.me/HKchaoex
Author's details
CHAOEX UID: 533515
Bitcointalk Username: noma45
Bitcointalk Profile Link: https://bitcointalk.org/index.php?action=profile;u=2025710