How to unstake and transfer EOS tokens
EOS Mainnet has been fully activated and you can now transfer your EOS tokens.
By default, you'll have 10 unstaked tokens, and rest tokens are staked. You can unstake the tokens using greymass eos-voter tool available from github.
https://github.com/greymass/eos-voter
You'll need to input your PRIVATE KEY into the eos-voter app. This means you have to have full trust in the tool. If you have any doubts, please wait for others to test it out for a few weeks.
I divided my ERC-20 based EOS tokens, so I could test without loosing all my EOS tokens. So I have multiple accounts on the EOS chain.
You can unstake your tokens, but you need some tokens staked to transfer your tokens.
From this youtube video, it says you can set only 0.001 staked tokens for CPU and Network. But it gave out errors for me. I had to set it to 0.1 for each.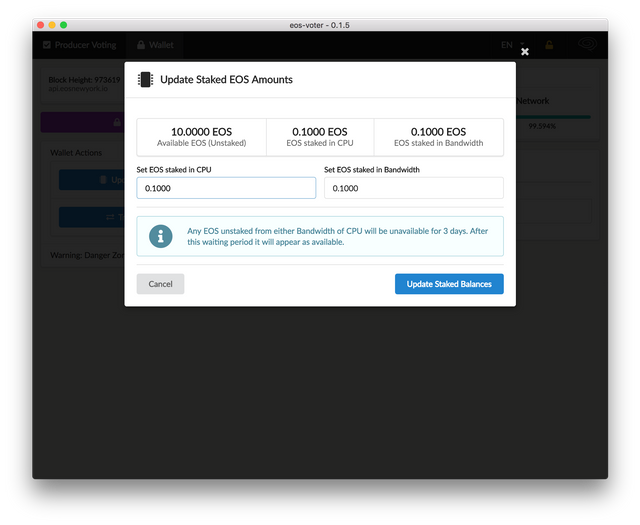 I had 100 EOS tokens in my test account. 10 unstaked and 90 staked. 45 for CPU, 45 for Network were staked. I updated to 0.1 for CPU, 0.1 for Network. So 89.8 tokens will be unstaked... after 72 hours! So I'll able to transfer most of my EOS tokens after 3 days. 89.8 tokens are shown as "Refunded".
You can freely transfer the unstaked 10 EOS tokens now. So I tried transferring 1 EOS to my other account using eos-voter app. It was almost instant :)
Transactions shown from eosflare.io EOS blockchain explorer: