What are the top 50 crypto sites saying on their homepage? #2
One month ago I looked at what the top 50 cryptocurrency projects were stating on their homepage. So now I was wondering if there is any change in the used content on these pages. With a script written in Python I iterate over the different websites and pick up the text of every homepage. Here are the results: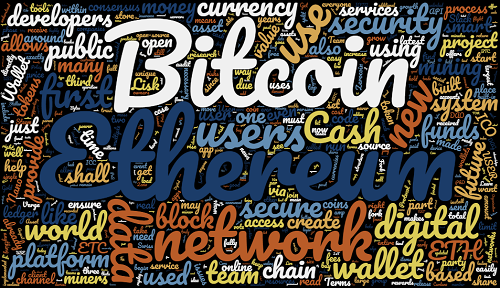 Top 10 words: 1.Ethereum (318x), 2.Bitcoin (312x), 3.Blockchain (305x), 4.Network (195x), 5.Transactions (159x), 6.Users (157x), 7.Data (145x), 8.New (134x), 9.Decentralized (134x), 10.Platform (127x).  
In this attempt more words were scraped: 60.539 (414.332 characters). This is about 1800 sentences. Instead of Bitcoin, this time Ethereum is mentioned the most. But looking at the homepage of Ethereum, the name is already used 127 times on the homepage, so 60% of the mentioning is done on other pages. Bitcoin is used only 10 times on its own homepage, so 96% of the usage of the term Bitcoin is done on other pages.  Most top 10 words we also saw last time, but there are some shifts in position. The term development is moved out of the top 10, but is still mentioned quite often (107x). Other terms used often are: Community (125x), Digital (117x), Cash (116x), Security (109x), Wallet (105x) and Technology (101x).   
In one month I will be checking the homepages once again and I will also do a more in depth analysis of the used terms to provide a better context.